Personalised boxes
There are 5 products available
Personalised gift boxes
When thinking about what to give a friend, relative or partner, there are products that may not be the first to come to mind. But once the idea is suggested, or when we come across it in our search for an original gift, we suddenly "discover" that yes, they are excellent gift ideas. This is the case with personalised gift boxes for her and him with pictures or names.
There are several things that speak for the use of gift boxes as part of a gift. Probably the most important is that it will be a gift that is beautifully wrapped and at the same time versatile, for example as a gift box with name can be used for many different purposes afterwards. You can choose to give an empty gift box so that the person receiving the gift can keep what he/she wants to have in it. You can also fill it up with things such as chocolates, sweets, jewellery, card games, photos ... In short, it can be used for a thousand things, whether it's for children or adults.
The original part is that the lid of the gift box can be personalised as you wish. They can be personalised gift boxes with lid and pictures, either in collage form or with a large main picture. You can upload any image from your computer or make your own collage, either from scratch or using one of our pre-designed templates. They can also be personalised gift boxes with name or with text, which is used to identify that the contents are from a specific person or to indicate the type of contents inside them.
If you only want to create a gift box with texts, you can choose the typography, font size, colour, etc. Whatever you want, we will create the personalised box with your own design, photos or text using high-resolution direct colour printing. Of course, you can also choose between different materials for the box as well as different shapes, sizes and capacities. Depending on the purpose of the gift box, sometimes we need small boxes, sometimes medium boxes, or maybe even large gift boxes.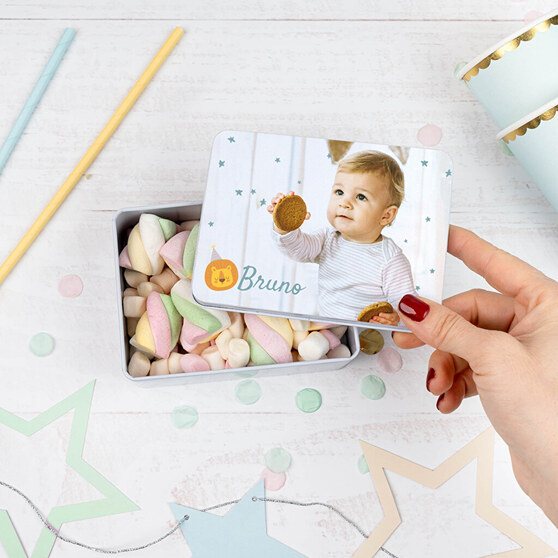 So it's up to you to decide and choose: You can make an original personalised gift box, where the box itself is the gift and the recipient can use it as he/she wishes, or you can fill it with original gifts or practical items, whichever suits you. All you have to do is choose the material, dimensions, shape... to easily create your design online and receive the personalised box within days.
Boxes are necessary in every home, when tidying up and storing the small bits and pieces. You can have several boxes of the same size, stacked on top of each other, for storing small items of different kinds: for example handmade products, jewellery, glass pearls, card games, coins, stamps, tools, keys, boxes for photos, personalised boxes for birthdays... In short, all kinds of small items, or even the not so small ones, depending on the size of the box. There are people who collect boxes, who use them, to keep order in the home. And for those people who can't get enough of tidying up, funny boxes are great, and a wonderful and original gift idea.