Select a model: harnesses

Harnesses

Patches

What size harness should I choose for my dog?
As shown in this illustration, measure the circumference of your dog's neck (measurement A), measure the circumference of the chest at its widest part (measurement B), and based on these measurements, and the approximate weight of the dog, you can choose which of our custom harness sizes is the most suitable according to this table of measurements and sizes.
| Size | Chest (cm.) | Neck (cm.) | Weight (kg.) |
| --- | --- | --- | --- |
| S | 45-58 | 36-47 | 6-12 |
| M | 51-67 | 47-64 | 11-24 |
| L | 66-90 | 50-68 | 23-38 |
| XL | 71-97 | 56-77 | 28-43 |
All harnesses are adjustable, so as well as choosing the most suitable size according to the measurements indicated, you can then adjust the harness to fit your dog's body perfectly.
To adjust the bottom part, it has a buckle design that is very easy to put on, in the blink of an eye your furry friend will be ready to take a walk by your side. The top part is also easy to adjust with velcro.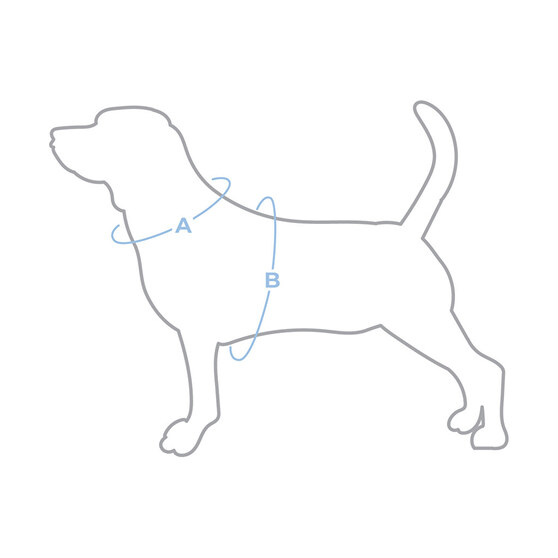 Care for your dog in the best way with a personalised dog harness
The dogs are part of the family and whoever has a dog or a puppy knows it. We always try to give them the best, all the love they give us selflessly deserves a reward. We have found no better way to do this than with a personalised dog harness. From now on, your walks will be much more comfortable for both of you.
It is made of top quality materials, breathable, so that your dog feels comfortable without feeling hot in the harness area. It has a stainless steel ring so that you can attach the leash to the harness and walk your dog with peace of mind.
It has a nylon handle for better control, for example to hold it securely at traffic lights to avoid any accidents. The harness includes a reflective element which ensures that your dog is safe and visible even at night.
But best of all, it has 2 custom velcro patches, one on each side that you can customise as you like. Choosing from any of the designs you'll find on our website or creating a design from scratch, the design you have in mind will be possible quickly and easily with Wanapix.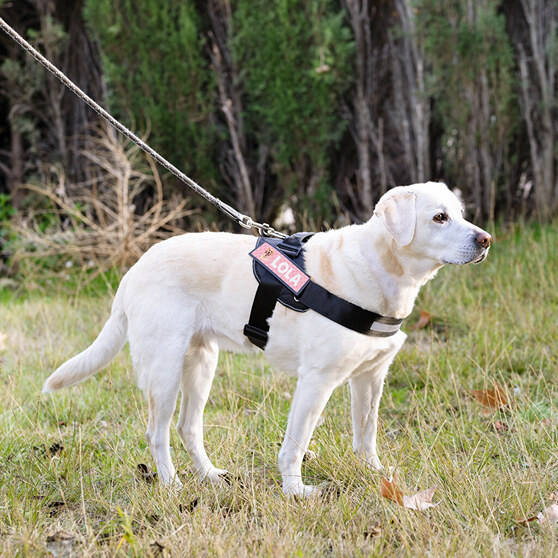 Advantages of using a harness to walk your dog
Using a harness when walking your dog has many benefits, here are some of the ones we consider important:
Comfort and quality: This harness is made with a dynamic and ergonomic design that ensures the comfort of the animal at all times. It adapts perfectly to the dog's body and is made with the best materials, soft, light and breathable, which will make your dog not even notice that he is wearing it, feeling free and comfortable, and you, calm to see him so happy.
Ease of use: it is very easy to put on and take off, just place your dog in a standing position, with its paws outstretched and in the blink of an eye it will be ready to go for a walk.
Variety: you can choose the harness in different sizes depending on the size of your pet, but the best of all is that you can customise it completely to your liking and if you create an original and fun design you will make sure that no two harnesses are the same. Your dog's harness will be unique, just like him.
Safety: it has a very wide fastening system that will allow you to better control your pet. It is also perfect for carrying it safely with a pet-friendly belt in the car.
Peace of mind: the harness is very effective because when they give a tug, due to the position in which the harness is placed, it does not hurt them as they cannot do it with too much force.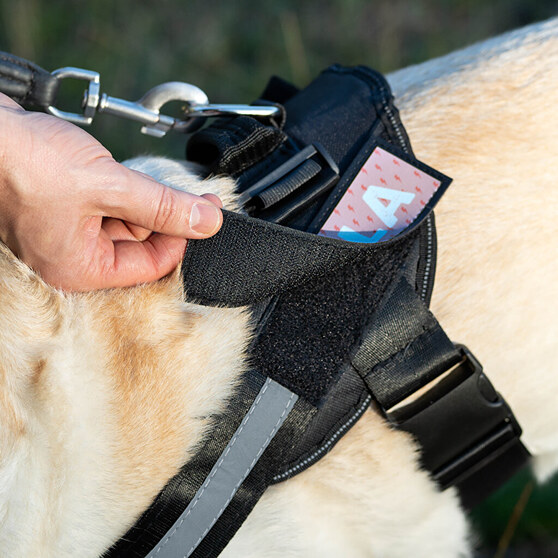 Walk your dog in a healthy way
There are dogs that are very nervous and have a tendency to pull, if they do so with the new harness on you will be 100% relaxed as it is not adjusted in such a way that it can cause injury in any particular area. When the dog pulls on the lead, it does not suffer any kind of choking and its neck is not affected, with this harness, what they do is pull their whole body at the same time, cushioning the blow from the pull, without this causing them any discomfort.
It is ideal for walks with your dog in the park, in the countryside or on the beach and for dogs who like outdoor activities such as hiking and other sports.
You probably already know how you're going to personalise it. Is your furry friend's birthday coming up and you don't know what to buy him? Come in and personalise what from now on will be his favourite harness. He'll be comfortable and light and you'll be calm and happy to see him running and playing with it on.