Personalised sherpa fleece blanket
Sizes: 70 cm (width) x 105 cm (length)
Without minimum quantity
Very warm.
Personalised on 1 side. Soft layer of sherpa fleece on the other side.
Weight: 300 gr/m2 approx.; Fleece side: 200gr/m2.
Suitable for washing machine and dryer.
Personalised fleece blankets
If you are a cold person you are in the right place, because this is one of our warmest blankets. This fleece blanket with photo is a must-have in any home, as it is very soft and warm for the coldest days. It is also available in different sizes so you can choose the one that suits you best. We recommend the larger one especially for double beds.
It has a double layer: on the outside it is made of 100% high quality polyester. This side of the blanket is the one you can personalise and design to your liking with your favourite pictures, texts or designs. The other layer is the fleece, and this is the side that cannot be personalised. The fleece is made of polyacrylic fabric (PAC), a fabric similar to wool, very warm, non-allergenic (it does not produce allergies as wool does), and can be machine washed.
You can choose the colour of the fleece material of the blankets between: white or black. Choose the size and colour you want and think of a nice design to obtain a unique and exclusive personalised fleece blanket with photos.
Wash recommendations
Maximum washing temperature 30º (do not centrifuge).
Gentle washing (no iron).
Do not iron.
Do not use bleach or detergents.
Certificate of non-flammability: ISO 12952. Report 2011an2084.
All measurements of these textiles are approximate and may be affected by the image transfer process and image making.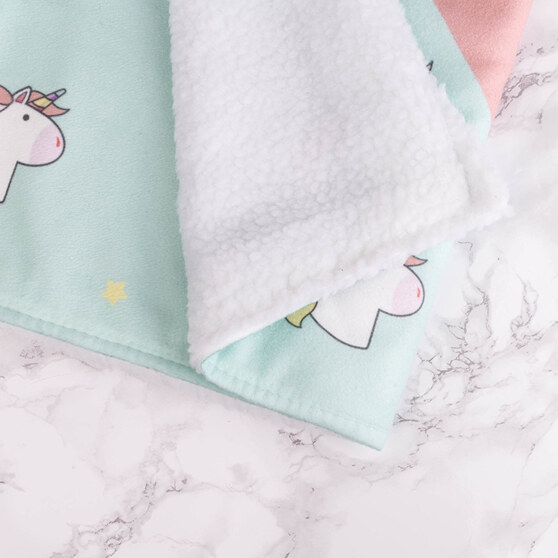 Weight
Size 75 x 100 - 0.438 kg.
Size 95 x 140 - 0.694 kg.
Size 120 x 190 - 1.90 kg.
Size 160 x 240 - 2 kg.
Quality guarantee
The material used to make this product complies with the OEKO-TEX® certificate, which guarantees that the material meets the required control criteria, as well as the accessories such as rivets, buttons, zips, interlinings, etc. Textile materials with the OEKO-TEX® quality seal have skin-friendly properties.
Tags of Sherpa fleece blanket