Personalised steel engraved bracelets
Without minimum quantity
Bracelet length: 18 cm.
Charm size: 15 mm (diameter) x 6 mm (width).
Stainless steel bracelets.
ID: #13194
Reviews with images





---

A bracelet for a lifetime
Our personalised engraved steel bracelets are the perfect gift for your partner, for birthdays, Christmas, etc. The brooch, which is the customisable part, measures 1.5 cm. The length of the chain with the beads, excluding the clasp, is 17 cm. They are also ideal as friendship bracelets, so you will have something in common that will always unite you. It is recommended to personalise it with names, initials, texts in general, symbols, emoticons or logos in plain colours, so that the final result of the engraving is more satisfactory.
Personalised charms bracelets
Sparkle in your own light with these charms bracelets with personalised engraving. You can engrave the text, phrase or image you want on the brooch, and get a unique piece of jewellery. These bracelets are compatible with Pandora bracelets, and as with these, you can add your own charms. This way, you can give (or give yourself) a personal and totally unique bracelet in two different ways: through the engraved text or image that you can add to the brooch of the bracelet, and through personalisation by adding your own charms to the bracelet once you receive it.
What are charms?
The charms can be very varied: in the shape of animals, Egyptian, Greek or any other civilization symbols, numbers, letters, stars, moons, symbols of protection, etc.. Each one can have a very deep and personal meaning for a person, so the choice of charms can give a very special meaning to the person who is going to wear these personalised bracelets.
Bracelets engraved with charms can have a very special meaning for the person who is going to wear these personalised bracelets.
Cheap engraved bracelets for special occasions. Original personalised bracelets, where you can decide what design or text to engrave. Made in stainless steel.
The charms you see in some of the pictures are just an example; they are not included.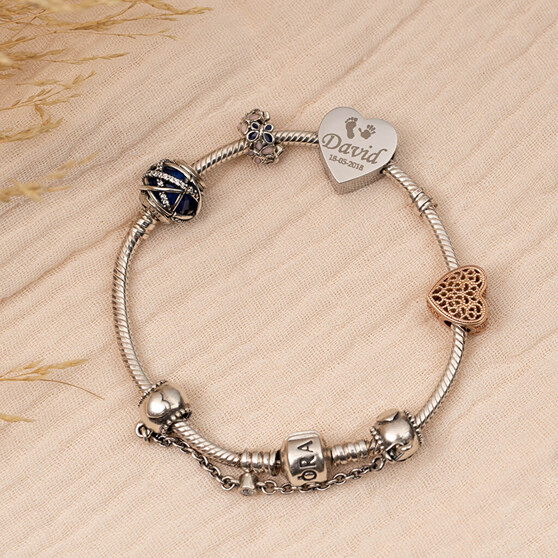 Tags of Steel engraved bracelets