Personalised 3D Lamps with Wooden Base
Select an option: With wooden base rectangular
Sizes: 14,5 cm (width) x 22 cm (length)
Without minimum quantity
USB cable included. No batteries required.
White LED light.
Base material: natural wood. Personalised plaque material: transparent acrylic material.
Design or printed photo in colour on the acrylic plaque.
It is delivered with a plastic protective film that must be removed before the first use.
ID: #15953
Reviews with images








---

Personalised 3D lamps with a luminous wooden base
The revolution in home decoration has arrived: the original 3D lamps with light, which you can personalise with the photo, image or text of your choice. All you have to do is upload your favourite photograph, with your partner or family, or any design, motivational phrase, your names... and we'll print the design in full colour on your lamp.
You can choose from an endless number of pre-designed templates to modify to your liking or you can also create your own personalised lamp from scratch. The designs you create have an even more special charm and the best thing is that you won't be finding two lamps with the same design.. It is and will be a unique item. Doesn't it just sound great?
These LED table lamps come with a USB cable, so you can connect them to any USB enabled device, or to any wall socket in your home using a USB to wall socket adapter. It has an approximately 95cm cable with a handy on/off switch. To turn the light off, simply press the button or unplug the cable. No batteries are required.
The acrylic plaque on which we print your design or photograph is made of rigid transparent methacrylate, a very resistant and durable material. The base of the photo frame is made of light-coloured wood and its white light creates a warm atmosphere like no other. It will give a spectacular touch to any room, illuminating the image.
This will not be a lamp like any other, it will not go unnoticed by anyone. Personalised photo 3d lamps are a perfect gift for any occasion, for example, as a Valentine's Day gift (with your favourite photo together), couple's anniversary, birthday, or for any other special occasion.
A unique gift and at the same time a super original decorative element that will become an unforgettable souvenir.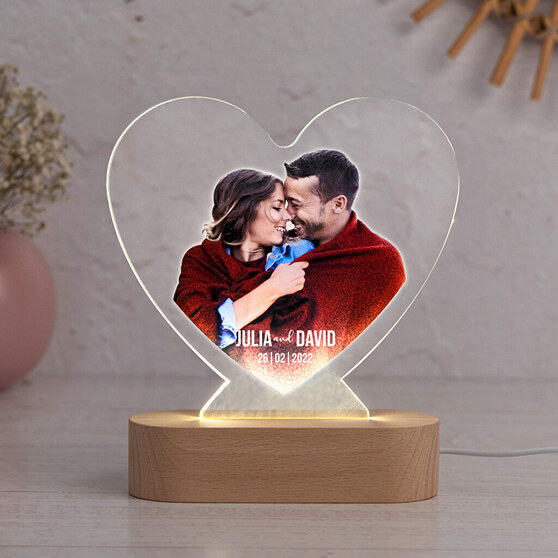 Choose the model that best suits your needs and create a unique detail
For the most romantic ones:
Are you looking for a gift for someone you love very much? The 3D heart-shaped lamp is ideal for the romantic ones. The perfect gift for Valentine's Day or for a special anniversary, for sure your partner will be delighted and thrilled about this personalised gift!
Perfect to decorate their bedside table or any corner of their love nest. Choose your favourite photo from your last trip or the first photo you took together and create a memory you will never forget.
For the more homey ones:
In this case the photo frame in the shape of a house is the ideal complement. To decorate any corner of your home. Moreover, as it can be personalised, you can make it match your decoration, making it part of it, providing light and giving a much warmer atmosphere in a simple way.
Its house shape makes it cosy in itself, it will be perfect on any piece of furniture, shelf, bedside table, giving it a distinguished and beautiful touch at the same time. Our home should be a place where we feel comfortable, protected, a place where the hours pass without us noticing, with your new 3d illusion lamp you will be able to bring the warmth it deserves.
For those who enjoys a more classic design:
The 3D lamp with a rectangular shape is ideal for the most classic, those who want to bring a touch of light but without attracting too much attention. You can choose a fun and cheerful design or a more neutral and simple one.
It's like painting on a blank canvas, you are the creator of the design and you are sure to make it perfect for what you need.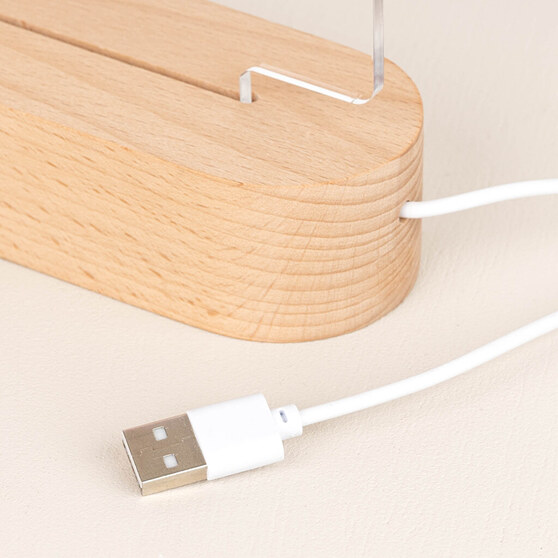 For those who love Christmas:
Who doesn't? It is one of the most magical and enchanting times of the year. A lamp in the shape of a Christmas tree is a must. At Christmas time, houses are always decorated in a special way, everything shines like a diamond.
It's boring to decorate the house in the same way every year, that's why the personalised tree-shaped photo frame will be perfect to decorate your home and renewing it every year will be an easy task. You could also design a lamp with a moon photo and turn the Christmas lamp into a personalised moon lamp
It is the perfect complement for any corner of the home, it has a special shape that can be used to decorate at Christmas, but it is also ideal for the rest of the year. As it is customisable, you can choose or create a design that is timeless and that you won't have to take down after Christmas, making the room cosy and beautiful all the same.
For pet lovers:
Those little furry ones that accompany us in our day to day lives are part of the family too. The 3D lamp in the shape of a pawprint is perfect for them. Upload a photo of your pet, put his name, the date of his birth or a phrase telling him how much you love him. He won't be able to read it, but he will surely love to see his little face illuminated on the lamp
It will make him feel important, just as he is to you. It is also perfect to give to someone who has lost their pet, the memories will be kept alive in a very special way with the photos. It is a gift that they will never forget.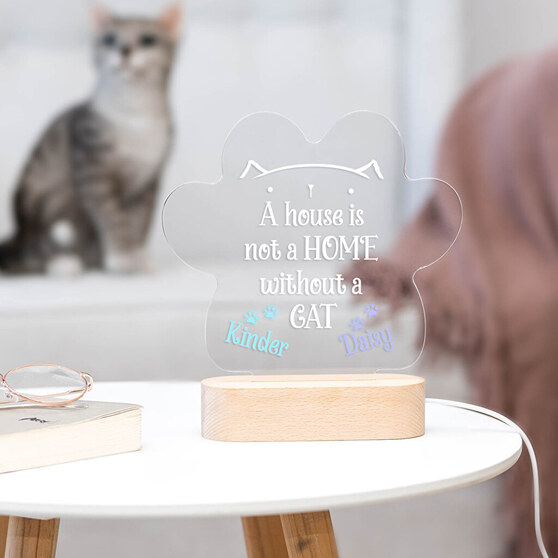 Give a personalised lamp and brighten up the life of your loved ones
Do you already know who you are going to give it to? Surely you have the design you want in mind and you can even imagine how beautiful it will look. Send us your idea and we will make it come true.
All you have to do is let your creativity run wild, personalise your photo frame with the shape you like best and fill your home with light. It will surely be unique and special.
Tags of 3D Lamps with Wooden Base