Personalised guitar picks (Pack 4)
Sizes: 2,7 cm (width) x 3,2 cm (length)
Without minimum quantity
Pack of 4 rigid picks 1 mm. thick.
You can personalise each pick differently.
Personalised on 1 side. The other side is white.

Personalised guitar picks or plectrums
They say that music tames the wild beasts and in many cases this is as true as a temple. Music is very important in the lives of many people, it helps us to relax, to remember moments just by listening to a melody and it is something that is a part of all of us.
And who has never heard a guitar solo? Whether at a Rock concert, a flamenco concert or at a Jazz concert, a guitar is a universal instrument with a huge fan base. We have created the perfect item to accompany your guitar, personalised guitar picks.
You can personalise them to your liking, in packs of four picks. Available in two sizes, a standard pick measuring 2.7 cm wide by 3.2 cm high and another pack of more specific picks, specifically for Jazz, measuring 2.5 cm wide by 3 cm high, the latter are a bit smaller, while the standard model is the size of the standard picks.
The picks are guaranteed the best performance in terms of hardness, flexibility and grip. You won't find other picks like these on the market. We're also sure, that you'll be happy with your purchase.
If you have a band, play guitar or know someone who plays guitar and want to make a special gift to that person, our personalised guitar picks are just what you need to hit the right note.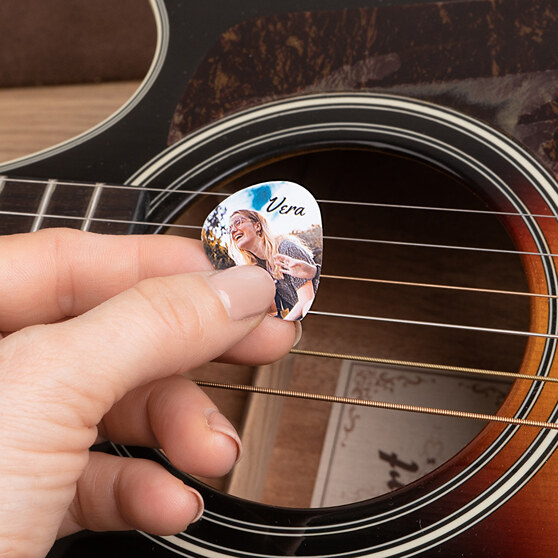 How to personalise guitar picks
With Wanapix, you can make personalised guitar picks in packs of four. They are super practical, as they come in packs of four, you will always have one of them at hand to make your guitar sound. You can choose the same design for the four picks or personalise them all differently, as they are all individually personalised.
Don't know how to personalise your guitar plectrums? We make it super easy for you. You will find a lot of designs of all kinds on our website: rock, with phrases, to put photos on them, etc. But as they are 100% customisable, you can also create your own design from scratch. Choose your favourite photos, put your band's logo or name on them, a design that's a breakthrough... Find a way to make them different from the rest.
Both the standard picks and the Jazz picks are personalised on one side, leaving the back side white, but the customisable side will be unique and unrepeatable. From now on these will be your favourite picks.
Create yours and get the best custom picks made by and for you. What guitarist wouldn't love to make his guitar sound with custom picks? It's possible on our website.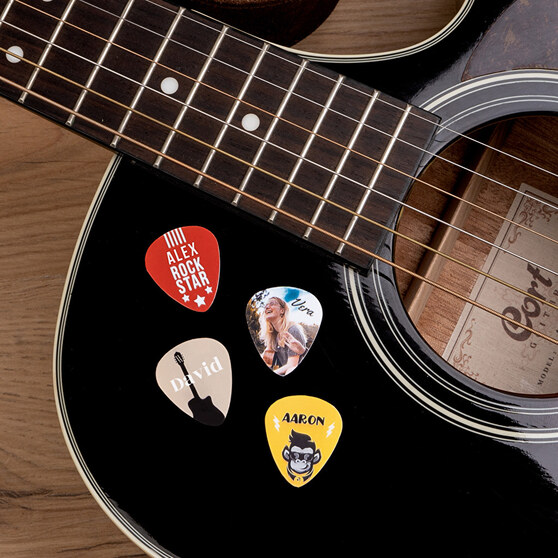 Guitar picks as a gift
Have you just made a band and want to promote it? This idea also seems super original to us, personalise them with the logo of your band or with its name, something that identifies you and give them to people you know so that they can give you a bit of publicity. The perfect gift for a band or music group is something related to it, isn't it? We can't think of a better idea.
Customise your guitar picks and take music everywhere, because music is like the soundtrack of our life and without music life would be a mistake.
Tags of Guitar picks (Pack 4)