Personalised bottles
There are 6 products available
Say goodbye to single-use containers: switch to reusable bottles and flasks!
If there's anything better than taking care of your health while helping the planet, it's doing it with style and originality. Don't worry, we're here to help you do just that with these reusable and sustainable bottles and flasks. In addition, and like all Wanapix products, they are fully customisable: choose your style, model, photo, logo, drawing, name or even a phrase or a quote... You have as many options as you can imagine: with your child's drawing on a bottle for Father's Day, with their photo so they don't lose it at school, with a text for your friend... What's more, thanks to customisation, your creativity will know no bounds!
Oh, don't worry if you're not too creative: we have different pre-designed templates that will make the process of personalising your custom bottle or flask a piece of cake, as you can edit them, add or remove elements as you wish to make it your own. You know, stay hydrated in the most original way possible!
We have a wide variety of materials, colours, sizes, capacities and shapes, all designed to suit every type of person. You can also choose between thermal (double layer) or non-thermal (single layer), that is to say, they keep the temperature of the drink they contain for a longer or shorter time.
Purposes of eco bottles
We have models that are perfect for children, both for the resistance of their material (shockproof, drop-proof) and for the convenience of their use: several come with a built-in straw, which allows them to drink on their own and helps them gain independence (something very important for their growth and self-esteem). This makes them perfect for outings, camps or simply their day-to-day life at school, as with their personalised bottle or thermo there will be no doubt as to which is theirs and which is not, avoiding confusion or loss.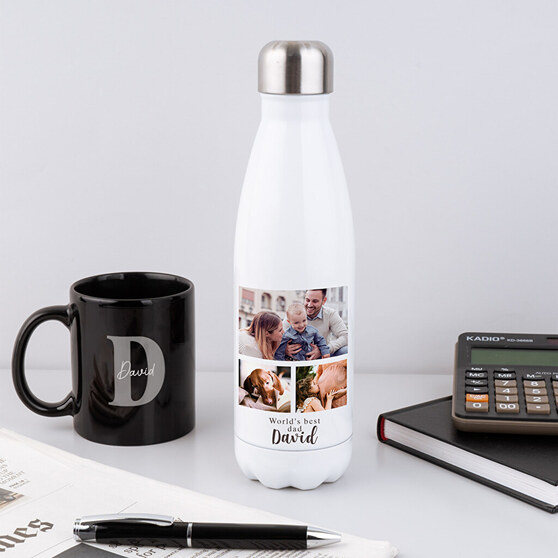 We also have very useful models for the office or university, perfect for adults' everyday life and that will help you stay hydrated, as it won't be difficult for you to drink water if you have a bottle or thermo with you at all times. Carry it in your backpack or bag and place it on the table: you'll see how you'll manage to drink at least a litre of water a day! Of course, you can refill them with any beverage you like, as the thermal models will keep them hot or cold for several hours - how about a cool tea on a summer afternoon in the office, or a hot coffee on a winter morning on the way or at the university? These are the things that make your day and are priceless.
We also offer practical models for people who like sports: we have models with carabiners, perfect for the everyday life of those who spend more time in the mountains, running or walking with their dog than at home. Without a doubt, hanging your water bottle from your rucksack or belt loop will make your hike much more comfortable and lighter, as you won't have to constantly open and close your rucksack in search of a bottle of water.
Reusable and eco-friendly bottles
Plastic is going out of fashion and its use is plummeting year after year. More and more people are switching to reusable containers: not only are they good for the environment, as they don't generate waste, but they are also good for your health. There are a multitude of plastics used to hold food and drink that are not approved for this purpose and therefore pose a long-term threat to health. They contain chemicals that can be transferred to food, so they will then be ingested by us.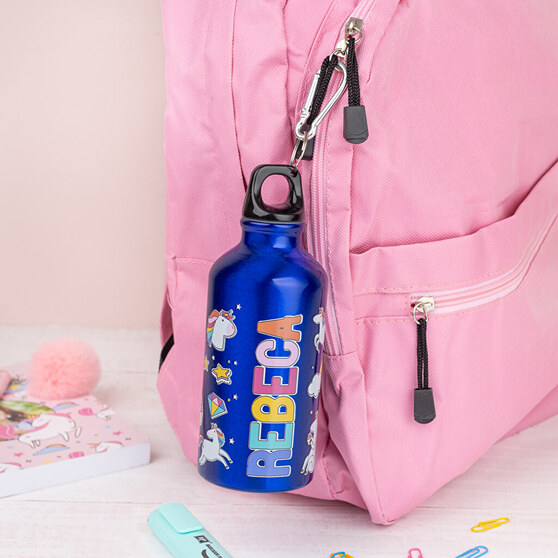 However, with the sports bottles and custom flasks we offer on our website, you can rest assured: they are made of tested materials that are suitable for continuous use and pose no danger to us or our planet. Whether it being stainless steel, aluminium, Tritan or glass... Just pick the one that best suits your needs, your daily life, your tastes or that person you want to surprise with a different, useful, practical and original gift. Say goodbye to your single-use plastic bottles!
The perfect gift for everyone
As we told you above, customisable bottles and flasks are ideal for everyone. Children will be delighted to have one totally personalised to their taste, with their favourite cartoon, their photo or their name. Adults too, as it's an easy, comfortable and unique way to always have something to drink nearby: you can choose a small size or capacity to keep up with you without weighing too much, and with your initial and a motif you love. Also, if you are a company and you are looking to surprise your employees or clients with a practical object for their day-to-day life, what better than something that they can use at all times, while being durable and reusable? Try to choose a model and add your company logo or slogan, it will look fantastic!
There are even more advantages: quantity discounts are available, so if you buy a lot of the same units, the unit price will be greatly reduced. What do we mean by this? Well, thanks to that, this product becomes the ideal gift for weddings, conventions and all kinds of events.
Take a look at the different models of personalised bottles and flasks that we offer, and forget about single-use plastic bottles forever!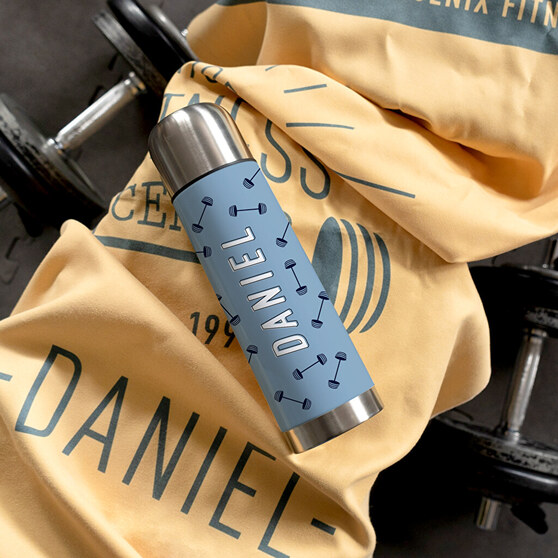 Personalised water bottle with name
As we mentioned earlier, many companies love to buy a personalised gift for their employees to show them how much they mean to the company. That's why finding the most original gift has become a sport. Something that can make a thirsty person happy is a personalised bottle with name, a water bottle with name or a thermos with name. That way, they get a small personalised gift that can be used again and again, for years to come, when they work for your company. In addition, you will also be able to tell the difference between the different drinking bottles with a picture or name, as they will have the individual employee's name written on them, or perhaps even a picture of the employees printed on them. Remember to take advantage of the great volume discounts so you get more for your money.