Sizes: 5 cm (width) x 3,8 cm (length) x 4 cm (depth)
Without minimum quantity
Anatomical dummy, natural shape.
Silicone teat, long-lasting and hygienic.
Can be sterilised in a steriliser.
BPA and phthalate free product. Complies with safety standard EN 1400:2013
ID: #14456
Reviews with images







---

Orthodontic silicone Dummy
Create a personalised dummy totally to your liking. If you don't know how to personalise dummies, it's a very simple process in which you can put a name, a photo, or any design in full color. Or you can also create a personalised dummy with message. You can also choose color and thus create a more personal dummy. You will receive it inside a transparent plastic box for protection.
It is a dummy of maximum quality, which complies with all European safety regulations (sections 10.3 and 11 of Standard EN 1400:2013).
As for the Orthodontic form, it is the most recommended form, above other soothers with round teat. The advantage of Orthodontic soothers is that they fit the baby's palate more naturally, as they are more similar to the maternal nipple. Choose between newborn size (0-6 months) or size +6 months.
Personalisation method
We print your design, photo or text directly on the product, using non-toxic inks (see European safety standards at the end of this sheet). When personalised with direct printing, and not with vinyl or adhesives, it can be sterilised without risk of disappearance of the personalised part.
Recommendations for use
It is recommended to periodically check the teat, especially when the baby has teeth. In case of teeth marks it is recommended to replace.
Before first use, the soother must be sterilized for thorough cleaning before first use. It is recommended to store the soother in the plastic box in which it is shipped, for better preservation and cleaning.
For the personalisation of the soothers we use inks that comply with all safety guarantees, and an engraving system that prevents it from coming off even during the process of sterilization, boiling and washing the product.
Do not use ribbons or cords on the dummy for the safety of the baby. If it deteriorates over time, discard its use. Do not expose it to direct sunlight or direct heat sources.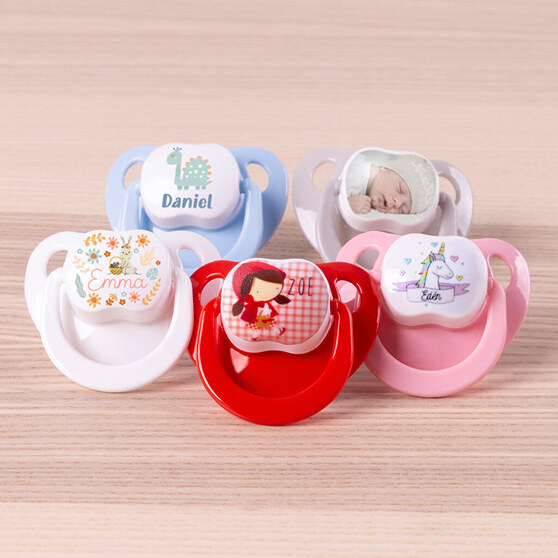 How to sterilize a dummy
1) Fill a small cooking pot with water.
2) Heat the water until it boils.
3) Remove the cooking pot from the fire, and introduce the dummy.
4) Leave the soother in the water for approximately 5 minutes.
5) Remove the dummy from the water and squeeze the teat until there is no water left inside.
NO dishwasher.
Which is the best latex or silicone dummy
When it comes to choosing the best dummy, many parents wonder which is the best between the latex or silicone dummy. Each has its own characteristics, but we believe that the silicone is much better for the child. This material does not absorb water or odours, therefore it will be more durable than latex.
There are children who may have latex allergy, so you should immediately discard the latex dummy if your child is allergic. Infants are more likely to accept silicone dummies and the use of silicone dummies is recommended, especially when they are teething.
In short, silicone is the perfect material for soothers compared to other materials. Silicone is more durable, retains less odours and lasts longer. In addition, silicone soothers do not cause allergies.
How to remove a dummy from a 3 year old child
It is important to remove your child's dummy before the age of three, as it can deform the palate or cause dental problems. Ideally, it should be done between 12 and 24 months . When the time comes to help the child to be a simpler process, because the normal reaction is usually crying.
Some parents choose to do it gradually, so the child will arrive at a time when he will not miss it. Others, however, prefer to talk about it with him, and even different games can be proposed so that the child takes it as a test and, little by little, forgets to use it.
The most commonly used option is to do it gradually, in such a way that children go from being constantly with the dummy to doing it at a certain time of day. You can establish a calendar of use and make it only use at night to sleep, for example.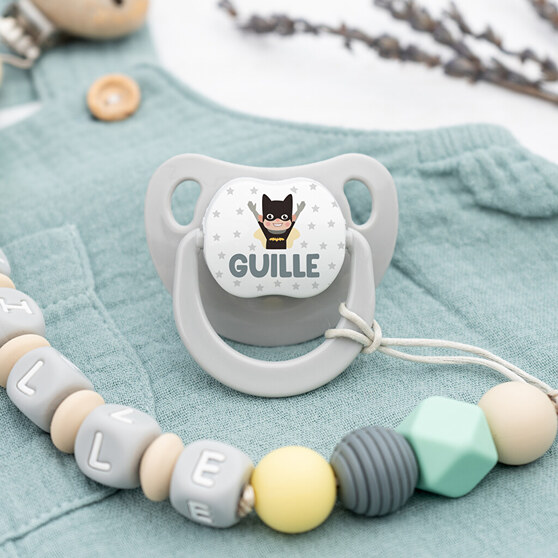 Personalised teats
Did you know that dummy is a word that has a lot of synonyms? That's why some people look for this product as "pacifier", or for any of these synonyms: binky, soother, teether, dodie...
Some of these synonyms have been clearly established for their ease in pronouncing in the words of babies who do not yet speak well. Especially binky or dodie would be the best examples.
Safety regulations
The product complies with all European safety standards: (section 10.3 of Standard EN 1400:2013).
Both the product itself and the ink used for personalisation, as well as the machinery with which the ink is printed, comply with safety regulations.
AIJU is a technological institute specialized in toys and children's products.