Personalised Snow Globes
There are 4 products available
Personalised snow globes
Personalised snow globes are a gift that has been around for years. It's a gift that will surprise literally anyone. A beautiful detail that you can personalise to your taste, or that of the person who is going to receive it. Choose from a multitude of different models and create an original and unique photo snow globe with the image of your choice.
If you love having photos on your bedside table, but don't want the typical frame, our personalised snow globes are the perfect product for you. You have up to four models to choose from: the classic spherical snow globe, a rectangular one for the more modern designs, a heart-shaped snow globe one for the more romantic ones and a spherical one but with children's motifs on its base that make it adorable. And within these four options there are many more. Some with snow falling, others with stars falling, even one with sand inside. It's ideal for the images of a moment that you will never want to forget. You can put any kind of image on them: photos with your partner, your family, a nice design or a motivational text to see it every time you get out of bed and help you start the day with your batteries fully charged.
Depending on the model you choose, you can personalise one or both sides of the personalised Christmas snow globe. Choose the one you like the most and add the image you want. It will be a perfect gift for your partner, friend or for your loved ones.
We are sure you will love the special feature: the photo is removable on all models. You will be able to open all of our personalised globes and change the photo without the liquid of the decoration inside coming out. This way you can renew the image of this original frame whenever you feel like it. All you need is a photo of the same size as the original size and you can change it as many times as you like.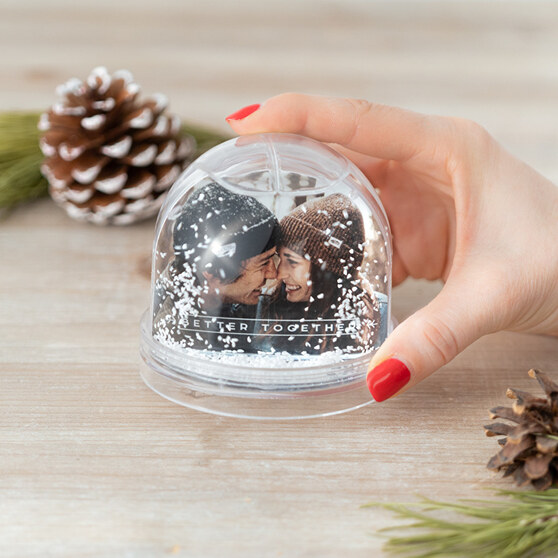 Create your own snow globe with photo
On our website you will find an endless number of snow globe models to personalise, with phrases for every season of the year. However, the most popular model by far is the one with photos. Most people believe that a personalised photo globe are more personal than globes with a quote.
If the globe you have chosen is personalised on both sides, you can put a photo on one side and on the back a phrase and a date or a congratulatory phrase or even a different photo to turn it over and renew it without having to print another new photo.
With our online editor, which is super simple and intuitive, you will be able to personalise every single globe that we sell. All you have to do is let your imagination run wild and create the perfect ball to decorate any corner of your home.
When to gift a personalised snow globe
It seems that in popular culture it is determined that this type of snow globe is usually only given as a Christmas present, but this is not the case. It is a super original gift for any other time of the year. For example, it is also a perfect gift for Valentine's Day, a heart snow globe with a heart decoration inside or for a couple's anniversary for example with a globe with a beautiful photo of a unique summer holiday. You will be able to create a unique souvenir in a moment and surprise whoever you want just by imagining and playing around with our online editor.
Do you already have your personalised globe in mind? Tell us how you want the design and we will make it come true.