Design your own T-shirt!
Clothes help express your style and way of being, so there's nothing better for it than creating personalised T-Shirts. The personalisation of T-Shirts has multiple possibilities, which will allow you to play with your style and make a difference wherever you go.
In this section, we have compiled our different models of personalised T-Shirts with photos for the whole family, because we think of everyone. With our editor, it is very easy to make an original customization selecting your best photographs, texts or designs.
Exclusivity is said to be expensive, but not on our website. We have cheap personalised T-Shirts and high quality that you will be able to wear every day with your funniest style, original or geek.
T-shirt types
In our catalogue, you will find sizes and models for children and babies, but also for adults. We have a selection of high quality cotton T-Shirts.
We also have cheaper polyester ones, designed to be worn on the funniest occasions: birthdays, etc.
Customized T-Shirts for women
When we talk about shirts for women we refer to the shape, because they have characteristics that differentiate it from the traditional straight cut model:
They have a wider, more open neck.
They are tighter around the waist.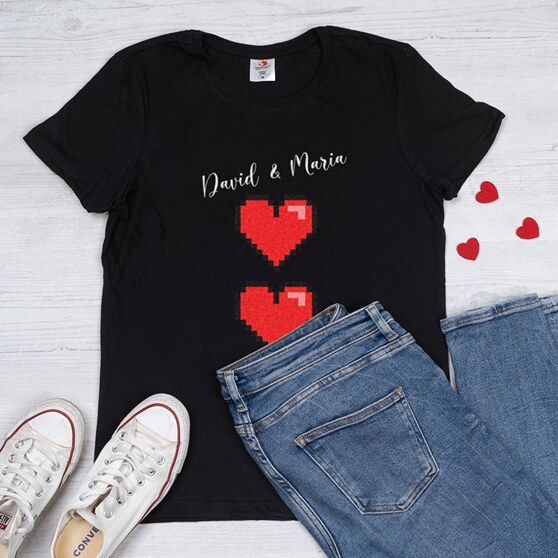 In the beginning, all our T-Shirts had that classic cut, but many of our clients requested this other type of T-Shirts. You have total freedom to choose the model you want, because if you are looking for straight cut T-Shirts on our website are the so-called "for men". In both cases, you will have a great variety of sizes to choose.
From this model, we have all size ranges from XS to XXL. You can see the table of exact measurements by clicking on the product sheet.
Men's custom T-Shirts
These are cut straight at the waist and neck opening standard, the classic always. We call this model "boys' or men's T-Shirts" because it is usually the most popular for them. All of them can be designed as you want with your favorite photos or drawings.
In this case, the size range is wider, so we count from size S to XXXL. All you have to do is click on the product card to see the exact measurement table so you don't make a mistake when it comes to choosing.
Personalised T-Shirts for children
The children's T-Shirts also have their own section and, like the previous model, have a straight cut. They are made of cotton and have an incredible finish.
They are available in two different models: long sleeve and short sleeve. The first have a size from 2 to 8 years, while the second are available from the first years to 9-11. Choose the one that best suits your needs and get the most special model.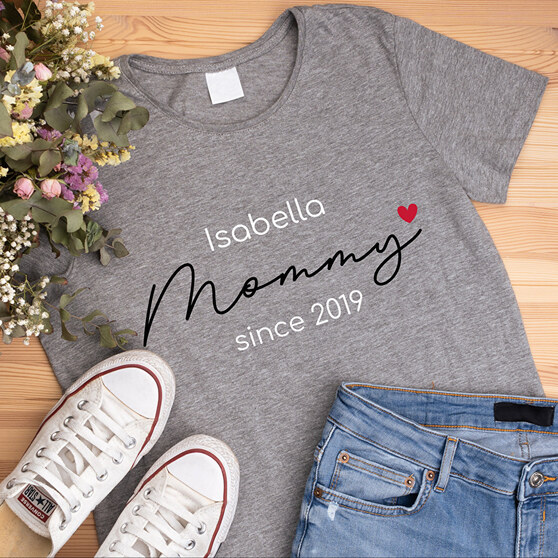 Washing advice
Take note of these tips to take good care of your garments so that they don't lose their quality:
It is recommended to machine wash in cold water.
Turn the T-shirt inside out before putting it in the washing machine.
Print types
Most of our T-Shirts are available in various colors to choose the one you like. In each product card, you will see all the available options. From the basics, black and white, to the funniest colors: blue, green, red, orange ...
We also have two types of printing that you will be able to choose. You will see that one type of print offers better quality, while the other, although somewhat inferior, also has a great finish and its price is tighter. We explain the differences between one and the other.
Premium Quality: DTG digital printing
The best type of printing is what we call Premium. This consists of printing using digital printing technique DTG and is done with specialized machinery of high quality, with direct ink injection into the garment.
The result is spectacular, because the colors are sharp and very vivid. This type of printing will resist the passage of time and washing. Thanks to its quality, it allows you to play with customization. If you want to design one with a transparent background (in PNG or SVG format) with us you can do it, because it will print only the part where there is image. If you are looking for an all-terrain T-shirt, we recommend this model, without a doubt.
Polyester T-shirt: Sublimation printing
It is the best option for those people who are looking for affordable personalised T-Shirts. The print is of inferior quality and has less resistance to washing, but is cheaper. It is the ideal choice for bachelor party T-Shirts, events, congresses, i.e. celebration of a day or with a defined duration.
We recommend this model for these celebrations, because large orders are usually placed and, in this way, they are cheaper. It's not so much the quality or resistance, but the price.
For this type of printing the image is ironed directly on the canvas. The quality and sharpness is good, but not very resistant to washing. Even if the image has a transparent background, these transparent areas will be printed in white, so bear this in mind when designing it.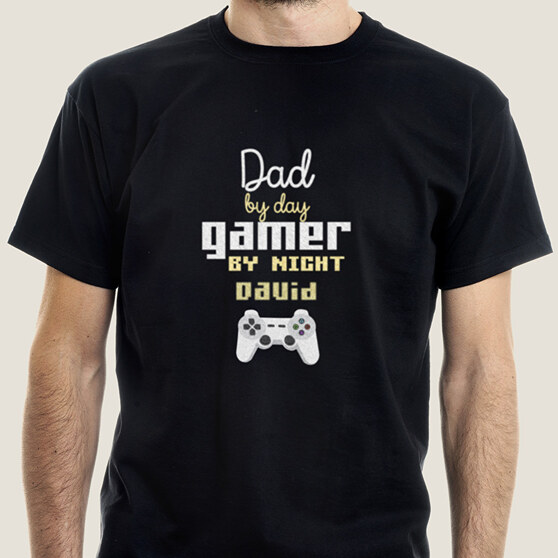 Washing advice
Write down all these tips to take care of the garment and not lose quality:
Washing in a washing machine with cold water programs is recommended.
Turn inside out before washing.
How to design a T-shirt
In the face of so many possibilities thanks to personalization, it is normal that doubts arise in order to decide on the best option. All you have to do is imagine it and turn your ideas into a reality, because now you have the possibility to mark your own style.
Since we want to make it easy for you, we offer you a wide range of pre-designed templates that you can adapt minimally and thus get a quick and original customization. But you have total freedom to insert your favorite images, phrases, texts or logos and so create geeky T-Shirts, funny, romantic, childish ...
They are an ideal gift on any occasion because they are very practical and you will get them to become their favorite model. Depending on their style, you can create a hippie T-shirt or make it geeky with phrases from their favorite series, videogames or movies: Star Wars, Throne Game, Stranger Things, Harry Potter, etc. Make it different.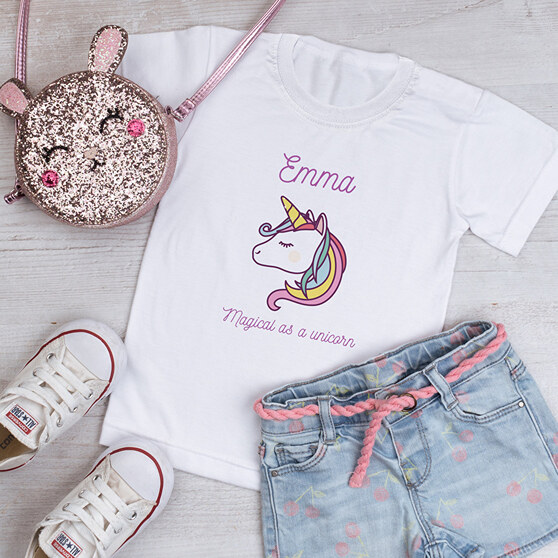 Custom T-Shirts without minimum order
Unlike most physical or online stores, here we do not oblige you to buy a minimum quantity of T-Shirts. You can take it from just one unit, if you wish. But thanks to the quantity discounts, buying many identical units translates into less cost for each unit.