Customizable doormats
Create doormats for your home, adding the design, photo or text you want. You can create fun and original doormats by using funny phrases, for example. Or put the names of the whole family, or a drawing with footprints. Be creative! You can customize original, fun and geek doormats online.
The entrance to the home is very important to give a good impression to those who come to visit us. That's why it's much easier when you have a personalised exterior doormat. It's a more original way to welcome your guests.
Next, we show you a series of personalised doormats that you will love and that adapt to what you are looking for thanks to our different styles.
Coir fibre doormat
Our coconut fiber are cheap and are a big seller. You can customize it with the image or design you want. In addition, it is very easy to clean and it has a non-slip base.
We have different models already made, but you can also customize it from scratch.
Rubber doormats
These are also an excellent option, as you can choose the size that best suits your needs. It is perfect for the entrance to your business, since you can add the name and logo of your company.
It is convenient to have one, because this way the client realizes that you take care of even the smallest detail.
Terry doormats
They are a novelty among our products and are very appreciated. But for this type of material, we recommend to use our templates or to follow their style so that the result is faithful to what can be printed on them.
Which is not recommended, in this case, are designs with photographs with many details or collages of photos.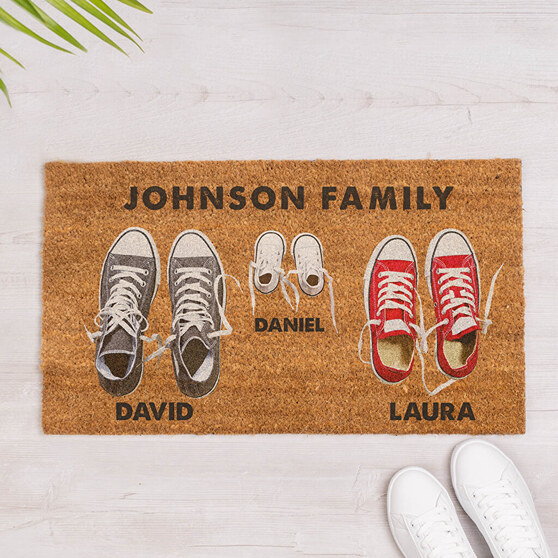 Original and fun doormats
Although the typical welcome doormat is still sold, the truth is that the most successful doormats are those that have original and fun designs. Funny phrases, funny images... You decide what you want to appear in it.
If you also want one with different designs, these are the most sold among our customers:
I hope you got the beer
If you love me, leave!
Keep calm
Oh, really? So I confiscate this doormat
Geeky doormats
If you are passionate about the world of cinema and series, we also have designs of doormats for you. Designs funny and with phrases from your favorite series. You just have to choose which image you want to appear and the text. You will have a unique and original mat.