Why choose our personalised doormats
Various sizes: from classic doormats for the home to large doormats for companies.
Various shapes: we have the traditional rectangular shapes, but also many other original shapes.
Total print: you will be able to personalise 100% of the surface, without leaving margins.
Various materials: customised door mats made of natural and synthetic coconut fibre, as well as terry and rubber.
Free pre-designed templates: you can create a design from scratch, or choose one of the ones we offer.
How to make personalised doormats
If you're looking for how to make personalised doormats online, you're in the right place. All you have to do is choose your favourite model, among all the ones we have, with different materials, sizes and shapes. Once you have chosen your doormat, you can personalise it using our online editor, with no need to download any software or application. On our website you can upload your photos or designs, add texts or dates, or choose a pre-designed template to just edit it to your liking.
The online customisation process is very simple, and at any time you can see a preview of how your doormat will look like. This way, you can be sure that the doormat you will receive is exactly the one you have designed.
Customised door mats
Create personalised doormats for your home by adding any design, photo or text you want. You can create fun and original doormats by adding funny phrases, and make it into a personalised funny doormat for example. Or put the names of the whole family, or a drawing with footprints.. The most important thing is to be creative! You can personalise original, fun and geeky doormats online.
The entrance to the home is very important to make a good impression on those who come to visit us. That's why it's so much easier when you have a personalised welcome mat. It is a more original way to welcome our guests.
Below, we show you a series of personalised doormats that you will love and that adapt to what you are looking for thanks to our different styles.
Natural Coir Fibre Doormat
Our doormats made of coconut fibre are inexpensive and one of our best selling products. You can personalise it with any image, photo, design or text that you want. Moreover, it is very easy to clean and it is non-slip, which makes it more secure whenever you have to clean your shoes.
We have a lot of different models and designs available. However, it's also possible to design your own doormat from scratch, if that's something you're interested in.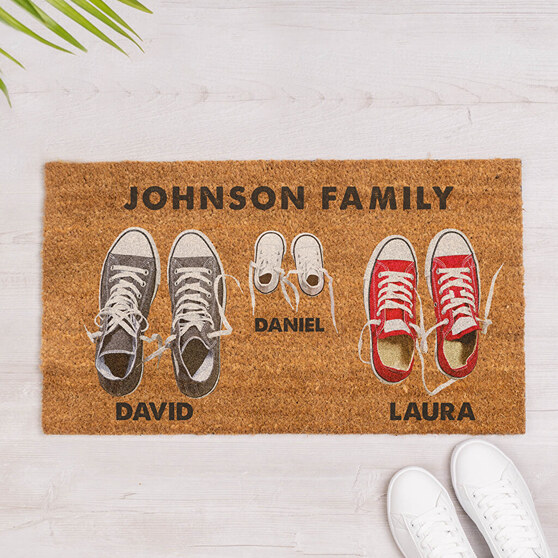 Rubber doormats
These are also an excellent choice, as you can even choose the size that best suits your needs. They are perfect for the entrance to your business, as you can add your company name and logo.
It's a good idea to have one, because it makes the customer realise that you take care of even the smallest details.
Terry doormats
They are one of the new products among our selection of floor mats and they are very popular. But for this type of material, we recommend our templates or follow their style so that the result is true to what you wish.
In this case, we do not recommend designs with detailed photographs or photo collages.
Original and funny doormats
Although the typical welcome doormat continues to sell, the truth is that the most popular doormats are those with original and fun designs. Funny phrases, funny images? You decide the motif, whether it's funny, serious or sarcastic.. We'll design it as you want it to look like.
If you also want one with different designs, these are the best sellers among our customers:
See you later a alligator
If you love me, go away
Keep calm
The Smiths
The Anderson Family
You look really silly doing that with your head…
Hope you brought wine
Whalecome(with an image of a whale)