Personalised mouse mats
Do you want to give a different and nice touch to your desk? We have the perfect accessory to make your ideas come true. Our Photo mouse mats are the item you're looking for.
We spend a lot of time in front of our computer, both at work and later at home, to continue working a bit more or maybe just to surg the internet to distract ourselves for a while. Our eyes get tired, but so do our arms and hands as we click through the different pages throughout the day. It is very important to create a pleasant work environment and to surround oneself with the best tools. That's why we see nothing better than to start by creating a custom mouse pad.
They are available in two different sizes, the standard size which measures 23'5cm (width), 19'5 cm (height) and 0'3 cm (thickness). The XL size can be used both as a mouse mat and to put the keyboard on top of it to work more comfortably, its measures are 33'5 cm (width), 25 cm (height) and the same thickness as the standard size 0'3 cm.
They are made of super flexible material and have a non-slip base to make them the most comfortable for working and surfing the internet. They also have rounded corners for a perfect finish. They have a clear full colour print that will make any design look great both in the office and at home.
You're already imagining your personalised mouse mat, aren't you? It's time to create your own!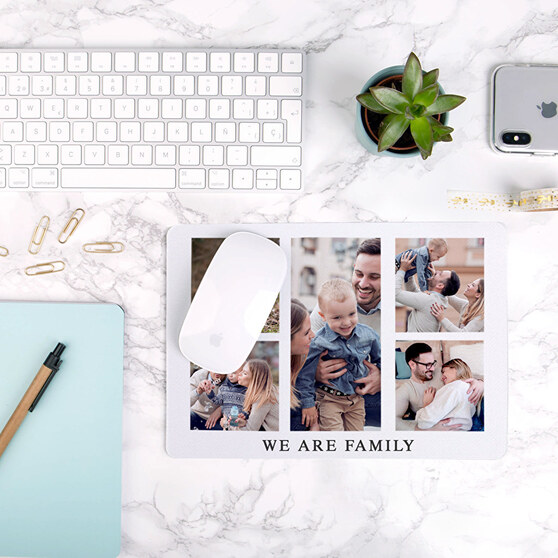 Personalised Gaming Mouse mats
Within this family of personalised mouse mats, there is one that stands out for its enormous size: the personalised gaming mouse pad. These mouse pads have become very popular in recent years, especially among gamers, i.e. video game fans. In this case, specifically gamers. And not just gamers but also: youtubers, streamers, and anyone else who spends a lot of time on the computer.
While the classic mouse mats serve as a base to support only the mouse, and move it around the mouse mat, these gaming mouse mats with photo are huge, covering a large part of the surface of the table, and the keyboard, mouse, and other accessories that the gamer may have on the table are placed on top of it. Apart from the size, they have the same characteristics as the rest of our mouse mats, that is to say: base made of non-slip, flexible material, and a high quality customisation and clear colours.
Being 100% customisable, every gamer will be able to design their own mouse mats. Those who belong to an E-sports team can put the team's crest, their username or nickname, a design with the colours of the crest, etc. Also those who don't have a team can put the crest of their favourite team: G2 Esports, SK Gaming, FaZe Clan, Mad Lions, Giants Gaming, Movistar Riders, Koi, Team Heretics... or any other famous team. Another option is to put an HD image of your favourite video game, with your name written on it, or any photograph, image or design you like.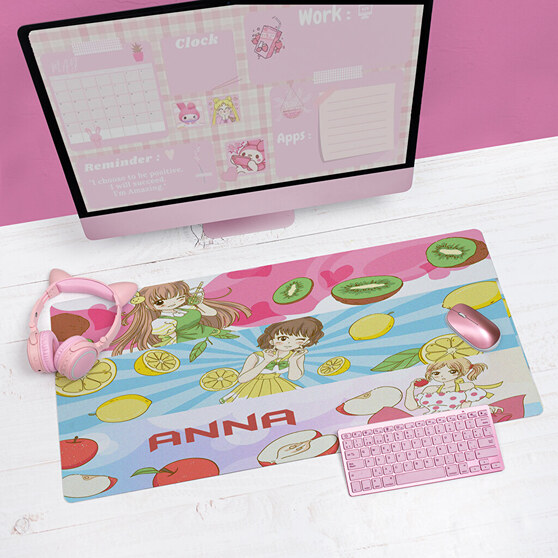 Make your own mouse mat
Unlike other mouse mats that you can find in different physical shops, with us you can make it your own way as you want without limits of customisation. Our online editor is very easy to use. Furthermore, you'll find a lot of pre-designed templates on our website, that you'll be able to customise the mouse mats with easily. Whether you pick one of our designs or design your own mouse pad from scratch, it'll be exclusive and unique as no one else will have the exact same model as you. All you have to do is select the photos, images, your own designs or texts you want to attach and personalise your mouse mat. Make a difference and give an original, fun or sophisticated touch to your desk.
We're sure you'll create a unique design that will delight and surprise everyone who sees your personalised mouse mat.
Occasions to give a personalised mouse mat as a gift
Do you like our mouse mays and would like to give one as a gift? Any occasion is a good time to give a gift to that person you care about, whether it's for your father, your sister, your best friend or even your work colleague. We're more than certain that they'll be thrilled but also surprised by the amazing and personalised gift.
On our website you will find a lot of personalised designs, for occasions like father's day, you can surprise dad with a personalised mouse mat for his work, with a nice design or with a photo. This way you'll keep you in his mind at all times. You can also personalise designs for mother's day, for birthdays, designs with photos and you can also personalise your perfect design from scratch.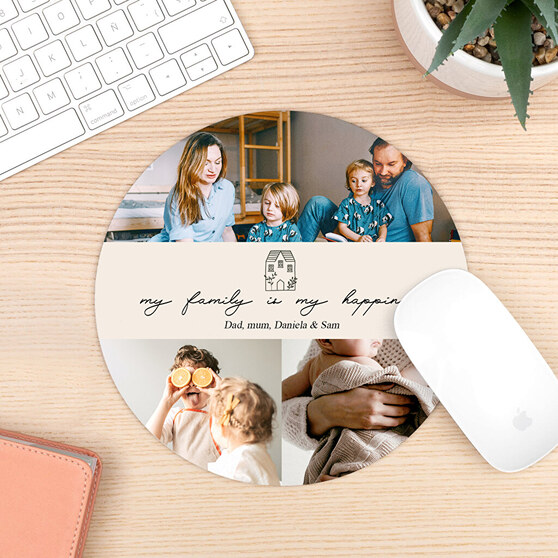 They are ideal as a gift at any time of the year and we are sure that whoever receives a personalised mouse mat will be surprised and will love being able to enjoy it both at work but also at home as most of us spend time in front of our laptop or computer at home.
Do you already know who you are going to give a personalised mouse mat to? Do you have a design in mind that you would like? Create it in our online editor and we'll take care of the fabrication and shipping of the mouse mat.
Mouse mats with company logo
Are you the owner of a business or are you the purchaser of merchandise looking for mouse mats for your company? Then you've come to the right place. We offer personalised mouse mats with the logo, design, photo and text that you need. If you have a particular logo that you would like to add to mouse mats, then it's possible on our website. The best part is that you don't have to worry about minimum order quantities!. You're able to buy 10, 50, 500 or 5000. We do provide quantity discounts meaning that you'll enjoy discounts when purchasing xx mouse mats at a time. Design and order personalised mouse mats for your company today.
How to keep your mouse pad clean
To keep your mouse pad clean, you can wash it by hand with a soft towel or brush, and use mild detergent. To dry, allow to air dry. Do not use a washing machine.