Without minimum quantity
Suitable for the washing machine.
Material: 100% polyester.
Full colour printing.

Sizes: S (35-37) / M (38-40) / L (41-43) / XL (44-46).

Black heels and toes.

ID: #15762
Reviews with images








---

Sizing chart
In this table you can check the length and width of each socks, depending on the size you choose. Remember that the adult sizes (S, M and L) have black heels and toes, but not the child size.
The sizes are:
Child size: size 34 or less.
S Size: from size 35 to 37.
M Size: from size 38 to 40.
L Size: from size 41 to 43.
XL Size: from size 44 to 46.
These measurements are approximate, depending on each person's foot measurements. The socks are very flexible and adapt well to any physiognomy.
Washing instructions
We recommend to turn the socks over before putting them in the washing machine, for a better conservation of the personalization.
Wash on the inside out
Machine washing at 40ºC maximum.
Do not use bleach.
Do not iron
Do not dry clean
Do not tumble dry.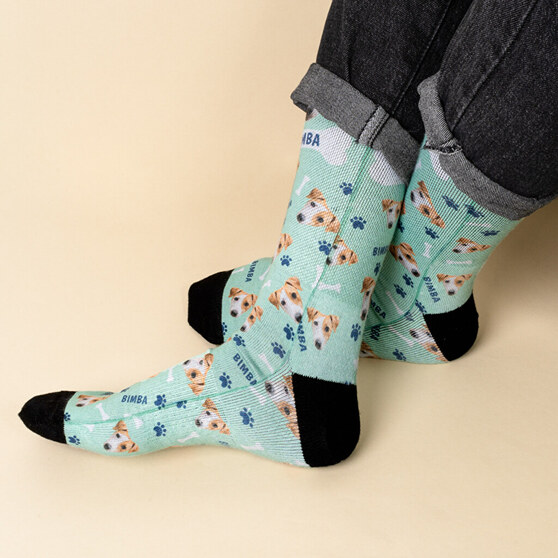 Why choose us for your personalised socks
Product made in Europe: unlike other brands of customised socks, our product is created and manufactured in Europe, in our own facilities.
Total customization: you can design the socks as you like, with any design or composition in full colour, and we will create the socks with your design on the whole surface, without leaving any areas or margins without personalisation.
Various sizes: it doesn't matter if you have small, medium or big feet; we have different sizes for you to choose the one that best fits your feet.
The most original and fun socks: you will be able to create your own socks with photos, either in collage or with another composition. In addition, we provide you with a multitude of pre-designed templates so that you can edit them to your liking, without having to make a design from scratch.
The guarantee of experience: our company has been in existence for over 35 years. We are a brand with a lot of experience, thousands of orders placed, and we will not let you down.
Prices adjusted and discounts: in our shop you can buy socks from one unit, that is, only one pair of socks, without minimum order, at very adjusted prices. And, if you want to buy large quantities, you will enjoy quantity discounts that will allow you to buy cheap customised socks.
Customised socks with photos
If there is an accessory that is becoming more and more important over the years, it is the socks. A garment that we all wear, and that lately has become a way to create a trend and give a fresh air to your look. Forget about single-colour socks, especially when it comes to casual wear, with casual clothes. Now they wear the funny, cool and original socks. And in that, the personalised socks are the best way to have your own pair of funny socks.
With Wanapix you will be able to make your very own socks, with designs or collages that you will not find in any other shop. Whether it's with a photo of you, with funny texts, with colours, or with company logos if you're looking for something more corporate as a gift for professionals.
Socks with photos of people and pets
Of all the possibilities offered by sock personalisation, possibly the most popular right now is the creation of socks with photos of a person, or of pets, whether they are dogs or cats. The idea is to load the photo of a person or pet, and place it on the socks so that the photo comes out several times, as a collage. It is especially fun if you choose a very striking and colourful background colour.
On our website you can create socks like this very easily thanks to our online editor, where you can also see at all times how the socks will look, in a simulated preview. This type of sock is ideal for giving a fun gift to a friend, your partner, girlfriend or boyfriend, as well as for any man, woman or child who feels like wearing fun socks that are different from all the others in their personal collection.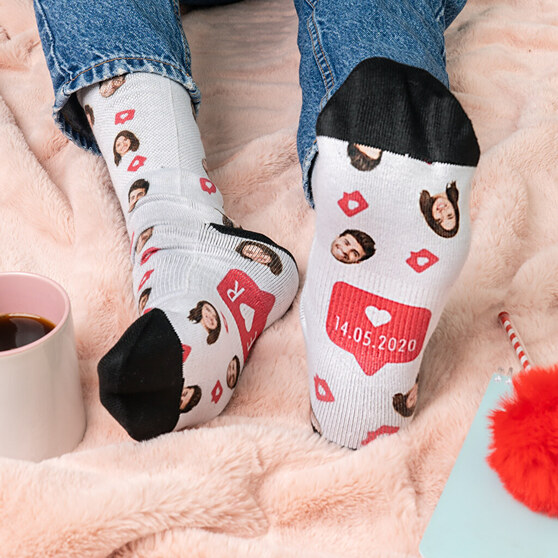 Original and funny socks
Personalisation offers other possibilities to make original socks. You can upload your own photographs, either of people, or of landscapes, or any other type of photograph that you may like. You can also upload images of your favourite films, series, books, video games, football teams with their logo, symbols, texts... as you can see, the only limit is your imagination and creativity. You don't have to design your socks from scratch: we also make available dozens of ready-made designs, so that you only have to edit them with your photo or name on the design already created, and so with little effort and in a very simple way, you will have your socks with customised designs.
Patterned socks
In addition to the photo socks, patterned socks have also been in fashion for many years. For the more cheerful, carefree and youthful people, there is the possibility of personalising patterned socks, for whatever occasion. They can be drawn by children, in case of having children or small nephews. Or cartoon socks that you may like, whether you are a Flintstones, Simpsons or Mickey Mouse fan.
Men's and women's socks
Our customised socks are unisex, and have an ergonomic design that adapts perfectly to any type and shape of foot. Moreover, thanks to the fact that we have several sizes, you can choose the one that best suits your foot measurements.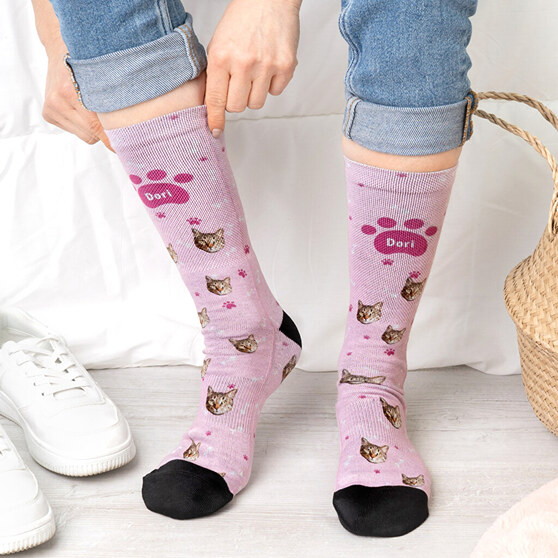 In short, you decide what shade to give to your customizable socks, whether it's a fun touch with photos, or a nice design with stripes, shapes and colours. Writing motivating or funny phrases. Or you can even create personalised wedding socks, if you're one of the brave ones who enjoys going to this kind of events with a different look, either with a suit and shirt with brighter colours, an original and funny tie, and maybe some printed and personalised socks to match, to be the funniest guest of all.