Personalised glasses
There are 4 products available
Engraved glass personalised
In every important event there is always a toast, whether it is a wedding anniversary, a wedding, a graduation celebration or even a dinner with friends. At Wanapix we want that toast to be remembered over the years in a very special way. That is why we have created these engraved personalised glasses, so that you can choose the one that best suits that moment of happiness in your life and that it becomes an unforgettable memory.
They are ideal for weddings and other special celebrations. These fine and delicate personalised wine glasses are made of highly transparent crystal. They have an unbeatable shine and are dishwasher safe, so you won't have to worry about keeping them looking as good as new.
They are environmentally friendly, as lead is not used in their manufacture. They have a thin tempered rim that will make them fit perfectly with every sip. They are resistant to abrasion and the quality of their materials makes them perfect for a great durability. We want your new personalised gin glasses to be with you for many celebrations.
And best of all, you can personalise them completely to your liking. They are personalised by engraving. You can find plenty of pre-designed templates to make the task of personalisation very easy. But if you don't find one that fits what you had in mind, you can also create your engraved wine glasses from scratch. A design created exclusively for you.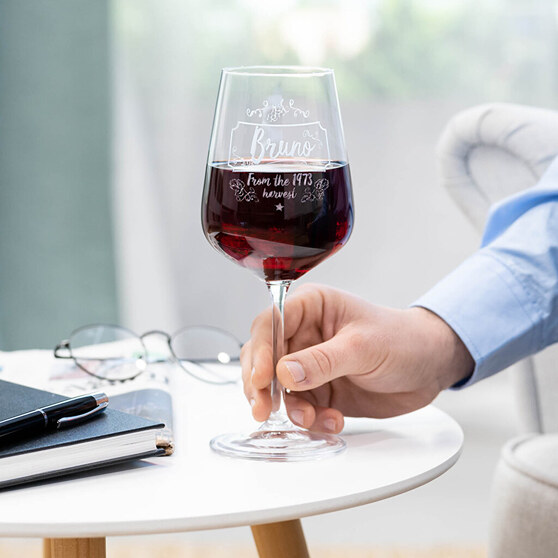 A personalised glass for any drink
We know how important it is to take care of every detail, because no matter how small it may seem, it will make that moment simply something special or, on the contrary, something unique and incomparable. Now you can choose the best engraved glass for your favourite drink and the best of all is that it will be personalised so no two will be the same. It will be the ideal one for your moment!
Personalise the perfect glass for that special moment
The glasses are designed to be the perfect recipient for every drink. And now you can personalise them to make them perfect for that special moment. In this section you will find both the perfect glass and a lot of pre-designed templates that you can modify to your liking. But, if you don't find one that fits you can personalise your engraved glass from scratch. We also leave you some ideas for personalisation:
Personalise it with a special date, that date you want to remember: your wedding anniversary, the date of your wedding, a birthday, retirement or simply the day you moved away from home and wanted to celebrate it. Surely you have a thousand moments to celebrate. A glass engraved with that special date will be perfect for the occasion.
Your initials on an engraved glass: that will be your seal of identity, plus you can choose from a lot of fonts, the one that best suits your personality and your tastes. No two glasses will be exactly the same. It will be your favourite cup from now on.
Your company logo: if you are an entrepreneur or have your own business, it is always nice to have a glass with the logo engraved on it, so that you can toast every success or every year that you have been with them. They are simple details, but the most important moments are born from the simplest things. Make an engraved glass with logo today.
A special phrase for you or for you: surely you have a phrase that has marked a before and after in your life. A motto that you have engraved in your mind. Now you can also engrave it on your personalised glass.
There are endless ideas to personalise the perfect glass, all you have to do is think about what you want to put on it and we will make sure it is perfect. fill your glass, raise it and all you have to do is say the magic word - Cheers!