Personalised beer glasses & mugs
Select an option: Opaque glass
Sizes: 8 cm (width) x 15 cm (length)
Without minimum quantity
Dishwasher safe, not microwave safe.

Capacity: 500 ml.

ID: #14889
Reviews with images








---

Personalised pint of beer
If there is one drink par excellence that men and women love, it is beer. And there is nothing better than sharing it with people you love. That's why we recommend that if you are a lover of this drink, you should have our personalised beer mugs at home. Why? Because we're sure you'll enjoy your pint of beer a lot more if it's in a personalised pint glass.
In this section, you will find our best beer glasses for gifts and in different materials. All of them are of course customisable, allowing you to take care of every detail and create an exclusive and original model. All you have to do is to design it with your favourite photos or images, a text...
These original beer glasses are the ideal gift for any occasion: birthdays, Mother's Day or Father's Day, among other festive occasions. They are very popular and very practical.
Which one to choose?
We have three different models of personalised jars. If you don't know which one to choose, we are going to explain one by one what features they have. This way it will be much easier for you to choose, although we believe that each one has its own charm:
German beer mugs: are the most popular models among our customers. They are ceramic beer mugs and have the largest capacity in our catalogue: 650 ml. It has decorative inlays, which makes it very complete and different from the ones you will find in other shops.
Crystal beer mugs: these are made of transparent glass and have a capacity of 500 ml. As they are transparent, the personalisation is more subdued than the previous model. We especially recommend personalising the model with text, as the result will be amazing.
Translucent glass beer mugs: if you like to drink beer very cold, we recommend this model, because it preserves the temperature much better. It also has a capacity of 500 ml. Unlike the previous mug, this model is made of translucent glass.
Ceramic beer mugs: like the "German beer mug" model, it is made of ceramic, white in colour. The difference is that this mug is completely smooth, simpler, without the reliefs and ornaments of the German mug. In addition, it has a capacity of 500 ml. (half a litre).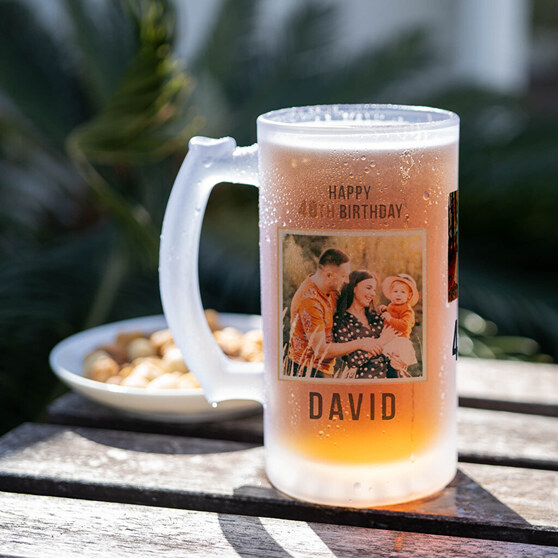 You already know its features, now you can start creating your personalised jar or mug online. If you belong to a certain fandom, you can also make it with motifs from those films or series: Game of Thrones, Lord of the Rings, Harry Potter...
How to serve beer
These original beer mugs are the ideal gift for any occasion: birthdays, Mother's Day or Father's Day, among others. They are very popular and very practical.
The first thing to remember when drinking or serving a beer is the following: Avoid drinking from the bottle itself, as it takes away the effervescence and adds to the temperature. Once you have chosen any of our glasses or mugs, you can chill it in the fridge for about 20 minutes. This way when you go to serve it, it will be cooler.
The next step is to pour the drink into the glass. To pour it properly, you need to tilt the container at a 45-degree angle so that it doesn't foam up too much. Depending on how much you like the foam you can tilt it more or less. Some people prefer to drink it without any foam at all, although in bars you'll find they leave around a centimetre and a half.
Cold, with the exact measure of foam and in the company of friends. This is the best way to enjoy a good beer.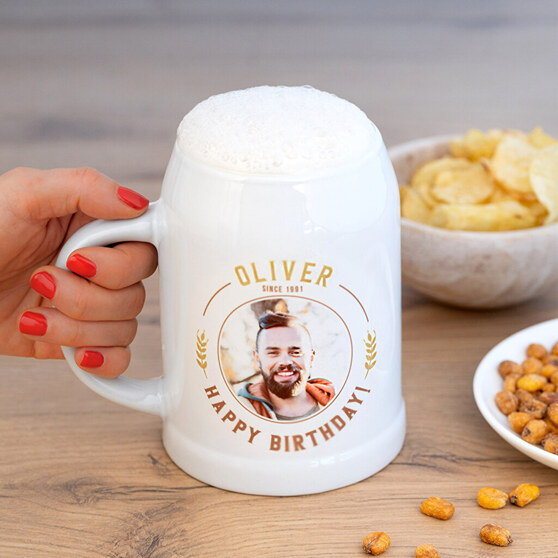 Ten fun facts about beer
Spain is where most non-alcoholic beer is consumed in the European Union.
Beer head, that's the name of the beer foam.
Belgium is the country with the most beer brands in the world
It has its own festival: Oktoberfest, which is celebrated in Germany and has spread to other countries.
Someone invented ice cream with the taste of beer.
It was made 5,000 years ago.
It is a healthy food, because it has nutritional substances, as long as it is consumed in moderation.
There is an International Beer Day and it is celebrated on the first Friday of August every year.
The oldest brewery in the world is located in the Weltenburg Monastery (Germany)
Egyptian labourers were paid beer for their work.
Tags of Beer glasses and tankards