Sizes: 9,5 cm (width) x 9,5 cm (length)
Without minimum quantity

Material: medium density fibreboard (MDF). Brand: ChromaLuxe.

ID: #5345
Reviews with images








---

Photo Coasters
The coasters are an element that we use regularly both in our homes and outside them.
They are an essential item in any home, especially when we have visitors. They have the ideal size and you can choose between different shapes and materials. They have a very elegant finish and you can design them with the images or text of your choice. You will surprise your visitors with these super original coasters.
You can also choose between 3 available models, round coasters, square coasters, and square coasters with a bottle opener in one corner. The bottle opener model is the most practical one of them all as it's a two in one solution.
Care for your furniture!
Who doesn't mind when glasses, bottles or cans leave a rim on the table? We do, that's why we have created these personalised coasters, to protect our furniture in an elegant way and with the style of your choice. You will avoid uncomfortable marks and your furniture will last longer.
Customise your coasters with your own design
What differentiates us apart from the rest is that with us you can create your personalised coasters with photos, designs or texts, just the way you want them. We don't put any limits, you are the one who decides how to personalise them to the millimetre, taking care of every detail so that your coasters are the most original and so that you can surprise your visitors when you leave them by the table.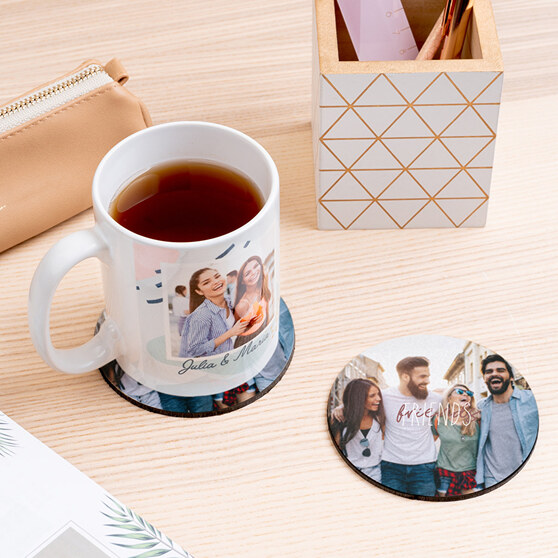 On our website you will find a lot of designs available for all tastes. With our online editor, you can easily customise them even from scratch, with your own design, a photo, a nice background and a motivational phrase. You'll be able to create your own with just a few clicks and you'll love the result!
When to give a coaster as a gift
There are loads of occasions when a coaster could be the perfect gift. As a gift after a purchase, as a marketing option if you have a bar or restaurant or even as an original business card for your business. Here are some ideal options for giving or using a coaster as a gift.
Coasters for your business: Coasters are an ideal option for advertising your company. You can put your company logo and a contact telephone number on them so that they can get in touch with you quickly and easily. Anything that comes to mind to attract the attention of your current and future customers. Just choose the design that best suits your brand and you will have the perfect coaster to give as a gift.
Coasters to use in your bar or restaurant: an ideal way to promote your bar is to use your personalised coasters in your own premises. This gives a brand image, it means that you are a person who cares about providing a clean image. As well as showing that you like to keep the restaurant in perfect condition, you show that you are a person who cares that the tables and other furniture are perfect, thus also preventing them from leaving.
Be original and create a coaster that will make an impact on your customers, that will make them laugh, they won't forget your business and will be coming back for sure.
Coasters as a business card: this option seems to us to be a super original idea, creating a business card in the shape of a coaster. A coaster with your company logo, address and a contact telephone number. You can hand them out among your acquaintances or even leave them in a public places so that people can pick them up and give more visibility to your company.
Coasters as a gift at events: You can also use coasters as a nice souvenir of a special date or event, such as weddings, baptisms, communions, etc. You can personalise it with a nice phrase and the date, with a photo and text of your choice or for example at a christening with a photo of the little one with their name and date. It is the perfect gift for the guests, they can also use it at home and they will always remember that beautiful day every time they use it.
Have you already thought about what you are going to use your coasters for? Send us your idea and we will make it come true.