Personalised Puzzle Block
Select an option: Puzzle Block
Sizes: 13 cm (width) x 11 cm (length) x 1,5 cm (thickness)
Without minimum quantity
Personalised on 1 side by direct printing.

Compatible with LEGO-bricks

Number of pieces: 49. Material: plastic.

ID: #16165
Personalised Puzzle Block bricks with your photo compatible with LEGO-bricks
We all like to have our home well decorated, taking care of every detail of every decorative object we put into it. There are lots of different ways of decorating a home. There are people who like a more Nordic style with wooden objects and light colours, others with a more elegant or sophisticated taste and people who like the decoration to be cheerful, fun, with a more casual touch.
If you are one of the last option, this is going to be your favourite item from now on, the new Personalised Puzzle Blocks, made of pieces compatible with LEGO-bricks. You can immortalise your favourite photos in the most original and fun way on the surface of the blocks. They are available in three different colours, red, yellow and white, so you can choose the one you like best or the one that best suits the decorations you already have art home.
It has 49 pieces that you can assemble to make a super original photo frame. The puzzle comes disassembled in a little box, so when it arrives you can get to work and assemble it to see how well your design has turned out. We're sure that it will look amazing!
If you have little ones at home, or if you love LEG-bricks, this is going to be more fun than ever, as they'll have a lot of fun combining and assembling endless figures, castles and forts in which they can include parts of the pieces of the photo you've chosen.
Customise your Puzzle Block with your favourite photos
In this section you will find a lot of designs created to customize your puzzle block very easily, you only have to change the names, upload photos, modify phrases or whatever you want, you can quickly modify the design to make it completely yours.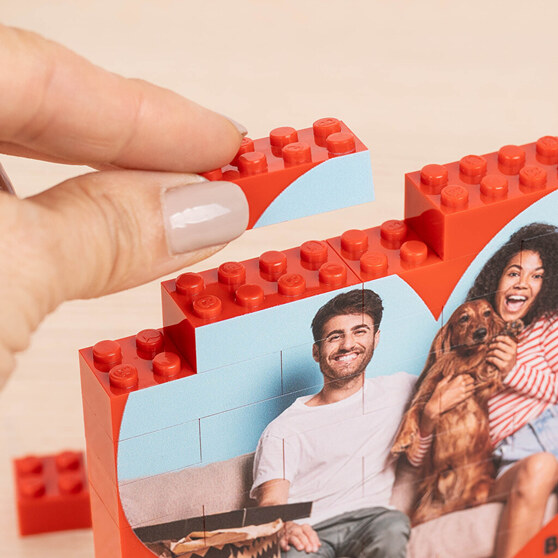 And if you don't find a design that suits you perfectly or that fits what you had in mind, don't worry, at Wanapix you can also create your personalised puzzle block from scratch. With our editor you have the freedom to upload your own design or create it directly by adding phrases in different fonts, upload several photos to make them as a collage, or whatever you prefer. A universe of personalisation just a few clicks away.
Your kids will be amazed and will enjoy the new personalised Puzzle Block. Because they will also be able to use it together with their favourite toys, as the pieces compatible with LEGO bricks will allow them to have fun with the new photo frame that you have chosen and personalised by and for you.
An original and fun product with a multitude of features
With our Puzzle Block, fun is guaranteed. It is a single product but it can also be given different uses.
Decorative element: the puzzle block will arrive at your home disassembled and in a little box, it will be great to assemble it so that you can see how your design has turned out, which will be created by and for you. Once assembled, all you have to do is choose where you want to place it to decorate your home: on the bedside table, on your bookcase, in the living room... You can move it around as you wish. It will be an element that will not go unnoticed among your guests.
Funny games: as it has pieces compatible with LEGO bricks, it will give a lot of play and you will be able to combine the pieces with your children's toys. We can play as a puzzle and mix it up with our LEGO bricks to make it funnier and more amusing.
Use it as a puzzle: as its name suggests, "Puzzle Block" is nothing more than a puzzle made with blocks, we can have fun assembling and disassembling it as many times as we like, even making different combinations to see how it would look if we swapped faces, body parts, etc. in a photo. It's indeed a funny jigsaw puzzle that will make you laugh.
A single product with 3 options for fun and games, now all you have to do is let your imagination run wild and create the perfect design for you or your kids, choose the colour they like best or the one that best suits the decoration of your home and we'll make sure it looks PER-FECT-TO.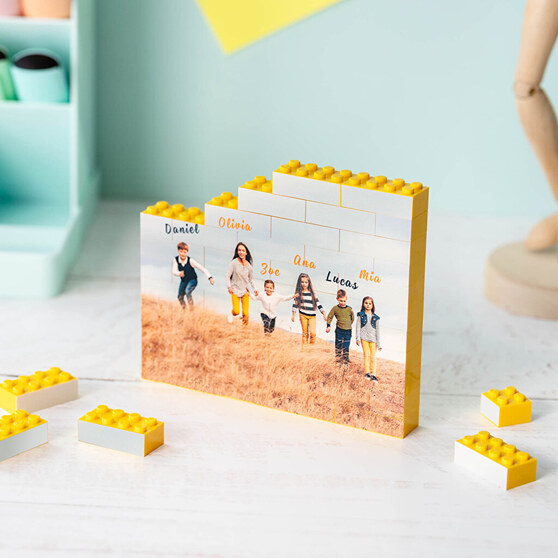 LEGO® is a trademark of The LEGO Group of Companies, which does not sponsor, authorise or endorse this site.