Personalised outdoor ceramic memorial photo tile for headstones
Select a model: Oval (without frame)
Sizes: 6 cm (width) x 8 cm (length)
Without minimum quantity
Made of porcelain.
The print remains intact for 50 years.
The image is engraved after an 8 hour treatment in an oven at 800ºC.
ID: #1648
Reviews with images








---

Personalised photo gravestones
When it comes to creating memories in memory of loved ones who are no longer with us, it is common to choose a personalised photo monument to place on the tombstone. On this product, better known as photos for gravestones, we can print any photograph, in colour, which will be perfectly integrated on the ceramic piece.
The photos for gravestones are made of porcelain and treated in a special oven at high temperatures for hours to ensure the quality and permanence of the image over many decades. These products are designed to last for many years and to withstand all types of weather conditions. They are treated with a special enamel.
This is an article where we put a lot of effort, care and dedication into them so that they are perfect, as we know the importance and emotional value they have. If you want your tombstone photo to have the best quality and durability, you will see that we have put all the love in the world in it, it is an article with a handmade elaboration and that denotes a great quality.
What options of photos for gravestones can I choose from, and how can I personalise them
In this section you have photos for gravestones in various shapes and sizes, essentially divided into two forms:
Oval photo for gravestone, we know that this is one of the most demanded shapes over the years. The oval photo for gravestones is a classic that is usually the favourite of many customers. You can choose from various sizes, with or without frame, in gold or silver, and even models with a stand.
Rectangular photo for gravestones, this is a ceramic photo a little more up to date than the classic oval version. There are different sizes to choose from and you can also choose whether to add a frame or not.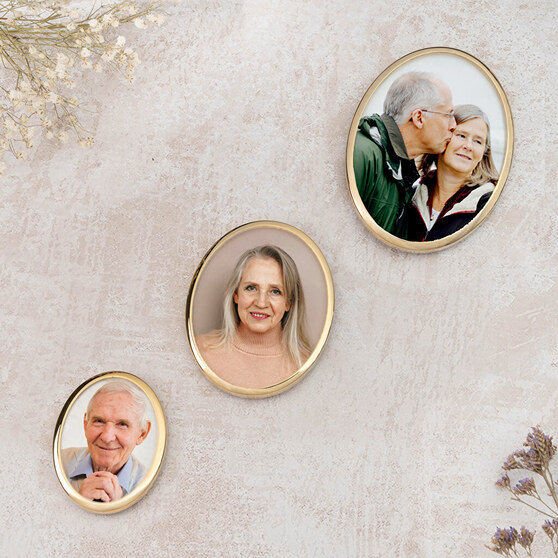 The personalisation and purchase process is very simple, as the order can be placed from this website, comfortably from any computer, mobile or tablet.
To place an order for photos for gravestones, all you have to do is choose the desired product from all those available (according to its shape, size and frame option), use the online editor to upload a photograph and prepare the ceramic design. Before finishing the order you can see a simulated preview of how the photos for gravestones will look, to check if you are happy with the design you have created.
Photos for tombstones: prices
A common question regarding photo ceramics is the price. The answer is that the price of photos for tombstones depends, as there are many products available within this family. There are framed and unframed photo-ceramics, as well as different sizes available. Logically, the cheapest photos for gravestones are those without a frame, and within this option, the smallest size.
On this page you can choose the shape and size you want for your photos for gravestones, and as you select the different products, you will be able to see their price. If you have any doubts, we will be delighted to help you through any of the contact channels available to you in the "Contact" section of the website.
How to stick the photos for gravestones on a tombstone
After receiving your personalised ceramic photo, you may wish to stick it to a tombstone, to leave it attached. It is possible to do this in a very simple way, ensuring that it will not come off for decades. The steps to follow to attach the photos for gravestones to a gravestone are as follows:
First, clean the area of the tombstone where the photos for gravestones will be mounted. To do this, use a mixture of water and alcohol (50% of each) and rub with a cloth the area where the photos for gravestones will be glued.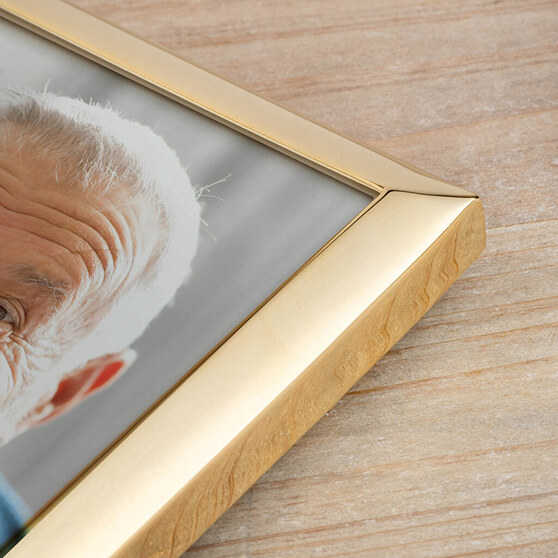 Apply clear silicone, or marble putty, all over the back of the photos for gravestones, and press it firmly onto the tombstone.
With masking tape, make a cross over the photos for gravestones to secure it in the desired place, making sure that it is firmly fixed.
Wait 24 hours for the silicone or putty to harden, and remove the masking tape.
To secure further, apply clear silicone around the edges of the photos for gravestones to seal the area where the photos for gravestones meets the tombstone.
With a cloth or tissue, remove the excess silicone from the edges.
In this way, the photos for gravestones will be securely fixed on the stone, rainproof and weatherproof. The photos for gravestones will not fall off, nor will the image printed on the ceramic piece be erased.
Factors to take into account before ordering your photo for a gravestone
The gamut of ceramic colours is smaller than the gamut of colours of a monitor or a photograph, so the result may be different from the original colours, but we will always try to make it as faithful and similar as possible to reality.
Check the measurements of the tombstones and inscriptions on it to be able to order the perfect size. Also assess whether it will look better with or without a frame and if we choose a frame, think about whether it will look better in a gold or silver tone.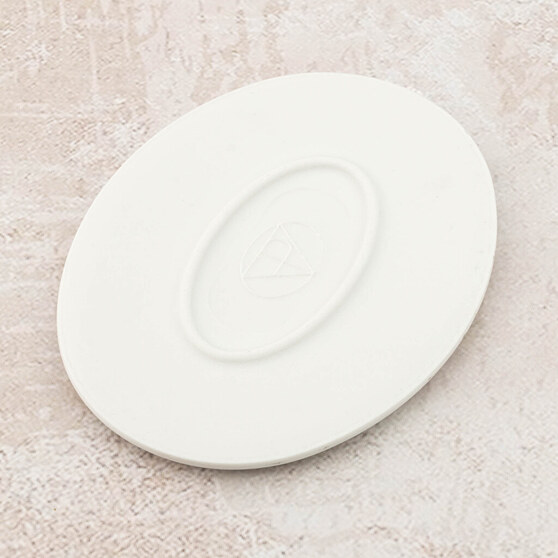 We are leaders in the manufacture of personalised products and we put a lot of love and care into all the items we personalise, but this one even more so. It is an article that is usually made, on most occasions, for people who have left us and for whom we felt something very special, so we take great care and do our best.
Thanks to this handmade process, the final result is a high quality product, with the best materials, and resistant on the outside.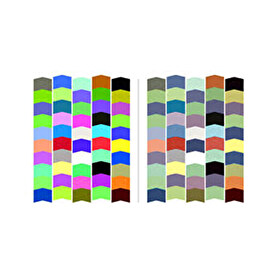 Differences from RGB gamut to ceramic CMYK gamut