The features of our cushions at a glance
You can personalise them with any photo or design in full colour. Upload as many photos as you want or add texts and names.
You can create a design from scratch, or choose one of our free pre-designed templates and edit them.
Choose from several different shapes, and several sizes of each shape.
You can customise both sides, each one to your liking. We will print your design on the entire surface of the cushion, without margins.
Choose from several different types of fabric. The cushions are delivered with filling.
You can even choose the colour of the zip, for total product customisation.
The cover is easily removable, machine washable.
Our cushions comply with the OEKO-TEX® quality guarantee and have passed the OEKO-TEX® test criteria.
Discover why our personalised cushions are unique
Wanapix
Full 100% printing of the cushion: you can print your photo or design on the entire surface of the cushion, up to the seam junction, and on both sides. There will be no blank or white margins.
Various fabrics to choose from: you can choose from several types of fabric, from the classic polyester (stretch), to more original fabrics, such as soft satin, or an elegant leatherette finish.
Choose the colour of the zip: you can choose the colour you want for the zip, at no extra cost! This way you can choose the zip that best matches the colours of the design or photo you prepare.
Other cushion brands
Printing with white spaces: other brands do not allow you to cover the entire surface of the cushion with your design, and will more often than not, leave white margins around the cushion which are not very aesthetic and looks quite ugly.
Only one type of fabric: in other shops you can't choose what type of fabric you want on your cushion, they only have one standard type of fabric.
Only one colour of zip: other brands make cushions with a zip in one colour that you cannot change, whereas Wanapix allows you to choose from all the most popular colours.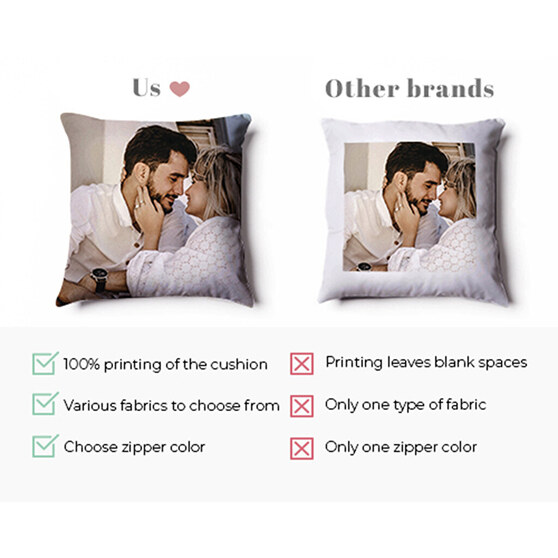 How to make original cushions
Cushions are one of the basic decorative elements in any home, so please don't neglect that part of your interior decoration.. A personalised cushion can make all the difference to the ambience of your living room or bedroom. From adding a daring touch to a classic cushion to lending elegance and modernity to your furniture.
Choose the shape, type of fabric and size and design the cushion that perfectly suits your style, tastes and needs. Because we know that there are things you want that you simply can't find anywhere. Now you can do whatever you set your mind to, because you can personalise all our cushions with a photo or with the design of your choice.
Now it's easier than ever to make personalised cushions with photos, because our online editor helps you to do it step by step.
Harness the full power of our online editor
To create your cushion, you can use our editor. There's no need to download any software as it's 100% online. With the online editor you can do everything: upload one or several images from your mobile or computer and place them on the cushion as you like, as well as rotate or resize them. You can also add texts, and choose from several fonts of all styles, and change the colour and size of each text.
At any time you can see a preview of the product, with a simulation of how the cushion is looking. Once you are happy with this preview, you can place your order, safe in the knowledge that you will receive the cushion exactly as you have designed it.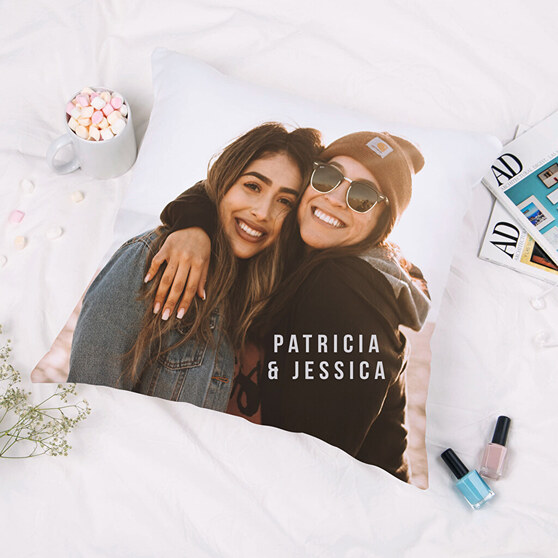 How to make photo cushions
Our cushions have the OEKO-TEX® seal, which guarantees the quality of all textile components, including the quality of the finishing touches, such as rivets, buttons, zips and interlinings. The OEKO-TEX® quality seal also guarantees that the textile components are skin-friendly.
And if there is quality, there is usually also cost. Customisation in decoration is often expensive. However, decorating your home to your taste doesn't have to be within the reach of just a few. That is why at Wanapix we offer you the customisation you are looking for at affordable prices. The covers can also be machine washed without any problems, with the exception of the leatherette ones, so you'll have one less headache. And don't think we'll just send you the cover: the filling is also included with your order.
We also stand out from the rest in the type of personalisation we offer on our cushions. While other brands leave blank margins around the design, or personalise only one side, we cover the entire surface of the cushion, right up to the seams, on both sides. Because we know that we won't get happy customers with only half of the cushion personalised.
And it's not just personalisation that sets us apart, but also all the possible combinations you can make with our different cushion models. From choosing the material, shape and size, to the colour of the zip. We like you to be the one who decides how your cushion is going to look like, step by step. This is the only way to make personalised cushions with the designs of your choice.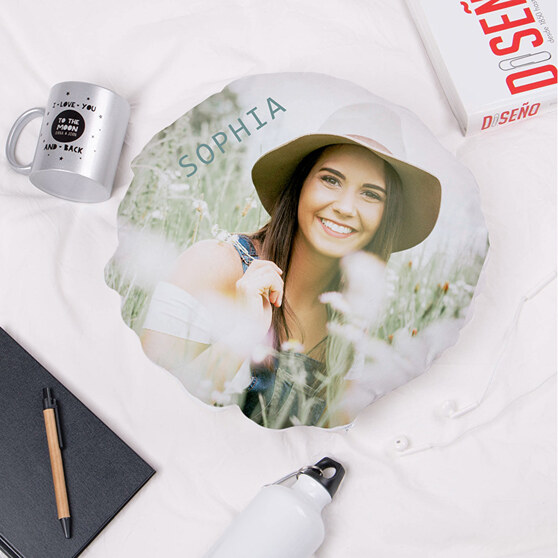 The personalised cushions are perfect both for your own home and as a gift for any occasion. If you are going to give a gift to someone, our advice to get it right is to think about both the person's taste and personality and the space for which it is intended. Is it for the living room or the bedrooms? This can also determine the design, whether it is preferable to choose photo cushions, cushions with quotes, minimalist cushions. Even if it is for a special event, such as Valentine's Day or Mother's Day, they end up in a specific space, so it is advisable to think about the characteristics and style of the space so that it fits in perfectly with the environment.
And for the children's room? Children's cushions!
So far we have shown you different options to personalise the different models with designs or photos, but can you imagine designing them with drawings made by your own children? Now it's possible! If you don't know how to make cushions for children, it's very simple. All you have to do is choose the drawing you like best, scan it and convert it into a .JPG file. Then all you have to do is choose the model you want, along with the right material and size, and upload and add the design. It's as easy as that.
Making cushions with children's drawings is ideal as decoration in their room, but also as a gift for mums, dads, grandparents and teachers. They love it, because there is nothing more personal than a design made with so much love and care.
If they don't like to draw, you can also create fun cushions and frisky cushions with their favourite fictional characters. As it is fully customisable on both sides, you can make a photo collage with all their favourite characters from films, series or books. It will become your favourite cushion.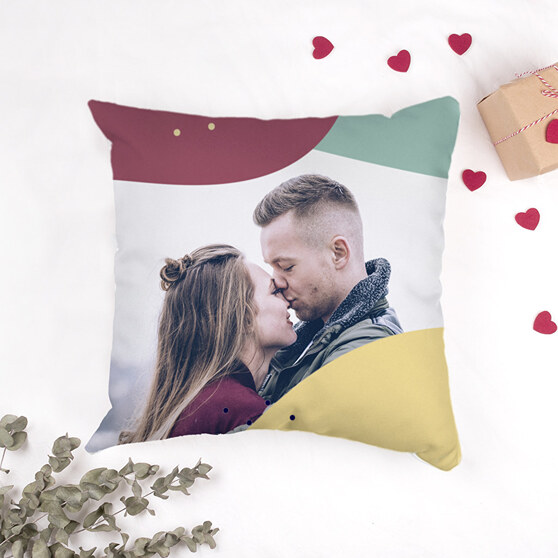 Frequently asked questions about our photo cushions
What material are the personalised cushions made of?
There are several materials to choose from. The standard cushions have three different types of fabric to choose from, all at the same price: Polyester (stretch), Satin, and Panama. There are also leatherette cushions, which cost slightly more than the aforementioned materials. In addition, there are other more special cushions, such as viscoelastic cushions, or lavender and wheat pillows.
How to personalise the photo cushions?
The cushions are personalised using a technique called sublimation. With this system, you can transfer any photo, design, logo or image to the cushion cover, leaving it perfectly integrated. The colours are totally clear and vivid. And they can be machine washed or put in the dryer (without filling).
Advantages of our cushions
Our cushions are premium quality at an economical price. Among the advantages, we highlight that our cushions are personalised on 100% of the fabric, and on both sides of the cushion. Other brands leave blank margins on the sides. In addition, all cushions come with padding included, at no extra cost. And you can even customise the colour of the zip on the cover, also at no extra cost.
Do you have cheap personalised cushions?
We can say that our personalised cushions are the cheapest on the market, taking into account all the features mentioned in the previous point. Other shops advertise cheaper prices, but during the purchase, they increase the price if you want to personalise the other side. Or they ask for a minimum quantity of cushions to finish the order. Or they don't let you personalise the whole surface of the cover up to the edges, as we do. Our cushions can be considered "Premium" cushions at a very affordable price.
Are they machine washable?
As a general rule, yes, all our personalised cushions are machine washable. The filling must be removed first, as it is only the cover that needs to be washed. With the zip, it is very easy to remove the filling for washing in the washing machine. However, there is washing information on each product sheet, which we recommend that you read.
What shape and size are the cushions?
Just as there are various materials to choose from, there are also different shapes and sizes. The most popular cushion is the 35x35 cm square cushion. Although there are larger cushions in the same shape. There are also round, rectangular and heart-shaped cushions. There are various sizes of each of these shapes. There are even "U" shaped neck cushions, to place around the neck.
Difference between fabric types
When creating your personalised cushion, you can choose the material of your choice. We offer you 3 different types of fabric. All of them are 100% polyester, but in different variations:
Polyester (streck)
Streck fabric is what we usually call simply "polyester", and is the most common and popular fabric. It allows a wide range of colours as well as a great fidelity to the design and a great definition.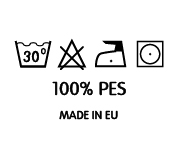 Panama
Panama fabric is a polyester variant that is characterised by a larger and more visible weave than other fabrics. This type of weave means that it loses very slightly definition and colour saturation, but instead, it gives a greater personality to the products that use it, giving a more artisanal, homely and homely feel.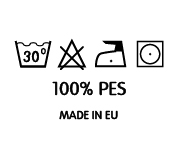 Satin
Satin fabric, also a polyester variant, is a fabric characterised by its soft feel and sheen, giving a more glamorous feel to the product. It also has a very good definition and colour gamut, as the sheen of the fabric makes the colours look more vivid.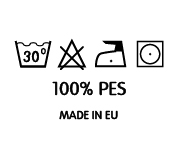 Washing instructions
Machine washable
Maximum washing temperature: 30°.
Do not bleach.
Iron on low heat.
Dryer safe. Tumble dry on low heat.
All measurements of these textile products are approximate and may be affected by the image transfer and manufacturing process.
Filling material
We include in the cushions the filling(the cushion itself) needed for each size, and these are the materials:
Fabric: TNT- non-woven fabric 40 gr./m2 - 100% polyester.
Filling: 100% polyester fibre; hollow, conjugated and silicone.
Quality guarantee
Textile products labelled with the OEKO-TEX® mark guarantee that all their components meet the required control criteria, including accessories such as rivets, buttons, zips, interlinings, etc. Textile products with the OEKO-TEX® quality seal have skin-friendly properties.