Personalised aprons with printed photos or embroidered name
Do you have to give a gift to a cook or someone who loves cooking? Don't think twice: personalised aprons are the perfect gift. In our online editor you can create them with a photo, name or any design. Or, if you prefer, just with an embroidered name. A practical and fun gift that will delight the chef or kitchen assistant who receives it.
In this section, we have compiled our apron models for children and adults. Make cooking something fun for the whole family to enjoy from preparation to tasting. Get started now and create your own custom apron!
Washing Instructions
Suitable for washing machine.
Maximum washing temperature: 30°.
Do not use bleach.
Iron at low temperature.
Not suitable for dryer. Dry outdoors.
These aprons are recommended for domestic use.
Original aprons
This gift is ideal for men and women who love cooking, because nowadays elaborate cooking is very fashionable and many people love to look up recipes and try to replicate them at home. Without a doubt, one way to motivate yourself even more so, is to wear kitchen aprons that are completely personalised.
You can add anything to the personalised cooking apron: a photograph where the person goes out with family or friends, or you can also choose to make funny aprons. For example: the body of a character, so that wearing it almost looks like a disguise. Some use it during bachelor parties to "disguise" the person who's getting married.
Any chef will be happy to use theirs and prepare some of their specialties. We have many cheap personalised baking aprons, but with the highest quality. Now you can choose the model that best fits what you are looking for and make aprons for men, women, geek aprons... It is ideal for any occasion! This gift is a guarantee of success and the dish that the cook prepares for us is sure to be tasty and delicious.
Personalised apron without minimum order quantity
In our online shop you can buy your apron without minimum order, from 1 unit if you wish. Many merchandising stores require a minimum order: with us, you can buy the quantity you want, with no mandatory minimums.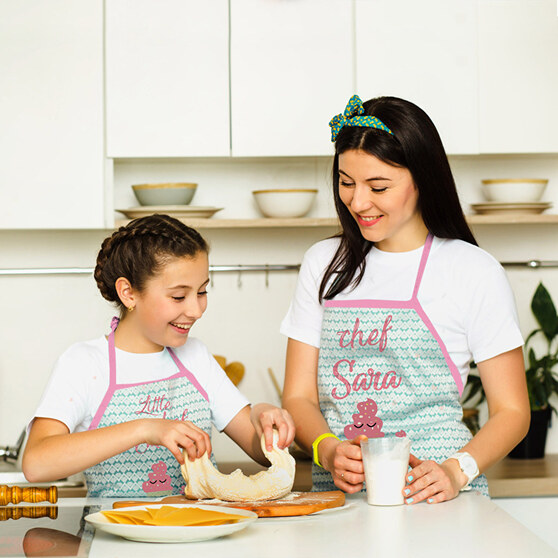 Personalised photo apron with name og text
Use the best tools to create the most delicious dishes when you are in the kitchen. Create your own personalised apron with phrases, photos or the design of your choice. We provide you with over 200 free pre-designed templates that you can adapt for a quicker customisation.
The textile aprons (i.e. the ones that can be printed with photos, not the embroidered apron) are made of high quality and very resistant Panama fabric (polyester). What sets these aprons apart from the rest is their total personalisation. You can customise one hundred percent of the surface with the personalisation of your choice. If you don't know how to customise an apron, don't worry, because our online editor gets the job done for you. Furthermore, it's easy to use. In just a few steps, you'll be able to create the most original model.
But that's not the end of the customisation, as you can even choose the colour of the trim and the back string from several different shades. These ribbons to tie on the back measure approximately 40cm.
The denim apron with embroidered name is made of 100% cotton material with a denim finish. In other words, denim fabric. In this case, the personalisation is done by means of embroidered text. You can write any name or any word, and we will embroider it in the middle of the apron, with an elegant typography. This apron is more resistant, has an adjustable neck strap with button, and reinforced brown waist straps. It includes several pockets to carry your utensils comfortably, with reinforced stitching and metal rivets.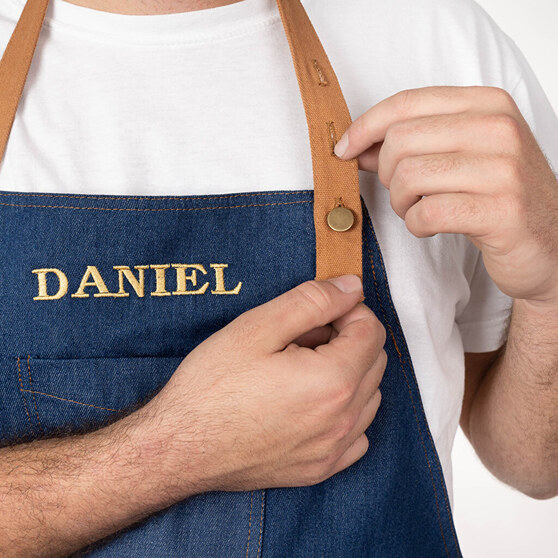 Personalised children's apron
Some children are also interested in cooking, because they love helping their father or mother as kitchen helpers, especially since Masterchef Junior. It is positive that from an early age, they are integrated and participate as one more in the tasks of the home. To make it more fun, you can make a pack of aprons for father and son or a combination of mother and son.
From now on, the little ones will be able to help in the kitchen without the risk of getting their clothes dirty. You can have fun as a family and make amazing dishes together.
The apron of the future Junior MasterChef
Cooking shows are now more fashionable than ever and are popular with young and old alike. If this is the case with your little one, with us you can create their own personalised apron with a child's photo. They'll love it because it will be made with them in mind and they won't find another one like it.
Thanks to personalisation, you can make a unique model by inserting your favourite photos, a drawing, a text or a logo of their favourite programme. If you don't know what to choose, then you should know that we also provide you with several pre-designed templates that you can minimally adapt for quicker customisation.
It is made of high quality Panama fabric (polyester) and it is very resistant. 100% of the front of the apron is customisable, but it doesn't end there, as it incorporates piping and back string for tying and is available in various shades, so you can choose the one you like the most. Match the apron to make it a perfect match.
It's ideal as a gift for girls and boys who love to be in the kitchen helping mum, dad or grandparents and for them to learn how to make their first recipes.
The best phrases for aprons
You can personalise them however you want, but apron phrases are one of the best options, because you can make really fun patterns. Here are some of our favourite ideas for you to create the most original model:
Cook trainee
I'll do the cooking, but you do the scrubbing
Danger! (Name) cooking.
You are the best cook.
There are many cooks, but none like you.
Choose the best personalisation and become the next best Masterchef contender!!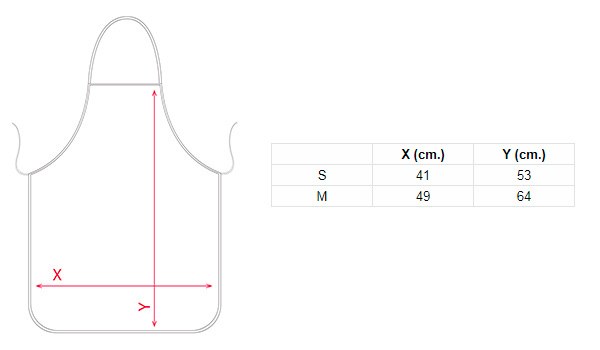 All measurements of these textile products are approximate and may be affected by the process of image transfer and confection.
Guarantee of quality
Textile products labelled with the OEKO-TEX® brand guarantee that all their components meet the required control criteria, including accessories such as rivets, buttons, zippers, interlinings, etc. Textiles with the OEKO-TEX® quality seal have skin-friendly properties.