Keyrings with photo
We are specialists in the manufacture of keyrings personalised with photo. We have many different models of keyrings so that you can choose the one you like best and, in a few minutes, you can configure your keyring with a photo to give as a present or for yourself.
We have so many keyrings that we could organise them by shape or material, because we have all this:
Keyrings in various shapes
Rectangular
Round
Square
Heart shape
T-Shirt shape
Star shape
And other varied forms (bottle opener, flask, etc)
Key-rings of different materials
Wood
Metallic
Acrylic
Glass
Leather
Y other diverse materials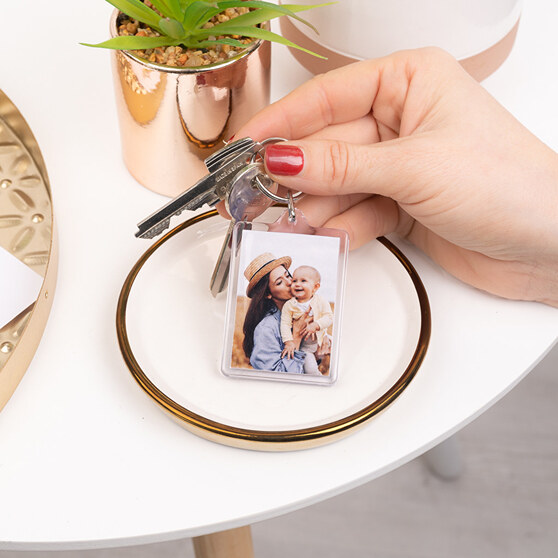 At this point we want to highlight the engraved personalised keyrings. Instead of printing a photo on the keyring, we can engrave texts or a logo using a diamond tip technique, or the latest generation laser engraving.
Design ideas
When personalised your keyring you can upload your own photo, family, your boyfriend or partner, etc... Or you can create original keyrings that have an image of your favorite hobby.
Apart from the keyrings with personal photos, some of the ones that people buy the most are products with designs related to Star Wars, Game of thrones, with a unicorn, the colors of Manchester United, the game Clash Royale, the movie and books of Harry Potter, Dragon Ball, or keyrings with emoji. And many more hobbies that you can capture to create Geek keyrings, soccer, fun, or any other option.
You can also notice that users think a lot about the recipient. Some keyrings for couples are not the same as some keyrings for teachers if you want to give a gift to a teacher. There are also different preferences if the gift is male or female.
They are a perfect gift for special occasions of the year, Father's Day keyrings, Mother's Day, Valentine's Day, etc. The reason is that it is a very economical, original, and practical gift: everyone uses keyrings.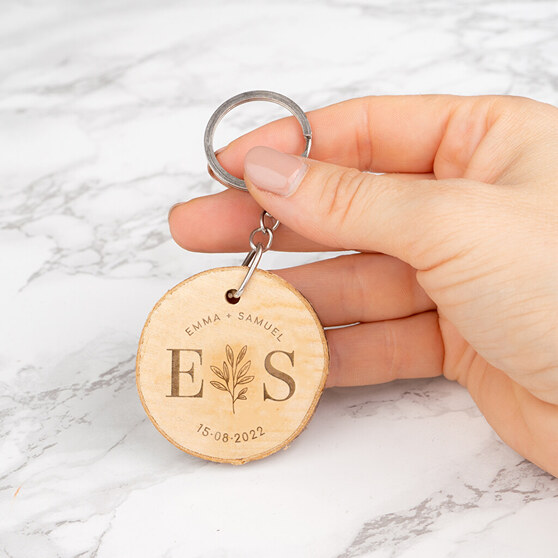 How to make keyrings
It is very easy to order keyrings. Simply choose the model you like, click on the personalise button and you will be in our Online Editor, to upload your photos, text, images, phrases, names, date, design... whatever you want to put.
No longer doubt about how to make original keyrings because personalisation allows you to create any design for a keyring, whatever your imagination wants.
And although we talk a lot about the concept of "photo keyrings", you can choose personalised keyrings with name. This also takes a lot, and who says name, says a special date or a small message or phrase.
Cheap personalised keyrings
In our store we have the so-called "quantity discounts". This means that the more units you order from the same keyring, the cheaper each unit will be. This is a great advantage for those looking for large orders, which can be for advertising keyrings, or to give as a detail in events such as weddings, baptisms and communions
In short, if you are looking for beautiful keyrings , personalised keyrings are the answer to your search.
Double-sided personalised keyrings
Most of our keyrings can be personalised on both sides, with two different photos or designs. So, you can put a photo on one side, and a phrase or date on the other, for example. These two-faces keyrings are the best sellers in the catalogue, precisely because of this opportunity to be able to create two different designs. In the individual card of each keyring you can check if it is personalised on 2 sides.
In short, if you're looking for beautiful keyrings, custom keyrings are the answer to your search.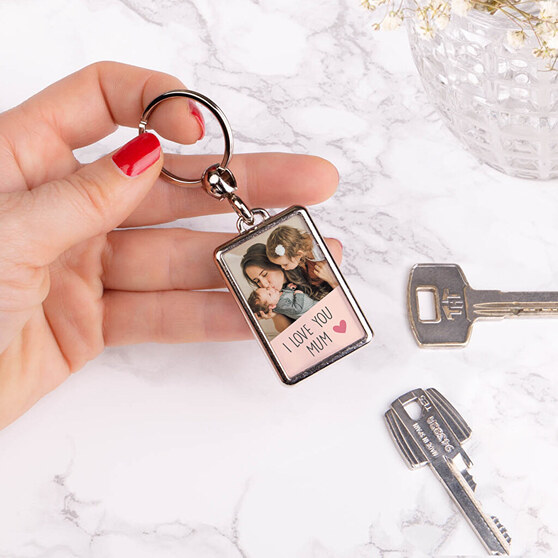 Where to order personalised keyrings
If you've come here looking for a shop where you can order personalised keyrings, you've come to the right place. When you think of personalised keyrings, think of Wanapix. Because of the variety of different models, materials, shapes and sizes as well as the price, and the convenience of using the online editor, here you can create your own keyring completely to your liking. Just choose the model you prefer, and you will see how to make keyrings step by step in an easy and fun way.
How to make wooden keyrings with names
Although most of our keyrings are made of metal and plastic, we also have models made entirely of natural wood. In our online editor you can write the texts you want, so you can make wooden keyrings with names, dates or any message. An original and cheap gift.
Where to buy keyrings for couples
You may be looking for a website where you can buy keyrings for couple. That is to say, with your photos as a couple. In this case, a good idea is to buy two keyrings with the same couple photo, so that you both always have your romantic keyring with you.
But the great thing about personalisation is that you can create keyrings with any photo or design, be it of couples, mothers, fathers, friends, children, sisters, teachers.... it's up to you!