Personalised Blocks keyring
Sizes: 3,3 cm (width) x 4 cm (length) x 1,5 cm (thickness)
Without minimum quantity
Composed of 4 pieces compatible with LEGO bricks.
Each piece has a size of 4x2 "buttons".
Various colours of pieces to choose from.
Personalised on 1 side.
ID: #16998
Reviews with images



---

Keyring with your photo on pieces compatible with LEGO bricks.
Just as there are objects that we use only occasionally, there are others that we use on a daily basis, continuously. This is the case of key rings, an indispensable item to carry our house or car keys. And a key ring says a lot about a person's personality. That's why here we present you with an original, fun and different key ring.
It is the personalised block keyring. It consists of a keyring made up of 4 pieces compatible with LEGO bricks. These pieces are 4x2 in size. That is to say, they have a total of 8 studs (in the jargon, stud is the name given to the "buttons" that this type of bricks have). The four pieces are delivered together, forming a single block of four pieces in a column. And on this total block, we print the photo or design of your choice, with high definition colours. It is personalised on one side.
You can choose between various colours of bricks, whether you opt for more sober colours or more colourful ones. Think about how you want to personalise the keyring, or who will be the recipient of the gift, and you will be able to decide which is the ideal colour for your keyring. Also, when you personalise the keyring in our editor, you will be able to change this colour to see a preview of how it would look with each one of them.
So, you could have your Blocks keyring with a family photo, a photo of your partner, your pet, your children; or with a drawing, a design, names, or any text. Of the four bricks in this product, one of them is attached to the chain and the metal ring typical of key rings, which is where you will put the key rings. The rest of the bricks can be separated and joined freely, always forming the original photo or design with which it was personalised (or changing the order, if you feel like "playing" a bit).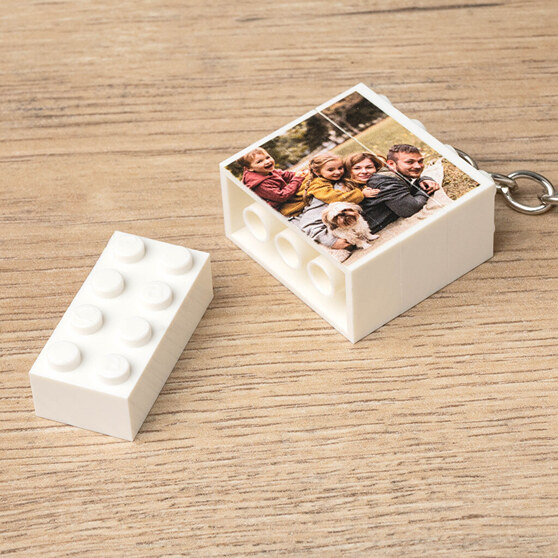 Reasons why the personalised Blocks keyring makes a great gift
This keyring has a lot of advantages to be considered a unique gift that is sure to be a winner, for example:
It's a very fun, novel and original concept: a keyring made up of LEGO brick compatible pieces that you can take apart and put back together. And because it is compatible with LEGO bricks, you can even add other single pieces or pieces from a set!
It is personalised, so the person who uses the keyring every day will see the image or design that was printed on the keyring at the time of ordering.
It is a very economical gift. Like almost all key rings, the price will never be too high, so it is a perfect gift for all budgets, and for any occasion where we do not need a very expensive gift. Birthdays, Valentine's Day, Christmas, Father's Day or Mother's Day, etc...
It's a practical detail: we all use and need key rings! Therefore, when you give a key ring as a gift, you know that the person who receives the gift is sure to use it.
It also serves as an anti-stress object. Objects that help to relax and release tension are called anti-stress objects. Just as soft objects such as balls are used to squeeze in the hand, this key ring can be used as a small game for placing and separating the pieces. This helps to avoid stress and to promote fine psychomotor skills (coordination of movements with the fingers).