Sizes: 4ø cm (width)
Without minimum quantity
Keeps the dummy from falling off or disappearing.
Available in 3 colours.
Add name, photo or design.
ID: #14948
Reviews with images






---

Instructions for use
Before and after each use, wash thoroughly with neutral soap and rinse with plenty of water.
Do not use abrasive detergents, do not boil and do not microwave.
When not in use, store in a clean, dry place.
Do not expose to direct light or heat sources.
Personalised dummy clip
Reinvent a classic and create the best personalised dummy clip for your baby. The clip area can be personalised with the drawing, photograph or name of your choice. It's a must-have when there are little ones at home, as this way they'll always have it with them and never lose it.
If you don't know how to make personalised dummy clips, it's very easy with our editor, because it's very intuitive. You just have to use your imagination and customise it to your liking from scratch or by choosing any of our pre-designed templates to adapt them minimally. You can combine different elements and get a unique design.
This dummy clip consists of a chain and at one end, there is a clip to attach it to clothes and, at the other end, the hook to hold the soother with a safety clasp. It is also available in three different colours: blue, pink or white. Choose the one you like the most and add a beautiful design that you won't find in other shops.
Personalised dummy chain
You can give this personalised dummy chain with name as a gift in a pack together with the dummy and dummy holder. All these products can be found on our website and you can also customise them as you wish. You can use the same design to match or do something different. This dummy chain is an ideal gift for expectant mothers, new mums and newborn babies.
Why use a dummy clip
The idea is that babies that carry a dummy always have their dummy attached to their clothes, so they never lose it. It is especially useful in nurseries and kindergartens, so that the dummy won't fall off and disappear. In addition, if the dummy comes loose, the owner of the dummy and clip can be identified immediately, as it will be personalised with the child's name. This is also a measure that favours hygiene, as it will be impossible to confuse the dummy clip, and therefore the attached dummy, and give it to another child by mistake.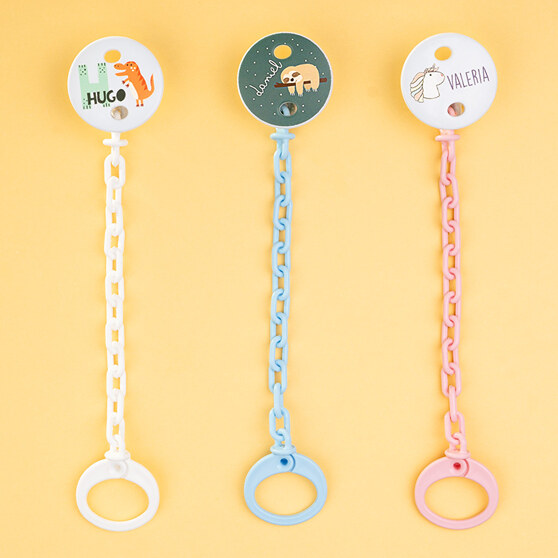 Method of personalisation
We print your design, photo or text directly onto the product, using non-toxic ink. As it is personalised by direct printing, and not by vinyls or stickers, the durability of the personalised area will be much longer.