Personalised gifts for back to school
September is the month when the little ones go back to school. Back to school, back to homework, back to exams? Despite the sadness of the end of the holidays, there comes the excitement of buying back-to-school material and meeting up with friends you haven't seen during the summer.
With us, you can purchase personalised school supplies and design them to your liking. Personalise it with their photo, their name, their favourite fictional character, etc. They will have everything to their liking.
Prepare for back to school with personalised school supplies: pencil cases, backpacks, notebooks, diaries, notepads, notebooks... Everything you need to start classes so that your child is perfectly equipped.
Personalise school supplies
With children going back to school, you'll need to mark their clothes with their name so they don't lose anything. Our textile stamps are ideal for that, so in case they lose their clothes, they'll know who they belong to and they'll return them to you.
Unbreakable plastic mugs are a basic for children on their return to the dining room. You can personalise it completely to their liking. It will withstand all the drops and will become their favourite mug.
Back to school accessories
In the back-to-school and back-to-school season, it is not only necessary to prepare accessories and material purely for class, such as pencil cases, notebooks or pencils and erasers. There are also various related accessories that are useful and necessary for these days.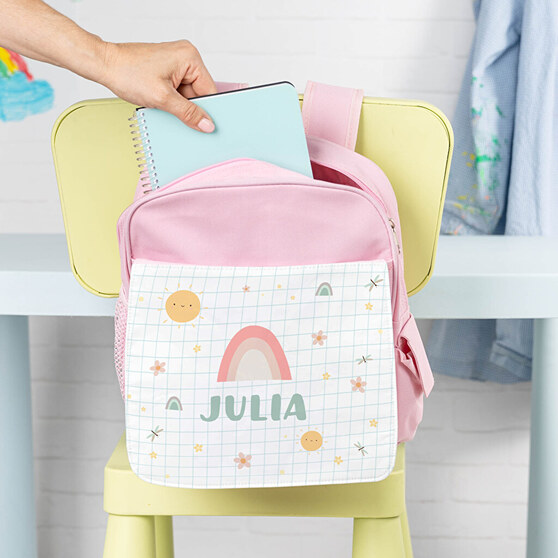 From blackboards to write down the timetable and classes for each day of the week and put it on the fridge, to alarm clocks so they don't fall asleep when they get out of bed, to tupperware and lunch boxes to carry their lunch for recess, or pencil holders to do their homework at home. All these items and many more are available at Wanapix, all of them personalised to your liking, with name, photo, school name and any image you can think of.
Back to school basics: This is what you need
Back to school is usually a dreaded time for children. The return to routine, to classes, but it also means meeting up with teachers and friends. To make going back to school less difficult, we always recommend starting early, so that they get used to the timetable again and find it more enjoyable. But what will undoubtedly help to motivate them for the new school year is to prepare all the school material. Make a note of everything you must have for the start of classes.
As the children get older, more specific material is needed. In the first years, very little school material is going to be needed, but it never hurts to prepare and familiarise your child with all kinds of paints, notebooks, etc. Here is our list of things you can't miss for your child's return to school:
Notebooks: a must-have every year, in fact, they will use several throughout the school year. You can create one for each subject with different designs or drawings to make it more spectacular.
Stickers: one of the most laborious tasks is having to mark all the material before the start of classes. But it is important to do it so that, in case of loss, you can get it back. Mark all your books, notebooks and material with stickers with your name and the year.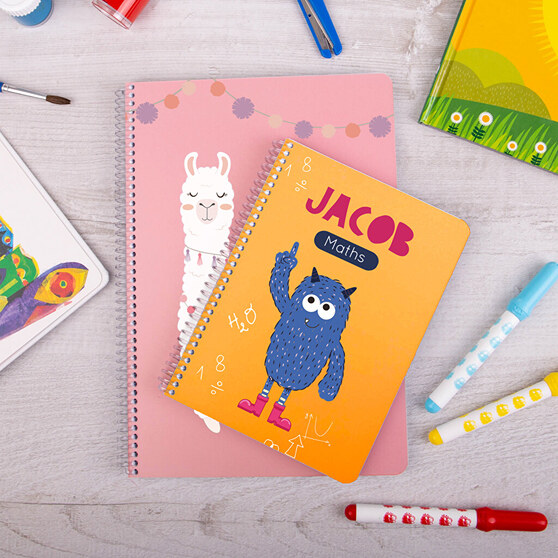 Folders: there is no better way to organise documents than with folders. They are practical and in them you can put all the drawings, worksheets and homework they do during the course.
Pencil cases: so that they don't carry their material loose in their backpacks, it is preferable to opt for pencil cases with which they can easily carry all their pens, pencils, markers...
Water bottle: you need to stay well hydrated at all times. Forget about plastic bottles and opt for a practical water bottle that they can carry with them thanks to its size.
And for the little ones?
Maybe they haven't started school yet, but they have started kindergarten. In that case, you'll also need to have a few things ready. Take note!
Textile stamp: stamps to mark clothes are very useful in their first years of kindergarten, because they allow you to put their name on every single item of clothing. This way, you guarantee that they won't lose anything.
Snack bag: snack bags are very practical so that the little one can carry his/her food in a quick and easy way.
Backpack: they like to start being independent, so you can prepare a small backpack with all the things they will need, lunch... This will make it easier for them to carry it around.
Plastic mug: in some schools and nurseries, they usually ask each child to carry a mug with their name on it. Make a high quality plastic one that won't cut them in case they fall and will resist all kinds of knocks and bumps. Give it a nice design, their name and make a difference.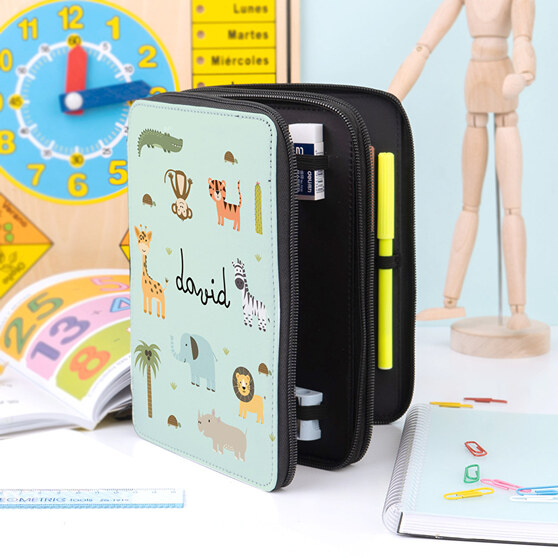 Personalised children's face masks: since the beginning of the Covid-19 pandemic, schools are asking for more security and some rules. One of them is the use of approved reusable hygiene masks. On our website you can personalise them with the child's name and the design you like best. They can be washed in the washing machine and can be used for various purposes. A more economical (and ecological) way to face the return to school in a safe way. You can also personalise them as you like with your child's favourite characters, their name or a photograph.
Textile stamps to mark clothes
: textile stamps are an easy, economical and quick way to mark and seal all children's clothes for back to school. There is no better way to differentiate jackets, smocks and T-shirts than with a textile stamp for stamping clothes. Choose the colour, the name, the design and that's it!
Back to school backpacks: The best way to easily transport the daily school supplies. There are different models depending on the age of the children. For the youngest, we recommend the snack bag with two handles for easy handling and enough space to carry a tupper with snacks or basic items.
Personalised snack bag: The string backpack with reinforced corners is ideal for primary school children who are starting to carry their own notebooks.
Personalised unbreakable kitchenware: Unbreakable plastic kitchenware is perfect for the little ones on their way back to school. It can also be useful for the first years of kindergarten, as it encourages children to start drinking and eating on their own. It consists of a personalised children's cup, plate and bowl made of plastic, so there will be no problem in case of a fall.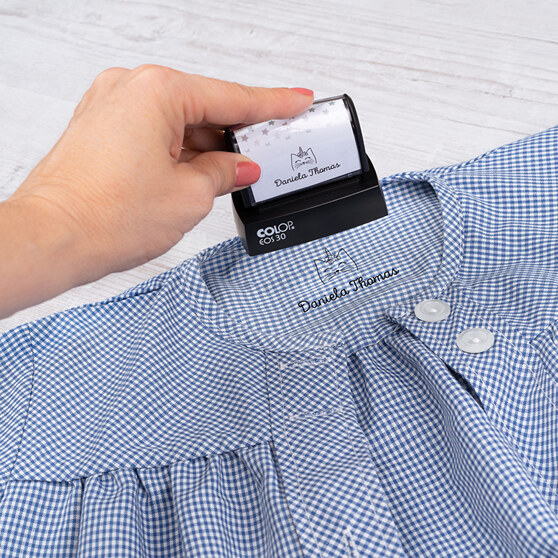 In addition to all these products, on our website you can discover dozens of personalised back-to-school items: personalised notebooks, personalised diaries, pencil cases, water bottles and personalised stickers for labelling products. Discover all the possibilities for back-to-school school supplies on our website.