Personalised reusable food wrap
Select an option: Food Wrap Small
Sizes: 18 cm (width) x 18 cm (length)
Without minimum quantity
Inner layer material: TPU fabric. BPA free and food safe. Stain resistant and waterproof.
Outer layer material: Oxford fabric (100% waterproof polyester). OEKO-TEX® certified.
Customisable on the outside.
Practical zip closure for total fastening. Machine washable.
ID: #16656
Personalised reusable food wrap
Say goodbye to single-use wrappers! Now you can store your sandwich in this personalised reusable food wrap in the most ecological and sustainable way. No more waste, with this snack wrap you'll never want to use plastic wrappers or aluminium foil again.
This practical sandwich wrap has many advantages over other food storage containers. Every year we are becoming more and more conscious of helping and caring for the environment. We try to generate as little waste as possible by avoiding the use of disposable packaging. For this, reusable food wrap are the best solution. And from an economical point of view as well, because you can reuse them as many times as you want at no extra cost for you.
Our personalised food wraps are made of two types of high quality fabric. The fabric we use for the inside is BPA-free TPU fabric, so we guarantee that it is food safe and ideal for food use. As it is waterproof, it helps to avoid possible food "spillage" and makes it super easy to clean. You can wipe it clean with a damp cloth or wipe it down when you're done and it's ready to use again in a jiffy.
The outside is made of Oxford fabric, which makes it ultra-lightweight, so why carry more weight than strictly necessary? It is perfect to take anywhere, very easily, as it takes up less space than any tupper or container.
It has a zippered closure system, which makes it super practical and you can carry a sandwich, a sandwich or the lunch of your choice.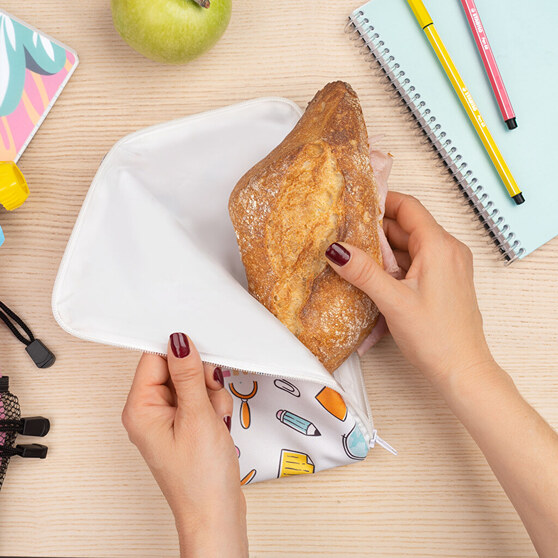 Create your own ecological sandwich or snack wrap
In addition to everything we've mentioned above, what makes them really special at Wanapix is that they are personalised. Choose from lots of different designs in fun and original fabrics for the little ones or more discreet and sophisticated ones for adults which you can personalise your new personalised sandwich wrap. And if there is no design that fits 100% with your personality, you can create your own from scratch with our online editor.
You can choose between two sizes, one to carry baguettes and a more square shaped model to carry your sandwich. You can open the zip at the top so you can eat your sandwich without crumbs falling all over the place. But you can also open the zip on the side, so you can clean it easily and comfortably.
Choose your favourite image, a photo you like or a plain coloured background, add your name or text and make your food wrap a unique piece of art.
Create an original and ecological gift for yourself or make the perfect gift for that friend or family member who deserves it. By opting for our snack wraps you not only help to improve the environment but also improve your quality of life by eating healthier and homemade food. You won't want to use anything else from the moment you get your hands on your new sandwich wrap.
The best friend for your lunch
If you're a mum or dad, you'll know what we're talking about. Preparing lunch or snacks for the kids can seem like an odyssey, metres and metres of aluminium foil that once rolled up can no longer be reused. Put this kind of waste to one side and use the most practical sandwich and snack wraps in the world, and reuse them whenever you want. Plus your kids will love having their favourite pictures or name on them. Lunch time will become a magical moment.
But this product is not only designed for the little ones at home, we are becoming busier and busier in our day to day lives and we usually eat lunch or lunch out. If you have prepared a snack or sandwich to eat today, now you will have it super easy to carry it back and forth, in your new personalised sandwich or snack wrap.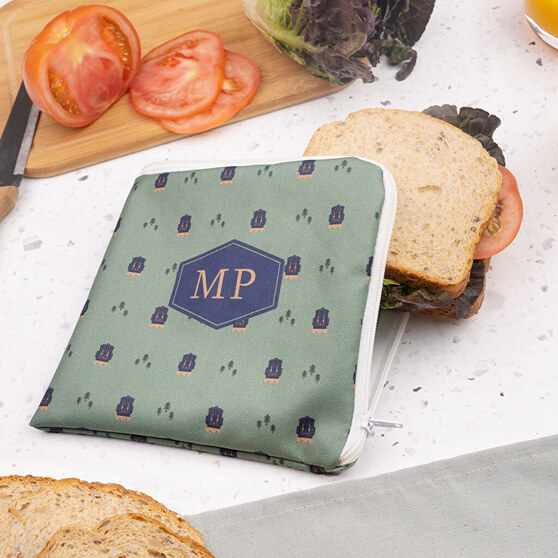 Washing instructions
There are a few recommendations for washing the sandwich wrap to extend its useful life as much as possible and to always keep it in the best possible condition.
Machine washable.
We recommend washing in cold water, maximum 30º.
Do not use any type of bleach.
Suitable for tumble dryer.
Dry at low temperature.
All measurements of these textile products are approximate and may be affected during the image transfer and manufacturing process.
Guarantee of quality
The material used to make this product complies with the OEKO-TEX® certificate, which guarantees that the material meets the required control criteria, as well as the accessories such as rivets, buttons, zips, interlinings, etc. Textile materials with the OEKO-TEX® quality seal have skin-friendly properties.
Tags of Eco-friendly reusable food wrap