Photo gifts for Christmas
Christmas is a very special time, where we celebrate the last festivities of the year, we say goodbye to one year and welcome the new year and most of the time we do it surrounded by our loved ones. It is completely normal to want to give gifts at Christmas, to show those people how much we care and how much we love them. We have a lot of ideas to make those gifts more special than ever, because personalised Christmas gifts are always a success.
Do you have to give gifts to your loved ones, whether they are friends or family, and you don't know what to give them? With Wanapix you will find plenty of items that we are sure will delight those people you have in mind.
Gifts for the youngest members of the family
The youngest members of the family are usually the ones who are the most excited about the Christmas holidays, because Christmas seen from the eyes of a child has a very special magic to it that cannot be described. In this section you will find gifts that are sure to amaze them.
The first Christmas of a little one is idyllic, and it'll be the best Christmas gifts celebrating Christmas with your new baby. On our website you can find a personalised pyjamas that will make your little one look cute. You can make a design with a photo, with their name or with a text that is important to you. It will be a unique and special gift for the whole family to remember. Another thing you can design would be a personalised dummy with the name of your baby. In case you haven't found a name yet, then you could add a funny name such as "The Mystery" or something else.
But you will not only find little things for the little ones but also for the older ones with personalised games that they will love to play, because Christmas is a time to be with the family and family games are always a good gift for everyone.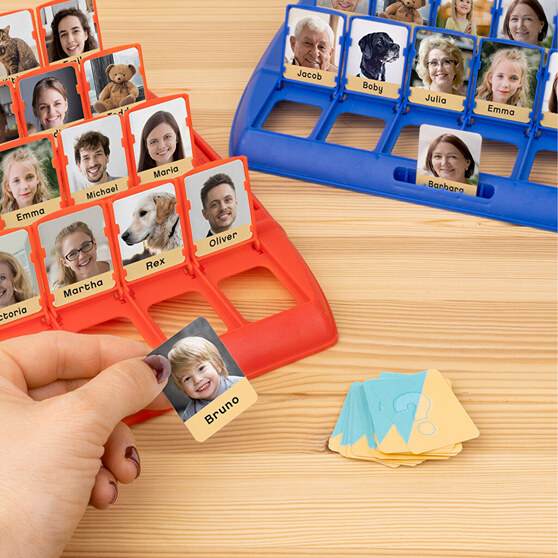 Photo gifts for the whole family
On Wanapix you will find gifts for the whole family, regardless of their age, you can design the item they will like the most and make it unique, as none of your gifts will look alike. All you have to do is let your imagination run wild, enter the world of personalisation and we are sure that you will create the perfect gift for that special person.
You can personalise everything from children's items such as bodysuits and bibs, to personalised board games, even if there is a family member or friend who likes computers, you can also give them a personalised photo mouse mat or another of our interested personalised products for geeks. A universe of personalised items are just a few clicks away.
With our online editor you can quickly and easily create that design you have in mind. In addition to having hundreds of pre-designed templates for each item to make the task of personalisation much easier for you.
Photo gifts
Photos take us back to certain moments, make us relive the memory of someone who is no longer with us, or just by looking at them they make us happy. That's why photo gifts are always a good option.
In this section you will find an endless number of gifts to personalise with photos. These are times when it's usually quite cold, so giving a personalised blanket with photos will be the perfect gift. If you have to give a gift to someone who loves to watch movies, then you can personalise a cosy blanket that they can wear while he/she watch movies.
Personalised cushions with photos are also perfect for Christmas gifts, just choose a nice design, upload your photo to our online editor and we'll make sure it's perfect for that gift you had in mind.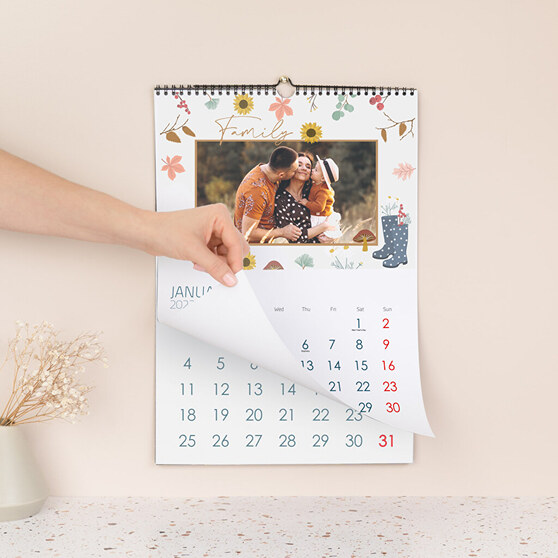 3 tips for getting ready for Christmas
Prepare the gift with time to spare, don't leave it to the last minute, a Christmas gift is not just any gift and you need time to think about it and prepare it so that it is perfect.
Try to research in a disguised way what that special person would like to receive for Christmas, of course, without that person noticing that you are looking for something to gift to them, a gift always makes you excited, but if you don't expect it, even more so.
Put love into everything to do with their gift, from the gift itself, to the wrapping paper, or create a letter for them to read before they open the gift, telling them how much you love them and how important they are to us, they deserve that and more.
Personalised Christmas gifts for men
Men or women, everyone likes personalised gifts at any time of the year, and even more so at Christmas. This kind of gifts allow you to take care of even the smallest detail to be just what you were looking for.
In this section, we have made a compilation of our most special men's products for this Christmas. If you don't know where to start and how to surprise your loved ones, we have some ideas of male gifts for Christmas.
What can be given to a man for Christmas
It can be difficult to know what to offer for Christmas to each person. You have to be original, but above all practical. The gifts that are usually best received are those that you will be able to give a daily utility. Mobile phone covers, mugs or T-shirts are always a good option.
Calendars and diaries are also a fairly frequent gift at Christmas time. These models can be adapted to your tastes, putting images or writing motivational texts.
Take into account their way of being, tastes and hobbies, because they can be a good reason to take into account if you want to find the ideal gift for him. If he's a "good" cook, our apron; if he's a lover of beer, our personalised mug tankard. For each hobby, we have a different gift that you can adapt to their tastes.
Personalised Christmas gifts for women
At Christmas, we receive many gifts, so if you want to really stand out with yours, you have to do what you can to differentiate yourself. You can achieve this with personalised articles, because with them you can design it to your liking with the images or texts you want.
In this section, you will find a small selection of our products to deliver to women this Christmas. No matter how old you are, you will find what you are looking for. Write down our women's gift ideas for Christmas and you will be surprised who you propose it to.
What to give your wife for Christmas
If you are wondering how to make original gifts for women this Christmas, the key is to look for different gifts that can be used and that have a special design, that is to say, that there is no other equal. The personalised handbags and purses are gifts that you can do and adapt it with the images you want. Also the photo albums are a very emotional gift at any time, even more so at Christmas.
Bear in mind that, for your gift to be the most special, it is important to take care of the way it is delivered. Look for a different wrapping paper and take care of the small details so that you like it much more.
Mugs, mobile phone cases, diaries and calendars are also frequent gifts on these dates. Just look for your selection of favorite images and transform them into the product you want.
Personalised Christmas gifts for children
No one lives Christmas with greater enthusiasm than children. Every year they anxiously await the arrival of Santa Claus. These are days in which hope and emotions can be felt into the environment, especially when opening presents in front of the tree.
In this section, we have made our most special selection of children's presents at Christmas. If you don't know where to start, we can help you, because we know that it is not the same to give a child of 4 years old as it is to a child of 13 years old. Write down our ideas!
Original Christmas presents for children
Personalised gifts are an assured success with adults and children. However, with the latter it is even more special because you can design toys and clothes with their tastes and hobbies.
To take into account the age in children is fundamental to know what to give to a child at Christmas. Soft toys, bodies or blankets are a classic for the little ones. Now you can add their name by embroidery or personalise it with the image you want.
If the child is in school age, you can give him personal backpacks or our unbreakable cup, a basic for them. You can personalise it with their name and you can take it to the dining room, without fear of being broken and cut, as it is made of plastic. Rope backpacks and T-shirts are also a good detail that may surprise and charm you.
The rule of the four gifts
Some experts point out the need to set a limit on gifts at Christmas. It is about avoiding the spoiled child syndrome, that is, the attitude of the child who does not value what he receives, but the need to open more and more gifts. This rule helps to establish those limits, because it consists of making a gift that satisfies the child's need: something he uses, something to read, something the child wants and something he needs.
On our website, we can help you find those four gifts. They are also priceless, because you can adapt them with the designs you like best: their favorite cartoons, their favorite movie ...