Personalised watches for her
Without minimum quantity
Analogue watch with 3 dials. Adjustable steel milanese mesh strap.
The dial can be personalised. Stainless steel(nickel free, suitable for allergy sufferes).
Dial diameter: 3.3 Ø cm (customisable area: 2.8 Ø cm).
Length: 24.5 cm (with buckle) - 22.5 cm (without buckle). Strap width: 1.7 cm.
ID: #15378
Reviews with images








---

Wrist watch for her
Wearing a watch brings joy to most people, and you will often miss it if you forget to put it on. Of course, if you don't usually wear a watch, you won't miss it either. Once you get used to wearing it, it's like an extra body part, as it's handy to always know what time it is.
With this personalised wristwatch, you will become one of those people who will never want to take it off again, as it is super comfortable to wear, as well as pretty and not only that, but because the watch face can be personalised, making it unique and one-of-a-kind. You can choose the photo or image you want and we'll print it in full color and integrate it into the watch face, so you'll always know the time.
Both the strap and the dial are silver grey, so you won't have any trouble matching it with the outfits you're wearing. The watch face is made of stainless steel, making it easy to keep in perfect condition for a long time. The dial has three hands that mark hours, minutes and seconds, meaning it's an analogue watch, not a digital one, making any image look great.
The strap is a "milanese mesh" type that will fit perfectly on your wrist, as compared to other straps, they are flexible. These straps are a classic model that never goes out of fashion as they are super durable and also have an adjustable clasp. You will love to wear this great looking watch for women everywhere. In fact, the watch is so comfortable that you probably won't even notice it's on your wrist.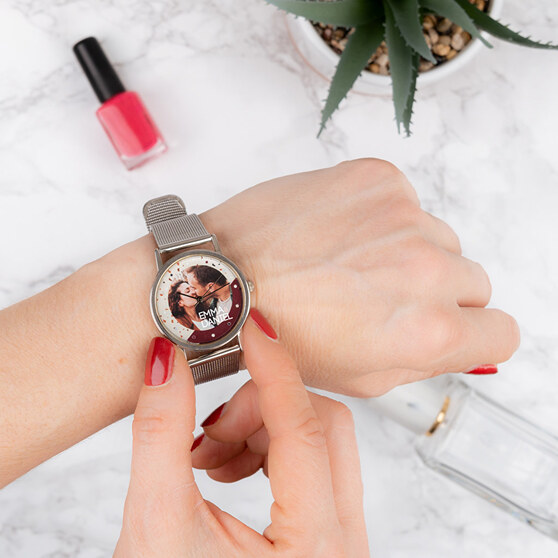 Design a perfect watch for her and give it to the one you love
This watch is a gift that will bring joy and tears. Both because it is stylish and perfect for occasions like birthdays, Christmas, Mother's Day or for example as a Valentine's Day gift for her.
With this watch we want to wish you a happy day, full of happy moments, the kind you will never forget. May every "tick" and every "tack" that passes bring out the positive energy in you. We're sure you'll give it all you've got.
That's why we also believe it's the perfect gift for a special someone. Imagine your mother's face when you give her this watch with a picture of her grandchildren on the watch face. We are sure that your mother will shed a tear of joy and happiness when she sees this beautiful watch. You could also design a personalised women's watch for your girlfriend, with the best memory you have together from a holiday, a camping trip or maybe something completely different.
What we know for sure is that with this watch you will surprise any woman, whether it's your mother, the woman in your life or a really good friend. What they all have in common is that they deserve a great watch for women, as they are and will always be there for you. Remember to think about how you will surprise her and personalise the watch.