Personalised boxer shorts
Without minimum quantity
Boxer shorts with elasticated waistband for better fit and comfort.
Inside colour: white. Tape colour: white or black, your choice.
Material: 92% polyester / 8% EA.
Machine washable. Not suitable for tumble dryer.
ID: #16455
Reviews with images








---

Size guide
The waist area is flexible and adjusts very well to different waist circumferences. However, please follow the instructions below to choose your perfect size.
First, take these measurements with a flexible tape measure:
Waist circumference: the circumference at the narrowest part of your waist. It coincides with the area where the elastic at the top of the boxers.
Your hip circumference: the circumference at the widest part of your hips. It is taken a few centimetres below the waist circumference, where you see the widest part of your hips.
With the data obtained, choose your ideal size following this table:
| Size | Waist circumference (cm.) | Hip circumference (cm.) |
| --- | --- | --- |
| S | 70-77 | 80-87 |
| M | 78-85 | 88-95 |
| L | 86-93 | 96-103 |
| XL | 94-101 | 104-111 |
Measurements shown may vary slightly due to the elasticity of the material and the hand sewing process.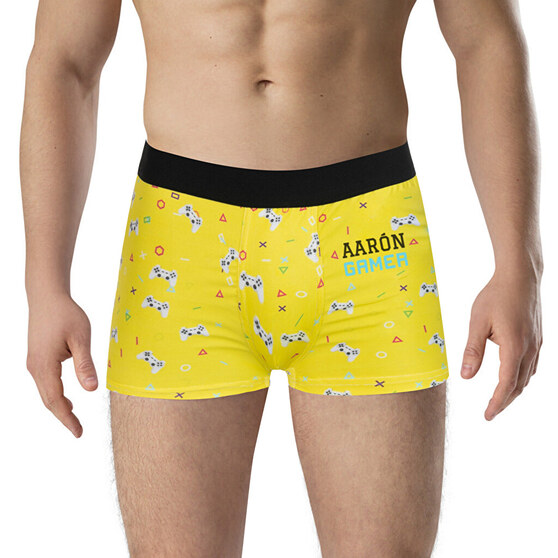 Personalised boxer shorts
Do you want to give a gift to a friend, partner, brother or even your father and make it unforgettable? We have all had doubts at some point in our lives when it comes to giving a gift and we often buy something without knowing if the person will like it. Moreover, depending on each man, his personality, his tastes, it can be a headache to have to give him a gift. We want to make the task of finding the perfect gift easy. We have what you've been looking for, custom boxer shorts, which will undoubtedly be a super original detail that you can personalise to the liking of the person who is going to receive it.
The personalised boxer briefs are made of high quality fabric with a soft and comfortable finish. It is a breathable fabric that provides a feeling of comfort and freshness all day long. You won't even notice you're wearing them.
You can customise them as you like, and you can also choose to have the upper rubber band in white or black to give it an ideal finish, in accordance with the design you have chosen. The rubber band adapts perfectly to the wearer's body without causing irritation or redness. They're sure to be your favourite underwear from now on.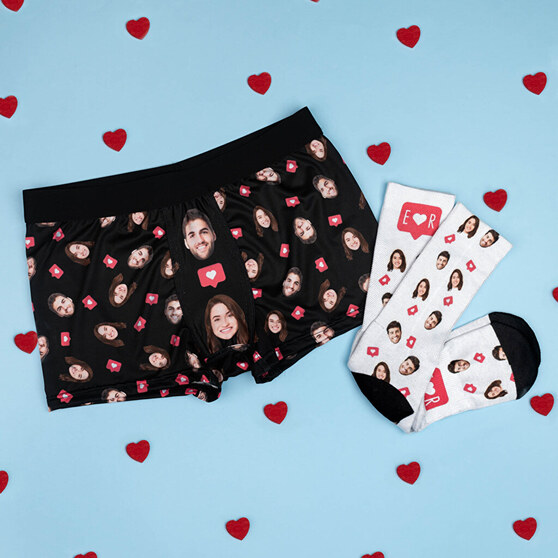 Surprise him with personalised boxer shorts!
In this section you'll find a bunch of pre-designed templates that we've gladly created to make the task of customising your new boxer briefs a breeze. You won't have to rack your brains over a design, if you're looking for something simple you'll have as many options to choose from as you like. More elegant designs for more discreet people, hilarious designs for funny boxer shorts for the more sociable and witty, even romantic designs for the more seductive occasions. You're sure to find a design that fits perfectly with what you need.
The idea of personalising a gift implies all the affection and love you have for that person. With our personalised boxers with text, you can leave your loved one speechless with an infinite number of personalisation options. And if you don't find one that fits what you had in mind, you can create your personalised boxer shorts from scratch.
The perfect boxer shorts for any man
Fully customisable, you can tailor them to the person you're giving them to. From more simple or neutral designs for men who like to go unnoticed to more fun and daring templates for men with this type of personality. Don't worry because you're sure to design the perfect gift for every occasion and person.
Now you can hit the nail on the head, unleash your imagination and leave him speechless with the best personalised boxer shorts!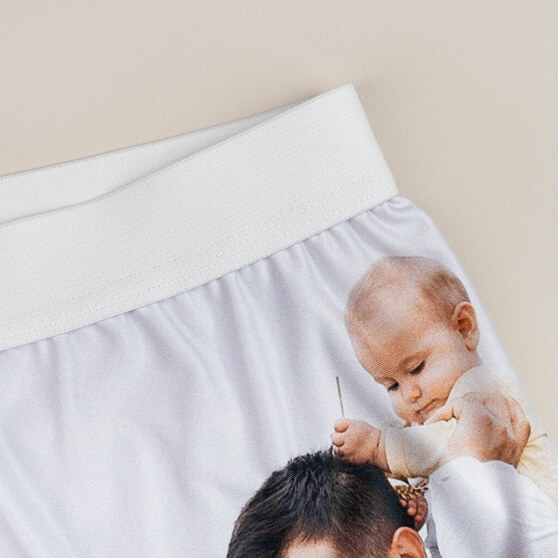 Custom face boxers
Possibly the most popular design when it comes to creating customisable boxer shorts is the face boxer design. It's a matter of uploading a person's face and placing it as a collage all over the surface of the pants. This way, the pants look very funny and amusing, and the man who receives this gift of a boxer full of photos of his own face, or the face of his partner, a friend, etc., will not be able to avoid a good laugh as soon as he sees it. It's a fun gift, ideal for Secret Santa, birthdays, Valentine's Day and similar occasions.
Different ways of naming male underwear
The most commonly used name has always been boxer shorts, but there are different ways of naming them, some people call them boxers, briefs, long johns, undersdrawers, undies and many other names. We're sure you know or have heard other names and synonyms.
Underpants or Undershorts? A lot of people call them this way, in a colloquial and informal way. The Cambridge Dictionary accepts the two terms as a synonym for boxer shorts, but many people use other words. What do you usually call them?
Washing instructions
Maximum washing temperature 30º.
Do not use bleach or bleaching or aggressive detergents.
Not suitable for tumble drying.
Do not dry clean.
Can be ironed, it is recommended that in case of ironing this is done with the garment inside out.