What to give for Valentine's Day
The February the 14th, Valentine's Day is celebrated, the day of lovers. An ideal occasion to show how much you love your partner thanks to our personalised Valentine's Day gifts. You can create romantic and original gifts with your most special photos.
In this section, we have made a selection of gift ideas for Valentine's Day. If you do not know what to give to your boyfriend for Valentine's Day, to your girlfriend, husband or wife, here you will find the best ideas. Thanks to customization, any product in our catalog can be a good gift.
Although our most outstanding items are the above mentioned, we have many more in the catalog. The personalised stories "Our Love Is" are very romantic and original. Surely they will move your partner. If you prefer gifts as practical as the previous ones, you can give a personalised blanket with romantic photos, a photo holder with your favorite image, etc.. Your partner deserves it, make him a good gift.
How to make an original Valentine's gift
Any day of the year should be a good time to give gifts to your partner. It is recommended to give some surprise or gift from time to time to keep the flame of love alive and not fall into monotony. But with the rhythm of life that we all lead, sometimes it can be difficult to remember these gifts. That's why it's useful to have days like Valentine's Day, because that way we all have a date in mind marked on the calendar.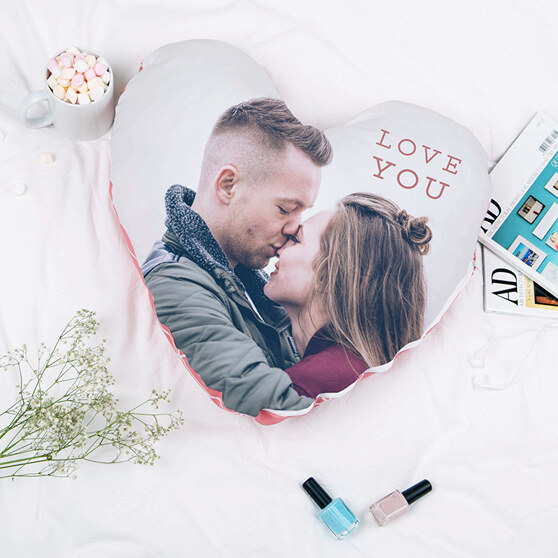 The "what" is as important as the "how". It doesn't cost anything to prepare a romantic gift and surprise your partner. All our articles are personalised and you can design them to your liking. In addition many of them have heart shape, so they are doubly romantic.
Don't forget to wrap the gift and put a romantic note. These kinds of gifts are what allow you to make a difference and really surprise your partner.
Photo or texts?
The big question when designing our products is: photo, design or text? It's up to you. That is the great power of customization, which you can decide exactly how you want to customize your gift. Depending on the product it will also be more in line with one thing or another.
The photos are the most visual and eye-catching for a gift. Mugs, blankets or cushions, among others, usually look very good and will maintain a private atmosphere in your home. However, there are products that require more subtlety: keyrings, bracelets or pendants. In these, the personalization is usually engraved and the best thing to do is to opt for initials, your names, a romantic phrase or a special date.
Buy Valentine's gifts online
You don't have to go out to look for the ideal gift. Avoid crowds and queues thanks to our online store, because you will find the most romantic gifts here. Also if you have any questions, you have at your disposal an online chat, a phone number and a contact form. This way we can help you and solve any doubt you may have.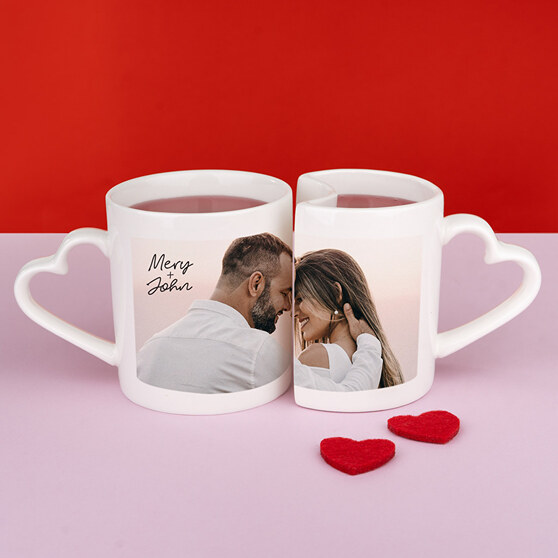 Most popular Valentine's Gifts
Special occasions deserve more elaborate and original gifts. Personalization will help your best couple photos come to life and become exclusive products. These are the most popular Valentine's Day gifts:
Valentine's Day Mugs : a product that will be used daily, especially if they are a coffee lover. You can choose between any of our romantic pre-designed templates or opt for romantic images of yours.
Valentine bracelets: the personalised bracelets are the most chosen in this type of occasions, because you can add your anniversary date and names. It is a good gift both for you and for them.
Valentine's Day Jewelry: no matter the date you give them, jewels are always very recurrent. If they are personalised, they will like them more because it allows you to take care of the small details.
Valentine's Day Keyrings: This one shouldn't be despised because of its small price. This type of gift is also welcome on dates like these and, even more so, if you personalize it with romantic phrases.
Valentine's Day Cushions: decorative items are also very popular on these occasions. Personalize a heart cushion with your photo and a romantic message, for example.
Valentine T-shirts: a practical gift that you can use whenever you want. These t-shirts can be designed with romantic designs and surprise you with a unique model.