Personalised fleece blankets
Sizes: 70 cm (width) x 105 cm (length)
Without minimum quantity
Personalised with a multitude of photos or any design
Suitable for washing machine and dryer.
Personalised on one side.

Thickness: 290 gr/m2.

ID: #1426
Reviews with images








---

Create a blanket with your favourite photos
The universe of personalised gifts is very wide and there are many different products, but without a doubt, one of the top sellers are personalised photo blankets. These are rectangular blankets available in several different sizes. From small blankets, ideal for babies or small children, or to cover sofas or the footer of the bed. To huge blankets of more than 2 metres long, to cover yourself in bed or on the sofa while you watch a series or movie, take a nap, or sleep.
All the models in our catalogue are personalised on one side, and the process is very simple. You can choose from all the free pre-designed templates that we provide, select the one you like the most, and simply edit the customisable parts of that design, which can be photos, texts, names, etc. Or, if you prefer, you can create a design from scratch, completely to your liking, adding a design that covers the entire surface of the blanket, or various photographs, texts, etc. 100% of the surface of the customisable side is personalised, which means that there won't be any white or blank margins on your blanket.
In addition to choosing between various sizes, you can also choose between the 3 models of blankets that we have depending on the material: polar blankets, the most classic and traditional option, very soft. Coral blankets, which have an extra soft, velvety texture, especially pleasant to the touch. And finally, the blankets with sheepskin, which are fleece blankets with an extra layer of sheepskin on the back. They are the thickest and warmest blankets, the warmest.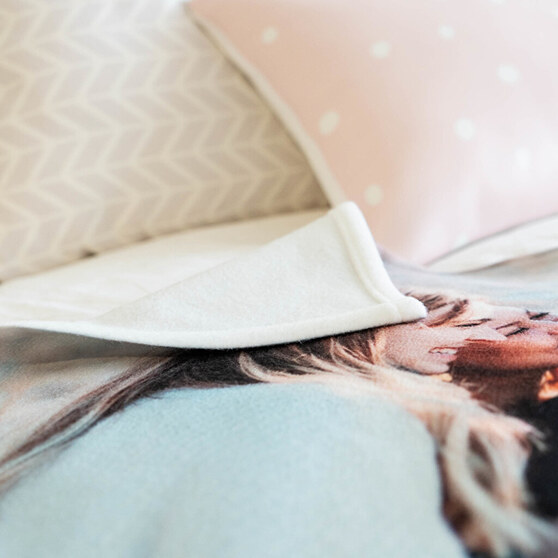 Characteristics of our blankets
Let's take a closer look at the characteristics of our different models of blankets and blankets:
Fleece blankets (plaid)
Our personalised fleece blankets are the "standard" model of blankets. The material is 100% polyester and has a thickness of 3 mm and 290 gr/m2. They are made in Spain and the base colour is white. The finish is conventional plush. These blankets do not have peeling problems, a problem which consists in the fact that, with time, in other types of blankets, small balls or lint tend to form and spoil the product. This does not happen with our blankets. Maximum quality and care.
Coraline blankets
Coraline is an ultra-soft and warm material, but also very light (260 gr/m2). Both for its ultra-soft touch, its lightness, and for the sizes, these coral blankets are ideal for newborns and babies, and for girls and boys. The smaller sizes are perfect for the little ones. And of course, also for adults, choosing the larger sizes.
Coraline is a fabric that has been on the bedding and textile market for a relatively short time. We can say that coraline is an evolution of the polar or thermal fabric. It is 100% polyester and has some variants, such as microline or silkline.
This new material is even softer and warmer than standard fleece. It is ultra-soft to the touch, like velvet, and does not form balls. It is a very light material, but still feels very comfortable and warm.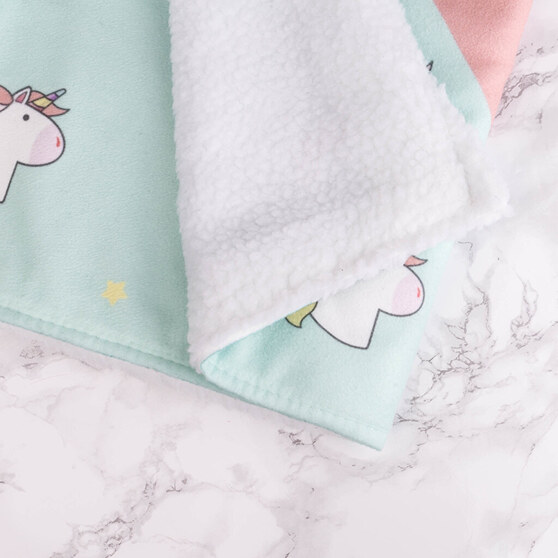 Fleece blankets with sheepskin
If you're often feeling cold, this is your perfect blanket, because they are the warmest ones. It has a double layer: on the outside it is made of 100% high quality polyester. This side of the blanket is the one you can personalise and design to your liking with your favourite pictures, texts or designs. The other layer is the sheepskin layer, and this is the side that cannot be personalised.
This sheepskin is made of polyacrylic fabric (PAC), a fabric similar to wool, very warm, non-allergenic (it does not produce allergies as wool does), which can be machine washed. You can choose the colour of the sheepskin of the blankets: white or black. The thickness is 490 gr/m2, which is the sum of the thickness of the polar blanket (290 gr/m2) and the thickness of the sheepskin layer (200 gr/m2).
Washing instructions
Maximum wash at 40º (models with sheepskin: maximum 30º).
Do not spin-dry
Tumble dry: use gentle cycle
Iron on gentle cycle (models with sheepskin: do not iron).
Do not use bleach or detergents
Non-flammability certificate: ISO 12952 standard. Report 2011an2084.
All measurements of these textile products are approximate and may be affected by the image transfer and manufacturing process. During the cutting and hot printing process, they may vary up to seven centimetres from the indicated measurements.
Weights of the blankets
Below you can check the weight of the blankets per m2 (weight/m2: 290 gr/m2 approx. minimum).
Fleece blankets
Size 70 x 105 - 343 gr.
Size 105 x 160 - 412 gr.
Size 120 x 180 - 717 gr.
Size 150 x 230 - 1.104 gr.
Sherpa blankets
Tamaño 70 x 105 - 438 g.
Tamaño 105 x 160 - 694 g.
Tamaño 120 x 180 - 1.900 g.
Tamaño 150 x 230 - 2.000 g.
Quality guarantee
The material used to make this product complies with the OEKO-TEX® certificate, which guarantees that the material meets the required control criteria, as well as the accessories such as rivets, buttons, zips, interlinings, etc. Textile materials with the OEKO-TEX® quality seal have skin-friendly properties.