Create personalised magnets with a photo or logo
Personalised photo magnets are a unique and original way to personalise your spaces, as well as to give something special and unique to your loved ones. In our online shop we offer a wide variety of shapes and materials so that you can choose the option that best suits your needs and tastes. From square or round magnets, to heart-shaped and rectangular magnets, we offer a wide variety of options so you can find the perfect magnet for you.
We also have a variety of materials to choose from. We offer personalised magnets in flexible material, rigid wood, and rigid transparent methacrylate. Each material has its own characteristics and you can choose the one that best suits your needs. For example, personalised methacrylate magnets are very resistant and durable, as well as having that original look because they are transparent. While personalised wooden magnets offer a more natural finish with a rustic look. If you prefer them to be flexible and thinner, flexible personalised magnets are your best option.
Applications for photo magnets
Personalised photo magnets are ideal for decorating the door of your fridge or fridge with images of your loved ones, your pet, or your favourite places. But don't limit their use to personalised fridge magnets. You can use them in many other contexts. For example, you can personalise magnets with photos of your pets and place them in your car, or in your office, to keep your dog or cat always present. All you need is a metal surface to place them on.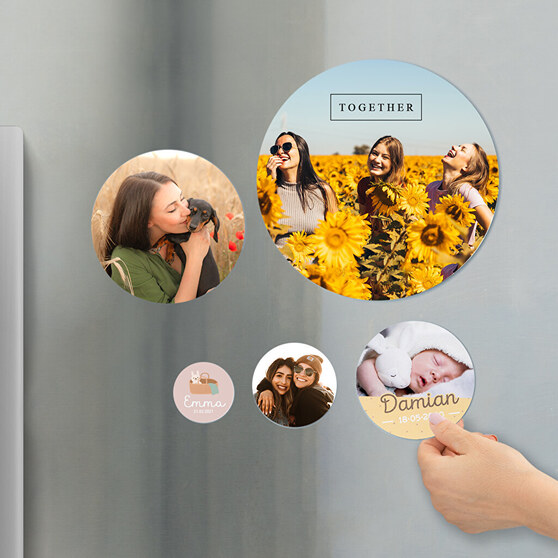 You can also create personalised magnets with photos of your loved ones and place them on the fridge in your office to have a constant reminder of the people you care about the most: your kids, your friends, your mum or dad, etc.
In addition, personalised magnets are an excellent option as a gift for events such as weddings, christenings, communions and birthdays. They are an original and personalised detail that will delight your guests and will allow them to have a lasting memory of that special day. You can personalise each magnet with the photo of the protagonist of the event, and put the date on it, so that it will be a souvenir for life. They can also be a very special gift for your parents, grandparents or close friends, as it will allow them to always have the photos of the most important people in their lives.
Cheap personalised magnets for companies
If you have a company, personalised magnets with your logo can be a great way to promote your brand. You can use them as an advertising element at events and fairs, or even as a gift for your clients. Personalised magnets are a very effective way to consolidate your brand in the minds of your customers and make them feel special and valued.
As for quantities, in our online shop you don't need to buy a minimum quantity. You can buy just 1 unit if you wish. But if you need large quantities of matching magnets, we offer quantity discounts so that the more matching magnets you buy, the less each unit costs. It is therefore a great opportunity to create cheap personalised magnets.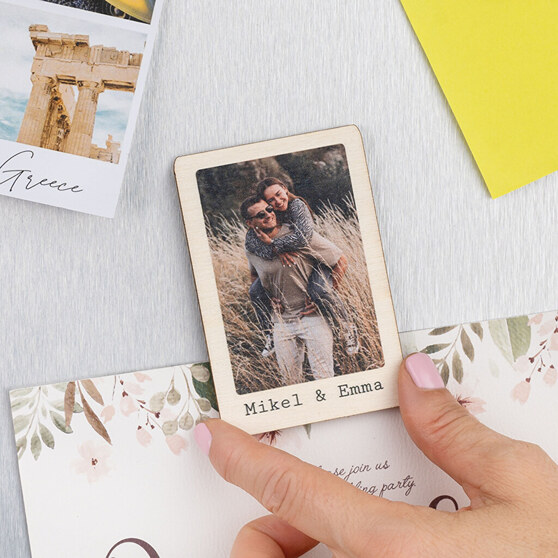 In short, Wanapix personalised photo magnets are an original and fun option to decorate and personalise your spaces, as well as to give as a gift at events and as an advertising element for companies. In our online shop we offer a wide variety of shapes and materials so you can find the perfect magnet for you.
Make magnets with photos in 5 minutes
On our website, making fridge magnets with photos is easier than on any other website. With our online editing tool, you can easily upload all the photos you want, add them to the magnets, remove them again and add other photos. You can also add text or just choose one of our designs and then add images and text. In less than 5 minutes, you will have designed your very own photo magnets that you will surely love as they will be personalised and designed 100% by you. Moreover, no more having a fridge with a boring white or metallic coloured surface, as you will now be able to fill it with personalised fridge magnets with pictures of all shapes and sizes. Your fridge will become the new picture book of your home!
What is the history of fridge magnets?
Fridge magnets have been around since the 1960s, when they were mostly produced in plastic in shapes such as letters and numbers so that children in families could practise spelling and counting. However, fridge magnets were first patented in the 1970s by an American named William Zimmerman. His idea was to make small magnets with cartoon characters that could be used as something decorative and useful, for example to hang a shopping list on the fridge or just to create a little cosiness on the fridge, as it has never really been a nice cabinet to have in the kitchen. Today you can get fridge magnets in all the shapes, sizes and colours you want. They are widely sold and cost next to nothing. The latest thing is of course personalised fridge magnets with a picture. Find all your magnets here.