Personalised teddy bears
There are 3 products available
Customisable Teddy Bears
Teddy bears and other stuffed animals are original gifts that have been in our lives for almost as long as we can remember. They have been with us for many years and we hope they will continue to be with us for the rest of our lives.. Who hasn't had a cuddly toy in their childhood? They are an original gift that the recipient will love forever.
We will never be old enough to have a cuddly toy. It is usually something that plenty of people give as a gift to children, whether they are newborns or a bit older.
They are not only used for the little ones for comfort, but also to decorate the corners of their room.
Well, we have the version that the 21st century requires, personalised stuffed animals and cuddly toys in the shape of different animals that can be personalised.
Cuddly toys with photo
Customised stuffed animals and cuddly toys are an original gift, fun as well as romantic, depending on the moment you are going to give it as a present. They are a detail that has always aroused a lot of tenderness, but if you also customise them you make them even more special. They are unique items that you won't find in shops, because there won't be another one like yours. They are made by and for that person.
There are 4 models in the shape of animals, including a rabbit, a teddy bear, a reindeer and a sheep. It's up to you to decide which one of them is the most adorable one. Three of them can be personalised on their T-shirts, and in the case of the teddy bear, the bandana it wears can be personalised.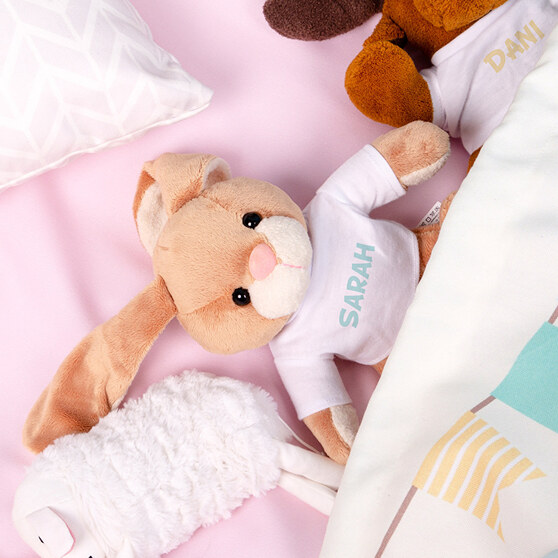 The teddy bears are our flagship product, because you can design them with the date or with a special message. These bears have a scarf, like a bandana, around the neck, and on that scarf we embroider the text that you indicate that you want: the name of the boy or girl, your partner's name, an important date, a nice message, etc.
And there are also 3 other models of soft toys that are personalised with the child's name embroidered, among which you will find a dou dou in the shape of a giraffe or hedgehog, a cushion with a giraffe or a little cow or the classic embroidered blanket that comes rolled up with a lovely little bear hugging it.
A lot of options available so you can make the perfect gift for that special person. And we don't only customise by embroidering texts, some of the animals can also be personalised with photos, or any image and we will print it in full colour on the teddy bears T-shirt.
They are not only designed for children, they are also a lovely gift for Valentine's Day, with a photo of the couple printed on the stuffed animals T-shirts you will surprise your partner in the most original way.
A tender, emotional and, above all, unique gift.
Benefits of having cuddly toys
One of the greatest benefits of having a cuddly toy is that they become an attachment figure for many children, creating a sense of peace and security when their parents are not around, for example.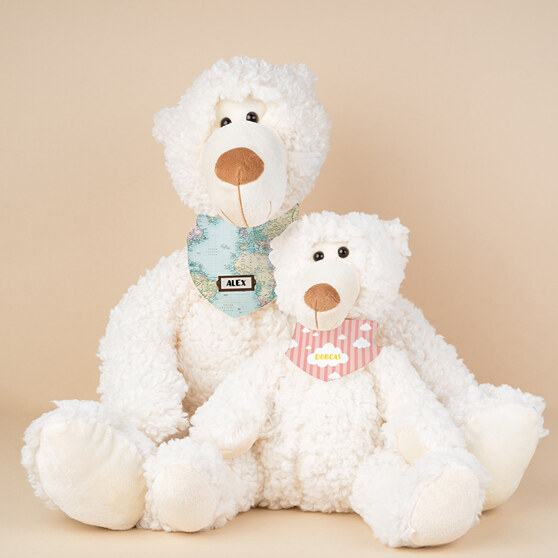 When we want our little one to start sleeping alone in his room, a teddy bear will give him the security he needs so that he doesn't feel alone. It'll be his personalised teddy bear to accompany her/him in the nights or during nap times
Those of us who have had cuddly toys to sleep with will always remember the feeling of serenity and protection offered by hugging a teddy bear so that we can sleep peacefully.
There are also studies that say that they can help overcome sleep disorders, including shocks caused by stress, fears and trauma. We are sure that our personalised personalised teddy bears will be there when you need them the most.
It's now or never, purchase a personalised teddy bear for your child, the child of a friend, a teddy bear for your partner or for someone else who means something special for you. Order your teddy today!
How to wash teddy bears
As the good companions they are, teddy bears tend to go where the little ones are. It also means that with time, they require a bit of care and maybe a bit of water.
Personalised cuddly toys are very easy to wash, although we must take special care, because they are very easy to clean.
Those teddy bears that are personalised with a T-shirt (such as the sheep, reindeer and rabbit) should be hand washed. While the T-shirt is machine washable, as long as it is washed at a maximum of 30 degrees.