Personalised jigsaw puzzles with photos
There are games and hobbies that never go out of style no matter how many years pass. We are talking about puzzles with photos. All of us have done puzzles once, but now you have the opportunity to create your own personalised photo jigsaw puzzle model, because you won't find another puzzle or jigsaw which is going to look alike.
In this section, we have compiled all of our customised jigsaw puzzles and in different materials and sizes. They are fun and great as a gift on any occasion. Furthermore, we have a lot of pre-designed templates that you can use, which makes the customisation process much faster. If you feel up to the job, then you can also design your own. You can also create your own photo jigsaw from scratch with photographs, images, texts or your own beautiful design. It's also possible to combine things and create a puzzle with text, images and a design. It's completely up to you!
In addition to having different materials, we also have different numbers of pieces available. If you're just starting out with puzzles, then you might just need a jigsaw with 100 pieces. Once you feel more advanced, then you can purchase bigger jigsaws with up to 3000 pieces. Jigsaws are addictive. It doesn't matter if it's a 100 piece one or a 3000 piece one. It'll be a pleasant and hilarious way to spend a few hours or days, depending on the size of the jigsaw you purchase.
Personalised children's jigsaw puzzles
The little ones also love them, that's why we have thought of them and have many models of kid's puzzles with larger pieces. All of our jigsaw puzzles for kids can be personalised. It's obvious that kids og smaller children need bigger pieces, in order to be able to solve the puzzles. We've thought of that and have plenty of different jigsaws with bigger pieces, which makes it easier for the smallest children to hold them correctly.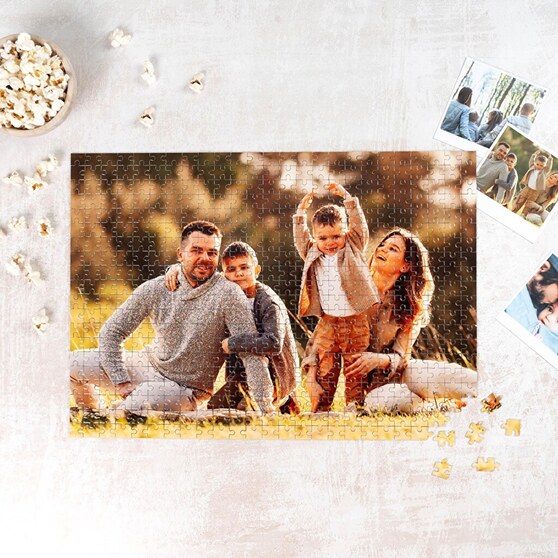 make a puzzle out of a picture
We provide you with pre-designed templates so that you can customise them easier and faster, but you can also create your own model from scratch with photographs or texts. You can make a puzzle from a photo, whatever you want i to be: a family photo, a photo with friends, a landscape, a scene from a movie... whatever you prefer.
Personalised puzzles for babies and toddlers
The little ones also love puzzles, so we have of course thought about them as well. We have many models of personalised puzzles for children with a smaller number of pieces. They are fully customisable and have the main advantage of having a reduced number of pieces (there are puzzles from just 4 pieces), so you can choose the model you want depending on the age and puzzle-assembly skills of the child who will receive this gift.
A puzzle that in recent years has gained popularity among people is the magnetic puzzle for children and toddlers. These puzzles are made for children aged three or four. The good thing about these puzzle games is that they are easily made, thanks to their metallic and magnetic surface. We all know that children in this age group usually rip things apart easily. However, it won't be possible as these pieces are made of metallic material. The magnetic and metallic puzzle will be a long lasting products, that your children won't be able to destroy. You'll appreciate it when you first see and try the quality of our puzzles.
Another incredible gift for younger children is our wooden puzzle for children. There are nine in total and you can personalise one of the sides with the photographs or designs you want. The others are made between different models that you can choose from: wild animals, fruits and vegetables, marine animals, transportation vehicles or domestic animals.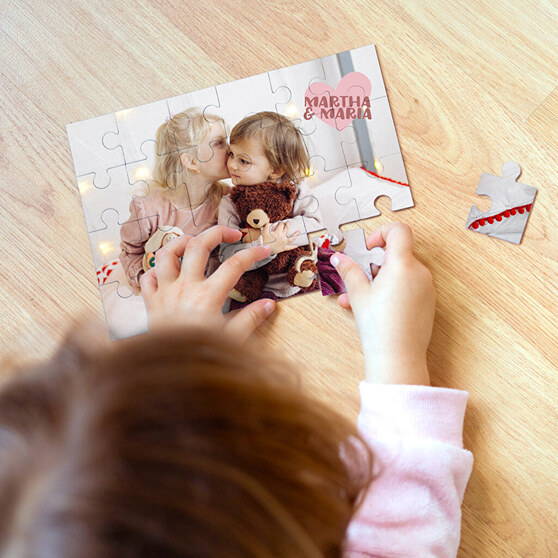 Personalised jigsaw puzzles for adults
True fans of this game need great challenges. Therefore, we also offer large personalised puzzles with spectacular and exclusive designs. As you level up and start becoming a pro, it's also important to increase the difficulty and therefore the number of pieces. You can do that with either a personalised 2000 piece jigsaw, or a personalised 3000 piece jigsaw. Challenge yourself with a massive jigsaw puzzle. We're certain that you'll enjoy putting together a personalised jigsaw by yourself, with your partner or with a group of friends.
If you're passionate about this game, you're in luck because you can also use them as a way of decorating your home. On our website you can find two different puzzles with 1000 or 2000 pieces that are framed. Since they are framed, you'll be able to hand them on a wall in your home, in your summer house or maybe in a shop if you're a shop owner. We have two models of 1000 and 2000 pieces that are framed so you can put your favorite picture in any space of your home in the most original way.
The history of Jigsaw Puzzles
The jigsaw puzzle is a recent invention but at the same time it can also be considered an old invention compared to the popularity that they have in our society. To be more precise the jigsaw puzzle was originally created by painting on a flat surface made of wood. Once the motive had dried, the wooden surface would be cut into smaller pieces with a jigsaw. Today the puzzles are of course cut into pieces by a machine, but the name has stuck with the puzzle and is still called a jigsaw puzzle.
The first jigsaw puzzle was sold by a British gentleman named John Spilsbury who by profession was a London mapmaker and engraver. He started selling them around 1760 and has been credited with commercialising jigsaw puzzles. As mentioned before it was made out of a wooden surface back then. Today jigsaw puzzles have come a long way and are usually made out of cardboard.
There are many typical landscapes that have been added to jigsaw puzzles. Some of the first ones were maps of Europe and the World. Later on the typical motifs were buildings, nature inspired designs, castles, mountains and other incredible landscapes. Actually any landscape or design can be used for puzzles. As you can see on our website, it's now possible to add your own design, text, photos to your puzzle. The only limit is your fantasy when it comes to designing your personalised jigsaw puzzle.
How a jigsaw is made
The majority of modern jigsaw puzzles are made out of cardboard as it's the cheapest product to mass produce. However, it's also possible to get jigsaws made of other materials. At Wanapix you can purchase Jigsaw puzzles with a personalised design printed on a wooden surface, a metallic surface, a magnetic surface and even a framed puzzle for people who are looking for an original way of decorating their home.
Puzzles as a gift
As we know, there's always a reason or an occasion to give a gift. Whether it be a just because gift or if it's for a birthday, baptism, wedding or other special occasions then you can personalise a jigsaw puzzle with a photo and give it as a gift. It's a gift that no one really expects to receive, which is why it makes it so perfect. We're more than certain that it'll be well received as a gift, and that the person who is going to receive it will be more than thrilled with his/hers personalised jigsaw puzzle.
When it comes to picking the right personalised design, then you need to take the occasion into account. If it's for a wedding, then it might be good to add a photo of a special occasion where you spent time with the couple. You might also want to add a beautiful text with a greeting to the groom and bride.
For other occasions it's probably enough with something that makes the jigsaw personal. Just remember to keep that in mind when personalising a jigsaw puzzle for someone on a special occasion.