Sizes: 6 cm (width) x 6 cm (length) x 0,2 cm (thickness)
Without minimum quantity
Includes 48 ecological cardboard chips (24 pairs).
Choose the shape: round or square card.
Each card is 6 cm wide.
Choose between an ecological cardboard box or a fabric bag.
ID: #3337
Reviews with images







---

Personalised Memory card game
Memory game is a game that you probably know, you may even have played it once in your life and if you don't know it, we will be happy to explain it to you. First of all you should know that it is a super good game and useful to increase attention, memory and perception from the smallest children to the not so small ones.
A game as simple as a memory game that helps to increase knowledge about the different animals, plants, objects, or any element in the game itself, helps to develop language and vocabulary as well.
Our memory game has a special feature that makes it super special and that is that you can personalise it to your liking. It is made up of 48 ecological cardboard tokens (24 pairs) and you can design them with your favourite photos or with the design of your choice. Your personalised memory game is now possible with us.
You only have to choose how you want to form each pair, you can choose 24 different photos, put photos combined with pictures of animals, superheroes or any little thing you can think of.
You choose the design, you can put photos of the little ones in the family, your favourite actors or actresses, family and friends, cartoons, princesses, pirates... However you do it, there will be no other Memory set like yours.
You personalise your Memory game and we take care of capturing it on the 48 cards (24 pairs). You can also choose the shape of the cards of your memo, between round and square. You can also choose whether you want us to send it to you in an eco-friendly cardboard box or in a cloth bag. There will be no prettier and more practical memory game.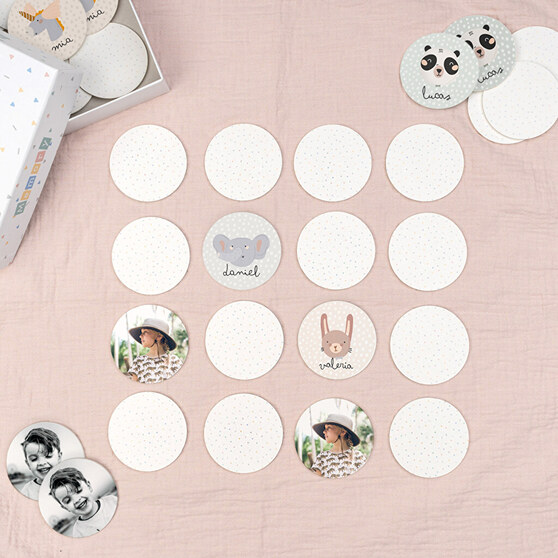 What is a memory game and how to play it
A memory game, also called Pairs game is a super fun game, which will delight and entertain from the youngest to the oldest in the house. It is a game in which we have to find the pairs between a series of cards that are arranged face down on the table.
If the people who are going to play are younger, it is advisable to use fewer pairs and when the age of the players increases, increase the number of pairs in order to increase the difficulty. In short, make the game more complicated depending on the age of the participants.
It is a game that allows you to play alone and also in groups, and it's being recommended between 2 and 6 people. In each turn, the player whose turn it is will turn up two cards to try to form a pair of identical images. If the images are different, they will be put back as they were, including the position on the table, and the turn will be given to the next player. If the images are the same, he/she keeps the pair he/she has formed. The player with the most pairs wins the game.
At what age can a child play a memory game?
Memory is a game for all ages, from the youngest to the oldest in the household. From about 20 months onwards, you can start to introduce the game, but don't expect them to get it right the first time.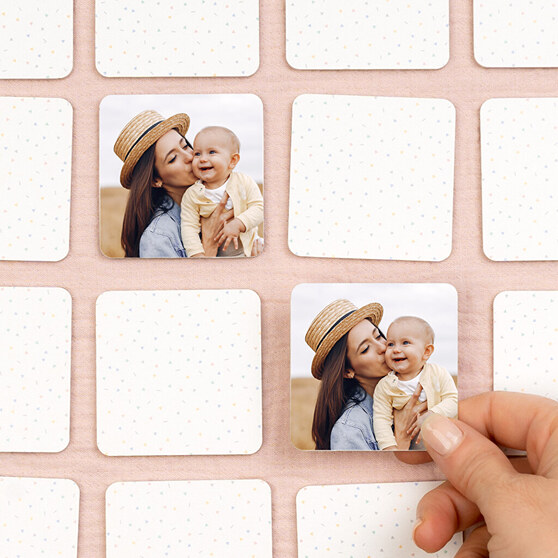 At 24 months we will already start to see that attention span and memory is increasing and that the child can find the first pairs of a simple memory game. It is never too early to introduce games of this type, but we must bear in mind that, when we see that the little one gets bored or tired of playing, it is better to leave it and continue another day or another time rather than forcing them to play. We want them to enjoy themselves, not get frustrated.
At the beginning, when they are younger, it is advisable for the memory to have fewer pairs and as they get the idea of the game and their attention and memory increases, the number of pairs should also increase.
Benefits of playing memory games
Playing memory has many benefits, including:
Memory games have many benefits:
Promotes the basic cognitive processes of: memory, attention and perception.
Fosters the development of oral language, allowing us to use the vocabulary related to the set of images that make up our memory.
Facilitates and helps children and not so young children to focus on an activity and concentrate on what they are doing and learning.
It is also ideal for people with an illness that affects their ability to memorise things, such as people with the onset of senile dementia. Whenever we practice it we will be helping to exercise and work on our memory so that the loss is much slower.
Board games help us to have the ability to learn rules and regulations and to understand that we must follow them in order to play correctly and have a pleasant and fun time.
And among other things, it also helps to work on the acceptance of frustration when children lose in the game. You can't always win and like any game it helps us to understand it in a more practical way.
Ready to enjoy a little playtime with family and friends with your Memory game? Create your design on our website and we will take care of making your ideas come true!