---
Stamps for paper and cardboard
How to make a stamp
If you're here it's because you still don't know how to make custom rubber stamps. But don't worry, we have years of experience in the sector and we have several different sizes and shapes. All you have to do is choose the text or design you want to print on the paper, cardboard or clothes.
The personalisable rubber stamps have different applications: for companies that need to print their data, address or logo; handicrafts and scrapbooks; weddings, baptisms or communions, with the names of the protagonists and the date; and to mark children's or adults' clothes. Choose between different colour inks so that the print is the one you want.
If you like to leave your mark wherever you go, what better than with personalised stamps. In this section, we have grouped our different models of stamps that you can adapt according to your needs. We tell you a little more about them.
Personalised rubber stamps
Depending on what you need it for, you will have to choose one model or another. We have both textile stamps and rubber. It is very easy to create your own personalised stamp with our editor. You only have to choose the size, the color of the ink and the personalization.
It is important to do a good maintenance of it to keep it in good condition and you can use it when you need it. We send it loaded for 20.000 stamps.
Personalised wedding stamps
The celebration of a wedding takes a lot of work, but it is a very nice and special act. You have to take care of even the smallest detail, starting with the invitations. Some couples choose our wedding stamps to decorate their invitations. You can design them as you want and in them you can put the names and the date, for example.
You have different sizes to choose and adapt your stamp to the invitation. It is usually stamped on the outside, on the closing of the envelope of the invitation. Three different ink colors to choose from: red, blue and black.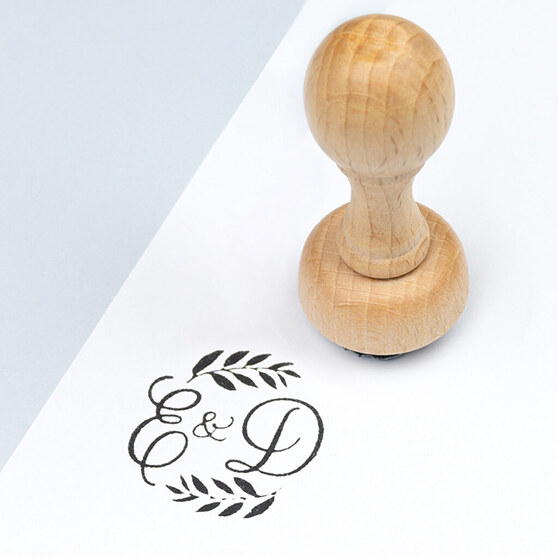 Customised company stamps
In the business world, there is no time to lose. Every minute counts, hence the need to look for efficiency in everything that is done. The stamps for companies allow you to go much faster when reviewing documents and you can stamp them quickly and securely.
Begin to create the stamp of your company, just choose the size you want, ink and customization you want to stamp. Normally, people choose to put a company's logo or data.
Stamps Scrapbooking
Do you know the technique of scrapbooking? It is very fashionable and is an ideal activity for the people who love to work with their hands and make very personal crafts. Our custom scrapbooking stamps are the best option to decorate your projects and crafts in a different and special way.
Choose the size with the design you want, the ink and customize the design that will be stamped on your project. Your scrap stamps will bring a very original touch to each project.
Customized textile stamp
The customized stamps for clothes are very useful in any home with children, but also for adults. It's a quick and easy way to mark your work suit, vest, etc.
It's very simple make your own custom textile stamps, just choose the size you want, ink and customization that you want to be stamped. We recommend marking on non-porous surfaces and making an adequate maintenance of it so you can use it whenever you need.
So you can mark all children's clothes for school or camps. You have different pre-designed templates or, if you prefer, you can create your own model from scratch to your liking.