Personalised Wristwatches
There are 4 products available
Personalised wrist watches with photos
If you're one of those people who don't like to waste time, we have a must-have for you that you'll want to wear every day. Our personalised wrist watches with photos are ideal for people like you, who don't like to waste time.
We have different models that you can choose from and customise completely to your liking. A universe of customisation opens up in front of you with our online editor.
On our website you will find models such as wrist watches for women and watches for men, both with a steel "Milanese mesh" strap. You can also customise a sports wrist watch (available in four colours: white, black, red and dark blue) and finally, the youth wrist watch, which is also available in 4 different colours (pink, black, maroon and dark blue).
The steel wrist watch is a more classic, more traditional watch for people who like to go unnoticed and not attract too much attention. It is discreet and elegant, as well as comfortable. It seems like a lot of qualities in the same article, but when you have it in your hands you will realise that it has them all and that it's perfect.
On the other hand the sporty and youthful wrist watches, both have a touch more flamboyant, as well as having the option to choose from four different colours, their materials give them a more jovial touch. Ideal for going out for a walk or even doing sport with them. You'll have the time under control at all times.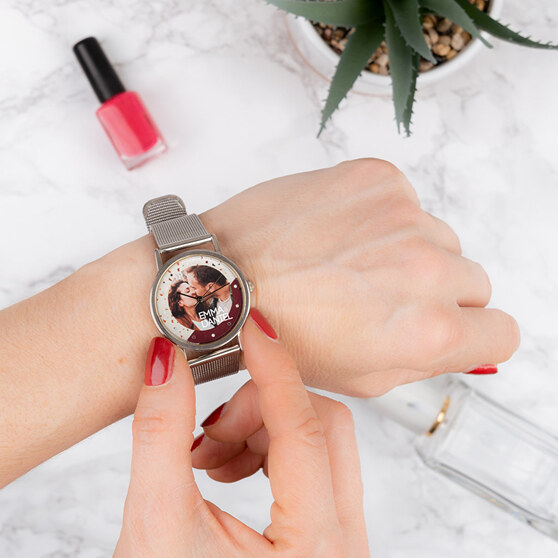 Customise the perfect wrist watch for yourself or as a gift
Each of them can be adapted to suit your style: more classic or elegant or more fun or youthful. Thanks to the personalisation you have in your hands the power to create unique designs, unisex, because everyone likes them. They are also cheap customised wrist watches, but of great quality and with a perfect finish.
In our online editor, you can design them as you like. You can choose the photo or image you want and we will print it in full colour and integrate it inside the dial, a nice drawing or text, as you prefer. You'll want to tell the time to everyone you come across.
We also provide you with various pre-designed templates for easy and quick customisation. Start creating your most personal accessory and give it your own style. You won't be able to leave home without it.
When to give a personalised wrist watch
They are the perfect gift for any occasion, with this gift you will always get it right, although like everything, it always has some moments that seem more suitable, in the case of personalised wrist watches, they are usually used more for birthdays or as a gift for Christmas.
But they would also be ideal for Valentine's Day, Father's Day, or even for grandparents on their day.
If you are looking for the perfect gift, this is the watch for you! Think about how you want to personalise it and we will make it happen.