Personalised canvas prints
Sizes: 15 cm (width) x 20 cm (length) x 3 cm (thickness)
Without minimum quantity
Photo on high quality cotton canvas.
Semi-gloss finish.
Mounted on a wooden frame.
Shipping with safety packaging.
ID: #2702
Reviews with images








---

Information of interest
Composition: 100% cotton 340 gsm.
Canvases resistant to cracking. Water resistant material.
Safety packaging. All the canvas photos are sent packaged and with a special packaging to preserve that arrive in perfect condition to your home.
UVI ink printers, which resist direct sunlight for 5 years.
Picture formats and proportions
For greater clarity when choosing the size of your painting, we have classified all sizes according to their format. Within each format, all the sizes shown are proportional to each other. The available formats are:
Rectangular Format 4:3: these are rectangular sizes that have a 4:3 ratio, i.e. for every 4 cm. They are 3 cm. wide. It is a rectangular shape that is closer to the square format than the panoramic format. The most popular size for this format is 30x40 cm.
Rectangular 3:2 format: these are those rectangular sizes that have a 3:2 ratio, that is, for every 3 cm. They are 2 cm. wide. It is a rectangular shape closer to the panoramic format than to the square one, that is to say, they are quite elongated. The most popular size for this format is 40x60 cm.
Square format 1:1: square measurements, all sides measure the same. It is a very fashionable format thanks to Instagram photos, which are also square. It is common to buy several square-shaped frames to create collages of frames with different photos.
Panoramic 2:1 format: these are very elongated, panoramic sizes, which have a 2:1 ratio, i.e. the longer sides are just twice as long as the shorter sides. Although they can be used with any photography, they are especially suitable for landscape or panoramic photography.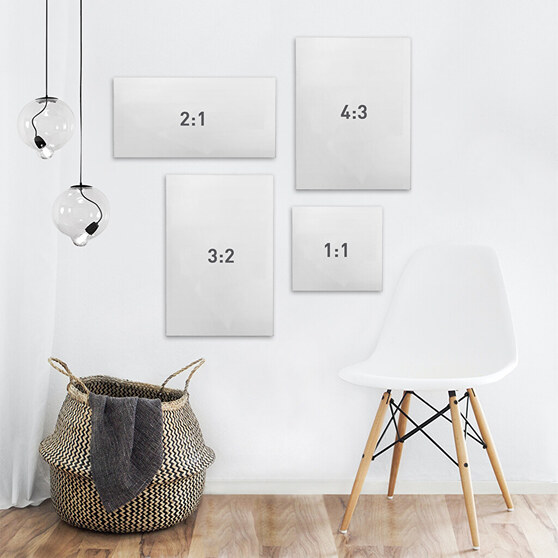 Personalised canvas photo
One of the most beautiful and intimate ways to decorate any home or office is to do it through photographs. Collect your favorite images and transform them into precious photo canvases. We'll take care of the rest.
The printing of photos on canvas is done in high quality and, later, we mount them on a frame of pine wood of 3x2 cm. This is a very original gift that will bring a personal and different touch wherever you hang it.
How to make a personalised canvas photo
Our standard canvas photo is a great option to decorate any wall. In addition you have a large number of sizes and shapes to suit your needs: photo rectangular personalised canvases, square personalised canvases and panoramic. Choose the size and shape that best fits your wall. The panoramic model is especially recommended in living rooms and bedrooms.
It's very easy to create, you just have to choose the image that you want to convert to a canvas. It can be a good gift in any date of the year and for any person, because everybody likes pictures and even more if you give them to someone whom you love.
In our website, you will find your cheap canvas photo , without losing quality, thanks to our offers. This way you will be able to hang your tables and canvases in any room of your home, office... Wherever you want! They are a very good guarantee of decoration and of great duration.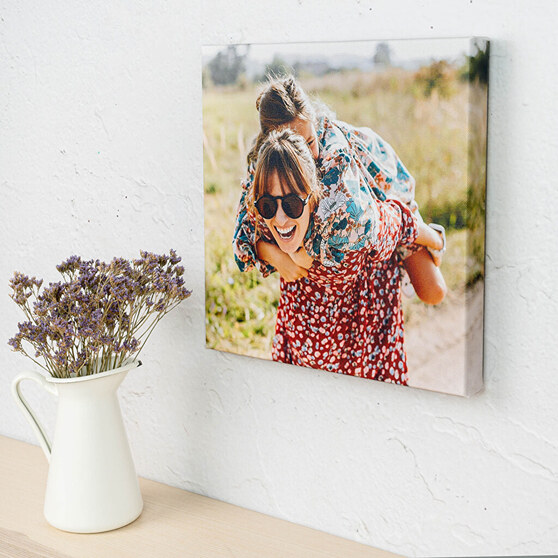 Triptych tables for living room
You can place them wherever you want, but we recommend them especially in salons. In this type of room, the space is larger and you can give it the prominence it deserves on the sofa, for example. The best thing about this type of decorative elements is that, by occupying more space than a normal painting, it covers your wall in a more complete way.
Through personalisation, you can adapt it to the style of your living room: more minimalist, with a landscape, a family photo... What you choose must be in accordance with the rest of the elements so that it is what stands out the most, without going out of tune.
Another option is to use it as a decorative element in rooms, especially when there is a double bed. It is spectacular above this and fulfilling a double function: as a decoration and as a "false" bed headboard.
Quality assurance
The material used to make this product complies with the OEKO-TEX® certificate, which guarantees that the material meets the required control criterias, as well as the accessories such as rivets, buttons, zips, interlinings, etc. Textile materials with the OEKO-TEX® quality seal have skin-friendly properties.