Make the most out of your photos
There's nothing more personal than decorating every room in your home with photographs. Fill your home with memories and give it your most intimate touch. In this section you will find all our products for decorating with photos.
Whether for wall decoration in the home, for photo exhibitions, interior design of companies or shops, the photos are available in many different materials: photo canvas with wooden frame, direct print on wood, acrylic prints, print on foam boards, brushed aluminium, glossy wooden board, ChromaLuxe or printing on a poster of photo paper.
Create collages with your photos
Some products are made for making collages of photos. One of these products is PrinTiles which is a square, ultra-small and an inexpensive photo frame. It is ideal for making collages on the wall with your own photos - and without you having to make any holes in your wall! The unique thing about them is that they are self-adhesive.
In addition, other products such as tile mosaics or triptychs allow you to use a single photograph and divide it into several different parts, creating a collage that, when viewed as a whole, forms the image of your desired subject or photograph.
Photo enlargement and enlargement of photos
In addition to photos of different materials, another highly sought-after service is framed and enlarged photos, or simply framed photos with any design or image (or photo collage). In our catalogue there are several options for creating personalised frames with wooden or aluminium frames. We can print your photo on canvas in poster format for hanging with two frames at the top and bottom. We can also print on a photographic canvas with a floating frame(also called an american frame). Or even on an ultra-light foam board, framed in wood or aluminium.
In short and to sum up: We have a wealth of options and solutions in wall decoration for private or professionals. We have products of many different materials, sizes, formats and in many different price ranges, menaning that everyone is able to purchase their own wall art. Feel free to take a look at our wall art decorations and find the model that best suits your home. Whether you have small or large walls, you're sure to find pictures, canvases and regular photos that will fit in as we offer virtually every size you can find on the market.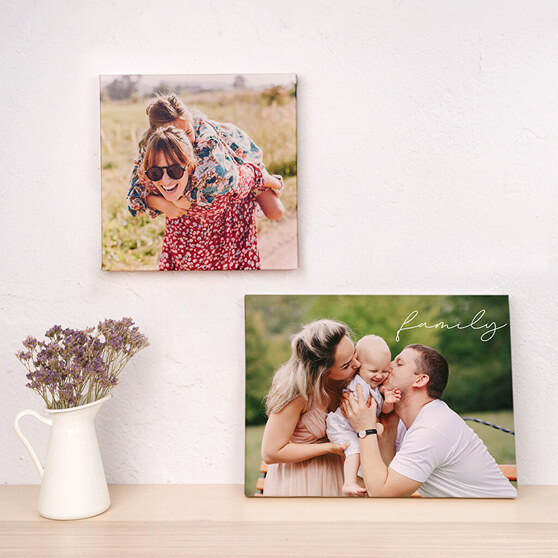 Formats and proportions of the frames
For greater clarity when choosing the size of your painting, we have classified all the sizes according to their format. Within each format, all the sizes shown are proportional to each other. The available formats are:
Rectangular Format 4:3: these are rectangular measurements that have a 4:3 ratio, i.e. for every 4 cm. of length, they are 3 cm. wide. It is a rectangular shape that is closer to the square format than the panoramic format. The most popular size for this model is 30x40 cm.
Rectangular 3:2 format: These are those rectangular sizes that have a 3:2 ratio, that is, for every 3 cm. long, they are 2 cm. wide. It is a rectangular shape closer to the panoramic format than to the square one, that is to say, they are quite elongated. The most popular size for this format is 40x60 cm.
Square format 1:1: square measurements, all sides measure the same. It is a very fashionable model thanks to Instagram photos, which are also square. It is common to buy several square-shaped frames to create collages of frames with different photos.
Panoramic 2:1 format: these are very elongated, panoramic sizes, which have a 2:1 ratio, i.e. the longer sides are just twice as long as the shorter sides. Although they can be used with any photography, they are especially suitable for landscape or panoramic photography.