Personalised prints on wood
Sizes: 15 cm (width) x 20 cm (length) x 1,1 cm (thickness)
Without minimum quantity
We print your photo directly on wood.
The surface of the picture is made of Spanish pine wood.
Includes metal hanging plate.
ID: #16006
Pictures printed on wood
Photography is still the best way to capture unique moments and turn them into memories forever. Now you can fill your home with memories with our wooden photo frames. All you have to do is transfer a photo to wood choosing the size you like and we will do the rest. You will have a unique and high quality image, because we print photos on wood using a direct printing method.
You have different sizes to choose from to decorate all the rooms in your home with photos on wood, which comes from Galician pine. Look for the one that best suits your needs. They are perfect for living rooms, as it provodes a unique and home-like atmosphere.. Select the best images with your family, a beautiful landscape or a design that you like and decorate with style.
They are very elegant and ideal as gifts for special occasions such as birthdays, Christmas or anniversaries. Or simply to renew the decoration of your home or any room.
Metal plates are included to hang the picture, which can be attached to the back of the picture very easily, simply by removing the included adhesive sticker.
Differences between the two types of finishes
When customising a wooden frame, you can choose between two types of finish: with wood texture (natural), or without a wooden texture.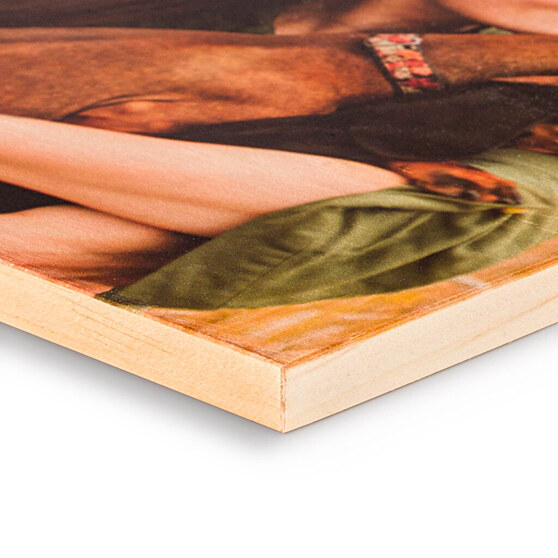 Printing on wood texture
When printing on wood with a "wooden texture" finish, the photo will be printed directly on the surface of the wood. In this way the darker parts of the image will be highlighted, while the white parts are not printed. Therefore, in the light areas of the image the picture will show the grain of the wood, creating a beautiful warm and homely effect.
This type of finish, which we could also call "natural", has a rustic and vintage aesthetic that can give a very special touch in bedrooms, in the cellar or in the dining room, and in any room where you want to give that organic touch that photo printing on wood produces.
Printing without wood texture
In the case of choosing a non-textured wood finish, first a layer of white colour is printed on the surface of the wood and then the photograph you send is printed on top of this white layer. This finish shows the photograph in a more faithful way to how it was added, without differences in texture between the dark and light areas, and without showing the grain of the wood on the printed side (it will be visible on the sides and back).
The difference with respect to printing with wood texture is that on this finish all areas of the photograph are printed, both dark and light, and there is no natural effect with wood grain that the other type of finish does have.