Personalised Calendars
There are 3 products available
Calendars with photos
The personalised calendar is one of our most popular gifts, especially during the final months of the year and Christmas, as well as in the first months of the year.
And the idea is great: a calendar with photos, that is, calendars that have every month of the year with their respective days, and where you can add photos or designs to your liking.
A photo calendar is a practical gift, because everyone consults almost daily an annual calendar, whether to note upcoming important events, appointments, birthdays, and so on. Thus, every time you consult the custom calendar, you will see the photo or design printed on it.
Models available
In our store you can create your personalised online calendar choosing between several options: wall, table, skirt, pocket or magnets:
Personalised wall calendars
The calendars to hang on the wall are the most requested. They are usually hung in the kitchen, in a room, in the office, etc. There are the models with several sheets, or the wall but with all the months on a single page. Taking advantage of our temporary offers you can make a cheap personalised wall calendar if you are fast.
Personalised Table Calendars
The personalised table calendars are very typical for the table of the office or company where one works, although they are also usually used at home. There are rectangular and square, even some more original as the calendars in CD box or pencil holder calendars to keep pencils or pens.
Personalised Pocket calendars
An all time classic, the pocket calendar is usually purchased in packs of several units for advertising purposes or for companies. Or they can also be used with family photos for Christmas diners (especially when you have had a baby), or it can be a good idea as an original wedding invitation.
Personalised Magnet Calendars
Finally, you can give a personalised magnet calendar, ideal for placing on the refrigerator, or any other metal surface. It is a very original and practical gift, with several uses: it decorates the fridge, it serves to consult the days and months of the year, and also serves to attach papers and sheets to the fridge, from the drawings of children to the shopping list or anything else.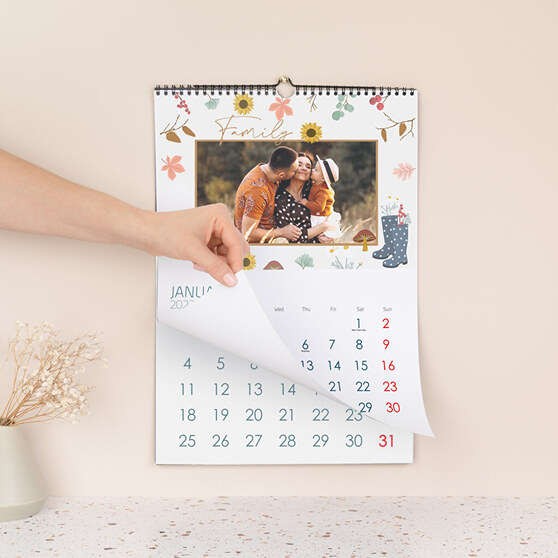 Make a calendar with photos
If you ask yourself how to make a personalised calendar, don't worry, we'll be explaining it to you below.
It's very simple. Simply choose the calendar model you want, click on the "Personalise" button, and immediately you can upload your images or photos from any device to create your calendar with photos .
At any time of this process of creating a personalised calendar you can see a preview of how it will look, how we will print it. So there will be no surprises.
In the case of calendars with several pages you can go selecting each month to place in each photo you want.
Cheap Personalised Calendars
In case you are looking for economic calendars, we present our discounts for quantity. We sell from only 1 unit, no minimum order (except pocket calendars, minimum 10 units). But we also sell large quantities. In that case, thanks to these quantity discounts, the greater the range of units to buy, the cheaper the unit cost.
These discounts are ideal for customised calendars for companies, that is, for larger or smaller companies that need to order several tens or hundreds of identical calendars, either for advertising purposes, or to give away to their customers, loyalty, etc..
Ocasionally we also have discounts on this website, and thanks to these offers you can also enjoy discounts on customizable calendars even if you buy a few units or only one, and get an improved price.