Personalised 3D lamps with photos and text
The revolution in home decoration has arrived: the original personalised 3D lamps, which you can customise with the photo, image or text of your choice. All you have to do is upload your favourite photograph, with your partner, your family, your best friend or even your pet. You can create any design, add a motivational phrase, your names... and we will print the design in full colour on your lamp.
Available in different formats: lamps with a wooden base, with a plastic base, with a wooden frame... You can even choose between different shapes where we will customise your photo 3d lamp with the design you want. We have lamps shaped as the "tree of life", shaped as a house, as a heart-shaped lamp for the most romantic people, rectangular or round lamps for the most classic ones, and even pawprint-shaped lamps for those who love their pets. And if that wasn't enough, you can also personalise a lamp, that will work a jewellery stand as well. With such a lamp in your home, you'll be able to store all your jewellery in a unique way. It'll be a practical and amazing accessory for your home.
You can choose from an endless number of pre-designed templates to modify to your liking or you can also create your own personalised lamp from scratch. The designs you create have an even more special charm and the best thing of all is that there won't be two lamps exactly alike. Whenever you order a lamp it'll be unique as no one will ever personalise a lamp exactly in the same way thanks to the personalisation.
These LED table lamps include a USB cable, so you can connect them to any USB enabled device, or to any wall socket in your home using a USB to wall socket adapter. The plate on which we print your design or photograph is made of transparent rigid methacrylate, a very resistant and durable material.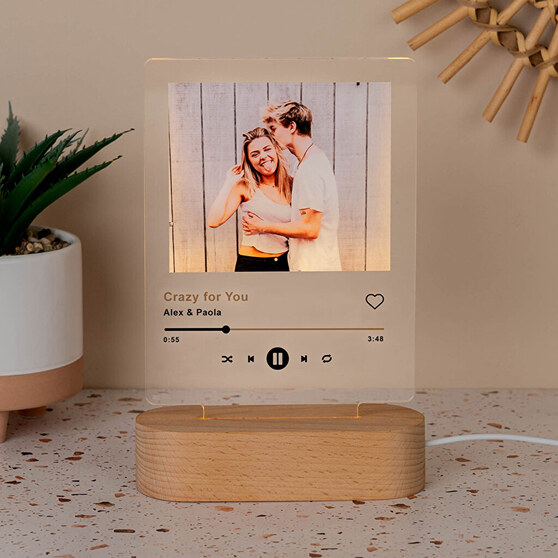 Depending on the model chosen also varies the lighting, the lamp with plastic base has LED light with 7 different colours that you can change to your liking, leave a colour that you like or press a button on the base to make the colours change by themselves.
The lamp with a wooden base, the luminous jewellery stand and the lamp with a wooden frame have a single type of light, with a warm white colour that is sure to give the room a special charm.
The importance of lighting in your home
When we start to decorate our home we tend to pay a lot of attention to the furniture and decorative objects that we are going to include in it and we often forget that there is a very important factor for the overall design to be perfect, and this factor is lighting.
Good lighting can give personality to a space or, on the contrary, take away all its charm. Lighting also affects our emotions, the way we see life and the way we interact in an environment. It is not the same to be in the living room watching a film at 10 o'clock at night with a soft, indirect and warm light from a lamp, than with the cold light from the ceiling that illuminates the whole room creating a much more impersonal space. When planning the decoration of our home, we should give the importance it deserves to the choice of lamps, their design, the type of light they emit, etc.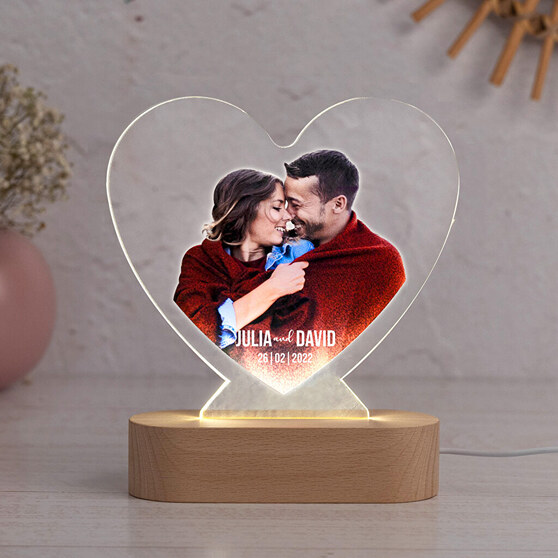 Give a personalised lamp for any special occasion
When we think that we have to give something to someone we always try to make it something unique, that they don't expect and of course that makes them really excited. Personalised gifts are perfect for this, as they are created with the person who is going to receive them in mind, there will be no other gift that fits as well as a personalised one. If you are thinking of giving a gift to surprise the gift receiver, then you will find thousands of personalised gift ideas on our website. We've anything you can imagine, and the best thing is that you can personalise all of our articles. Surprise someone today with one of our articles.
Valentine's Day is approaching and you want to have a different gift for your partner? The personalised heart-shaped lamp is ideal for the most romantic ones. It will also be a gift that you will enjoy twice as much, as you can use it to decorate your little love nest.
When an important day such as Mother's Day, Father's Day or Grandparents' Day approaches, this lamp will be the perfect complement for Mum, Dad or grandparents. Just create a beautiful design with photos of the little ones and tears of emotion and happiness will be guaranteed.
It is also a perfect gift for occasions such as birthdays, for example to give to your best friend with a photo of your last trip together. Or to give yourself a present, because who wouldn't like to have a lamp as beautiful as this one?
Now all you have to do is let your creativity run wild, personalise your 3D lamp with the shape you like the most and fill your home with light. It will surely be unique and special.