Personalised wooden money box
Sizes: 21,2 cm (width) x 21,2 cm (length) x 4 cm (thickness)
Without minimum quantity
Frame material: poplar wood.
Material front part: transparent methacrylate.
Back material (customisable part): medium density fibreboard (MDF), ChromaLuxe brand.
ID: #15857
Reviews with images








---

Personalised wooden money boxes
Now you can save in style with our personalised money boxes. It is a perfect gift for children, so that they can save their first tips and learn the importance of saving. As well as for adults, from a couple who want to save for a big trip together, or for anyone who wants to save little by little for a whim or purchase they want to make.
This product consists of a modern square piggy bank, composed of a frame of elegant poplar wood, with a wooden bottom made of medium density fibreboard (MDF) of ChromaLuxe brand (a very resistant material), and the front part of transparent methacrylate, so that you can see at all times how much you have saved. The part that can be personalised is the ChromaLuxe wooden background, a material that brings out the colours very well, and which has a great sharpness and printing quality.
This base can be easily removed by slightly bending the tabs that hold it in place, so that coins and banknotes can be easily removed when desired. To insert the money, it has the classic piggy bank opening. The design of this product is very original and fun, as you can see your money at all times, with a personalised image in the background. You can put a family photo, or a photo of the couple, or of the child if it is a children's gift.
When designing your product, you can choose pre-designed templates that we provide, with different motifs for various occasions. Or you can customise from scratch, if you want to create a personalised money box completely to your liking.
A very common occasion on which piggy banks are usually given as gifts is Communion, Baptisms and Weddings, as a gift for the guests. Also on Valentine's Day, for couples in love to make their joint savings grow for trips or plans together. And it is also very common for piggy banks to be a children's gift for boys and girls of all ages, so that they can save their first savings from grandparents' tips or birthday presents. Learning the value of saving is an important value that can be encouraged from a very young age.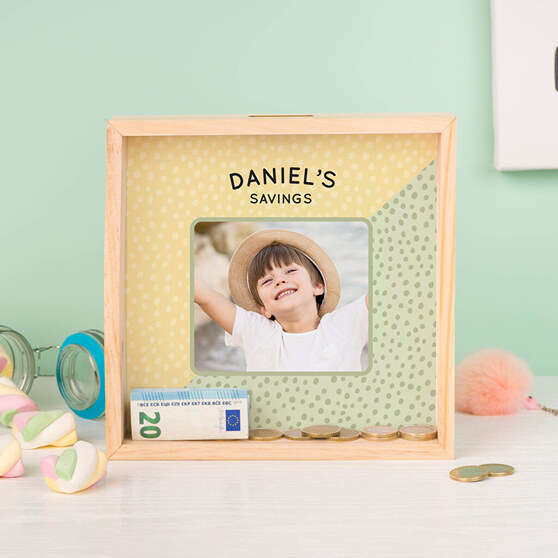 The personalised money boxes do not have a minimum order requirement, you can buy from 1 unit. Although if you need to buy large quantities, we have quantity discounts, so the more of the same units you buy, the less each unit will cost, so you can create cheap personalised money boxes for special events.