Select an option: 2,5x2,5 cm
Sizes: 2,5 cm (width) x 2,5 cm (length)
Without minimum quantity
Very easy to apply in just a few seconds.
Lasts for several days. Waterproof, can be used in the shower, pool or beach.
Safe, non-toxic material, dermatologically tested.
Recommended for children over 3 years old.
ID: #16039
Reviews with images







---

Custom temporary tattoos
You can now design your own tattoo just the way you like it and of course we will deliver it to you, with your design. You can choose between several different sizes, depending on how much you want the temporary tattoo to be seen. We offer you several designs that we have made ourselves, but if you prefer, you can upload your own design that we'll then make for you so that the fake tattoo will be as personal as possible. We have the option to print your design either in black like the classic tattoos, or in colour (note: the white colour is not printed: the white parts of the design will not be visible on your skin.). These small personalised tattoos last for several days, and once applied, they look like real tattoos, so you don't have to worry about undoing them as with permanent tattoos.
These fake tattoos are sent printed on a paper which is specially made for temporary tattoos. The design on the paper is seen reversed, so it is seen in the correct way when placed on the skin. You can order individual temporary tattoos, or if you prefer, you can fill a whole A4 sheet with tattoos and cut them out individually when you need them.
You can choose between normal tattoos, the ones we all know, or a very unique option: glow in the dark tattoos. They are available in the same sizes as the normal ones, but in this case, they are temporary tattoos that glow in the dark. It's a great idea for events, parties, birthdays... where, at a given moment, the wearer of the fluorescent tattoo can stand in a dimly lit area for everyone to see their personalised glow in the dark fake tattoo.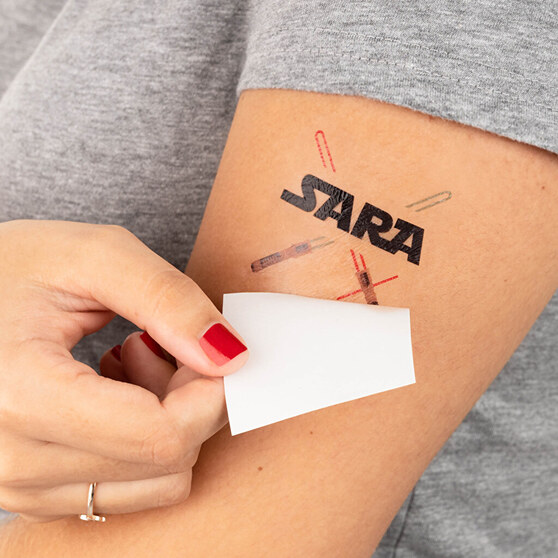 There is no minimum order, but it is recommended to order more than one piece so that we can better assess whether the quality of the tattoo is as good as it's supposed to be, whether it is to be placed on a specific part of the body or because it has not been designed correctly. Once you have decided on the size and format, simply upload the design, order your temporary tattoos. Within a few days you will receive your order and you will be able to put it on your body.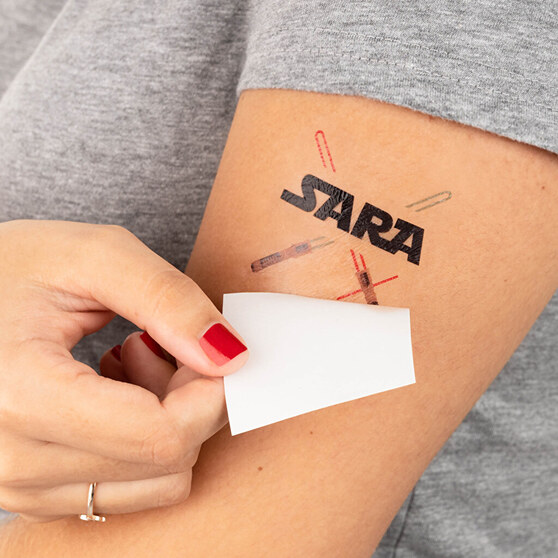 How to apply your temporary tattoos
Applying a temporary tattoo is easy, and is certainly something we've all tried before (in our childhood or even as adults). However, we remind you of the steps you need to follow:
Select the area of the body where you want the tattoo to sit. Remember that it should preferably be an area without hair and without too much movement going on.
Clean and dry the chosen part of the body thoroughly.
Remove the protective plastic film.
Place the disposable tattoo on the skin.
Wet the tattoo with a towel or sponge and press for about 30 seconds.
Carefully remove the paper and let it dry for a few seconds.
Note: This product is not recommended for children under 3 years old.
How long do these temporary tattoos last?
The answer is approximately between 3 and 5 days. The more detailed answer is that duration depends on many factors. Logically, showering and rubbing a sponge over the tattoo will remove it. Bathing in the ocean or swimming pool, sweating, or if placed in an area where the tattoo is constantly rubbing against clothing will also affect the durability and duration of the tattoo.
Unique and unexpected ways you can use temporary tattoos
These types of fake tattoos can be worn for any occasion, but there are certain events where it is more common to wear them than others.
Temporary tattoos for weddings
Weddings are an ideal occasion to wear personalised tattoos, both for the guests and for the bride and groom themselves. If it's for the guests, you can give them all a fake tattoo sticker or put many on a small table in the common area for the dancing part of the party. Those who want to, can apply a tattoo to their skin and make the party a bit more fun.
And if it needs to be more elegant, there are brides who get temporary tattoos, either tribal tattoos, decorative tattoos or tattoos with a special meaning. These can be small personal tattoos in a discreet area or very visual ones, so they form part of the bride's outfit along with the dress.
Tattoos for a birthday party
Birthday parties are very festive moments where everyone, children and adults alike, want to do fun things. For these parties, you can make personalised tattoos with the name and age of the birthday boy or girl, or a drawing referring to the birthday. It could also be a specific design that fits the theme of the day. Make fake tattoos for all the guests, so they all become part of the party itself and the theme.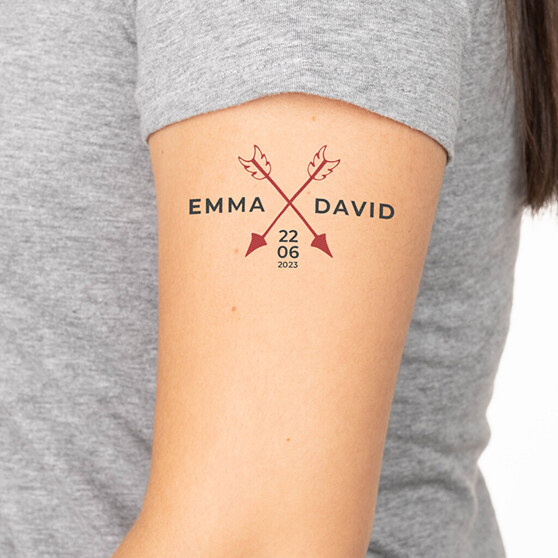 Fake tattoos for pregnant women
For some years now, it has been fashionable for pregnant women to decorate their bellies, especially when they are already in the last stages of their pregnancy and have pictures taken of them. Temporary tattoos can be a pleasant and easy way to decorate the future mother's tummy with the designs she wants, creating unique images and memories forever.
Testing before getting a permanent tattoo
Getting a real tattoo on your body that will stay forever is a decision you need to be clear about. That's why many people choose to get the tattoo they want first by using a temporary tattoo or a photo tattoo. This way, you can place the tattoo in the area you have in mind, and observe it for a few days to see if you are really convinced that you want to make it permanent, both in terms of the design chosen and the area where you want it to be placed.
Other occasions
There are other occasions when these tattoos can be used. For example, at music festivals or concerts, you can temporarily have a tattoo of the band you like best, without having to resort to a permanent tattoo. Also for bachelor parties, family dinners, company lunches or other more casual events, whether there are children or adults present.
What material are fake tattoos made of?
The ink on these tattoos is made from a safe, non-toxic and dermatologically tested material.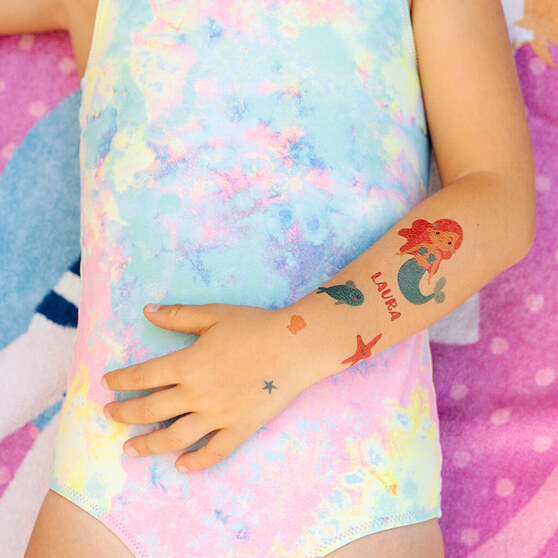 How to remove a temporary tattoo
If you want to remove the false tattoo from your skin before it disappears naturally, you can easily do so by rubbing the area with alcohol, hand sanitizer, or baby oil. The tattoo will fade away in a few seconds.
Temporary tattoo or fake tattoo?
There is a common dilemma with these words, as some people call them "temporary tattoos" while others call them "fake tattoos". The truth is that they can be called both, as it means the same thing. You can even call them temporary tattoo if you want.
Tags of Temporary tattoos