Sizes: 50 cm (width) x 35 cm (length)
Without minimum quantity
Material: Oxford (100% polyester and waterproof).
Personalised on 1 side.
Includes opening to insertion of mast (Flagpole not included).
Perfect for football and sports, events, stag parties...
ID: #15604
Reviews with images








---

Personalised flags with logo or design
Personalised flags are a versatile product, as they can be used in many different ways. Personalised flags can be used as an advertising item, as a product to cheer at football matches or other sporting events, as well as for events such as weddings, baptisms, communions or birthdays.
The material is Oxford fabric, which is a high quality, waterproof, 100% polyester material. There are various sizes ranging from the smallest 50 cm long, to huge flags of almost 2 meters long, there are sizes for all needs. In addition, these flags can be customised with any logo, phrase, text, photo or design, meaning they can be completely unique and personalised for any situation.
The printing is done directly onto the strong and durable Oxford fabric, which ensures that the flags retain their crisp colour for years to come. In addition, the printing is done with the latest technologies, which means that the quality is highly accurate.
A great advantage is that there is no minimum order quantity, so you can buy just one flag if you need to. However, for companies that need large quantities, there are quantity discounts, so the more of the same flags you order, the less each unit will cost.
This is what you can use do with personalised flags
There are many different ways in which custom flags can be used. One of the most popular uses is for advertising. Custom flags can be a very effective way to promote your business or company. You can place a custom banner at the entrance of your shop to attract the attention of potential customers, or at trade fairs and exhibitions to attract visitors.
In addition, these flags are ideal for special events such as weddings, birthdays or anniversaries. You can create a personalised flag with the name of the bride, groom or birthday boy or girl to add a special touch to the event.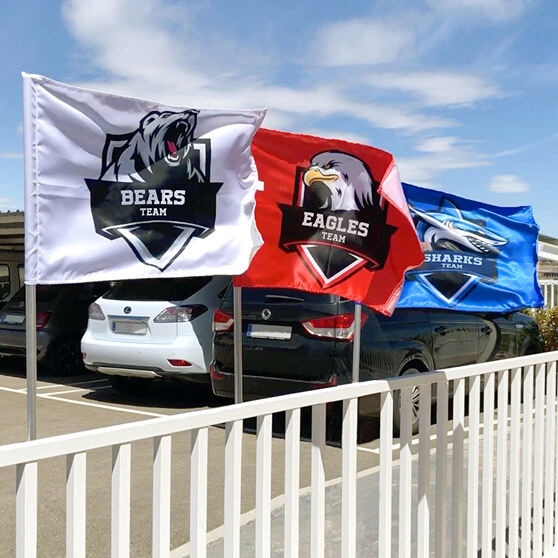 Personalised flags are also an excellent choice for sporting events. You can personalise a flag with your team's colours, crest and design to create a sense of belonging and loyalty. Custom flags are perfect for cheering on teams at sporting events and competitions, designing them as custom flags for football, basketball, handball or any sport.
Another application for custom flags is for decorative purposes. If you have a business, a custom logo flag can be a great way to add colour and personality to your space. You can personalise the flag with your company logo or an inspirational quote for your customers to see and find attractive. In addition, these flags are also great for decorating outdoor events such as garden parties or family gatherings, or simply for private users as an original way to decorate the walls of a room.
Personalised flags can also be used to show support for a cause. You can personalise a flag with your organisation's logo or a phrase to raise awareness and show solidarity. Personalised flags are also perfect for demonstrations and marches.
Washing instructions
Machine washable, max. 30°.
Do not bleach.
Iron at low temperature.
Do not tumble dry.
All measurements of these textile products are approximate and may be affected by the image transfer process.
Guarantee of quality
The material used to make this product complies with the OEKO-TEX® certificate, which guarantees that the material meets the required control criteria, as well as the accessories such as rivets, buttons, zips, interlinings, etc. Textile materials with the OEKO-TEX® quality seal have skin-friendly properties.