Original gifts for men
There is nothing like that feeling of giving special gifts when that person is as excited as we are. In this section, we have compiled some of them that may appeal especially to men. All our products are personalised, so you will be able to create them with any photo or design, as well as with beautiful texts or messages.
We have a very wide catalogue, so you will find all kinds of prices. From cheap gifts for men, for prices under 10 euros, to other higher prices. We adapt to all kinds of pockets, but all our gifts have enough quality to surprise whoever you want.
Personalisation allows you to focus the gift on the taste you want. Depending on the tastes of the person you are giving the gift to, you can adapt the item to them. For example: if he's a geek, you can create a geek gift with the image of a film or video game. If he is a romantic, you can create romantic gifts for men. Whatever you can imagine, now you can do it.
What to offer a man
Age can be a key factor when looking for original gifts for men. It is not the same to give a gift to a 30 year old as to a 75 year old, for example. Here are some gift ideas for a man:
Gifts for young men
We sincerely believe that you can be young all your life, because that goes with the way you are and your lifestyle. However, in this section we wanted to focus on one age range and that is men under 40 years old.
We especially recommend those gifts that can be useful on a daily basis. This way we will get to have a practical gift and to their liking. Mugs, personalised beer mugs or mobile phone cases, among many other products. You can adapt everything according to their personal tastes with the photographs or designs that you want.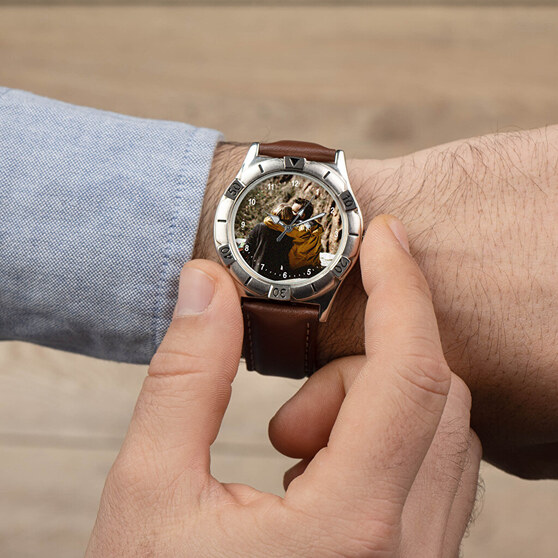 Gifts for men in their 40s
The 40s are a great age where you start to enjoy a greater maturity. Given this responsible character, ideas such as watches, motorbike helmet covers or aprons, for those who like to cook, are usually good options.
If the man you are giving is also a father, you can adapt each gift with designs of "the best dad" or with photos he has with the child. Create that special gift that will touch him.
Gifts for 50 year old men
Turning 50 is special for anyone. In fact, there is usually a birthday party to celebrate this 50th birthday. If you don't know what to give a 50-year-old man, consider all the gifts mentioned above. Also engraved pens or more classic watches are usually very well accepted on any date.
Photo albums are also a great option for this kind of celebrations. It is a very emotional gift in which you can collect photographs of a lifetime and that album is like taking a trip down memory lane.
Gifts for men in their 60s
If the person we are giving a gift to is 60 years old, he may be a grandfather. In that case, we also have gifts for grandfathers that will get you get the perfect gift.
Photo blocks and photo frames in different materials are also a great birthday gift, for example. There you can put the picture of your choice so that he or she can keep it with great affection.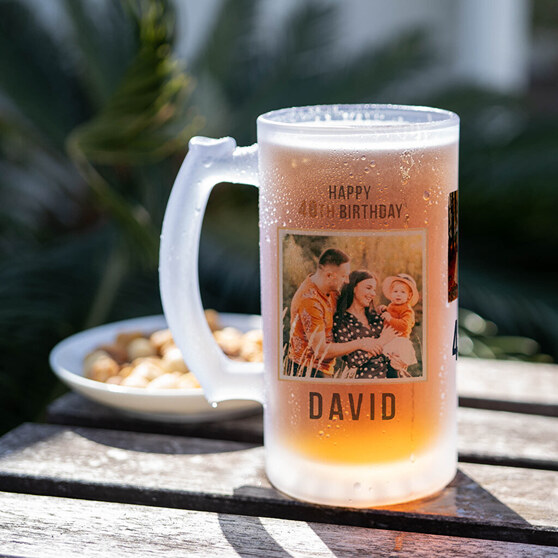 Gifts for men in their 70s
From 70 years old onwards, a soft and warm personalised blanket could be great. You can personalise it with family photographs or with those images of his personal tastes. This way he can stay warm on the sofa to watch any film.
We could further segment the way in which you gift a man. Taking into account his profession, for example, and make gifts for teachers, military people, doctors or lawyers, among others. With the right design, almost any gift is suitable for any age and type of person.
Gift set for men
Everything is better in a pack, don't you think? Depending on his tastes, you can create a personalised gift pack with the products that you know he will use on a daily basis. For example: a mug, a mobile phone case, a personalised key ring and a mouse pad. All personalised with a design oriented to their tastes, hobbies, age, in short, to what they like the most.
The same product can have many different orientations. Depending on the occasion you are going to give the gift on, you can adapt it and make it more romantic, more festive or more Christmas-like. Take a look at our entire catalogue and choose the items that you are most excited about. When you receive them you can put them in a basket and give them all as one gift. They will love it.