Wine accessories set with personalised box
Sizes: 16 cm (width) x 10 cm (length) x 4,9 cm (depth)
Without minimum quantity
Includes corkscrew, stopper and drip stopper.
Presented in an individual bamboo wooden case, with die-cut interior.
The lid can be customised in colour.
Material accessories: stainless steel.
ID: #16889
Reviews with images







---

Personalised wine accessories set
Our personalised wine accessory set represents that indispensable tool to add an elegant and unqieu touch to any wine lover's table. The case has a bamboo wood finish, die-cut interior and three stainless steel accessories: corkscrew, stopper and drip stopper. The perfect gift to enjoy a good bottle of wine.
In addition, the wooden case can be personalised to your liking by printing directly on the top, so that the photo, phrase, name, text, drawing or design of your choice will be in full colour.
The touch of elegance for your wine
We all know someone who enjoys the pleasures of a good glass of wine from time to time, because this is a drink that has been with us for thousands of years: from ancient Mesopotamia, through the ancient Greeks, Egyptians and Romans, to the present day as one of the most popular and recognised beverages in the world. For all those people, this set of accessories is the perfect product, as you can be sure that it will be very useful and that it will not become one of those gifts that end up at the bottom of a drawer.
It is a bamboo case with tools made of stainless steel and bamboo, with three useful and original accessories to equip your favourite bottle of wine. You will find them inside the case, conveniently die-cut to store and protect them. Always have the corkscrew at hand (which includes a small knife to easily remove the metal wrapping that usually covers the cork of the bottle), forget about the annoying cork stopper thanks to the included stopper. It is airtight, and has two silicone rings of different diameters, to adapt to any size of bottle. And the top part is spherical, for a more comfortable and easy grip.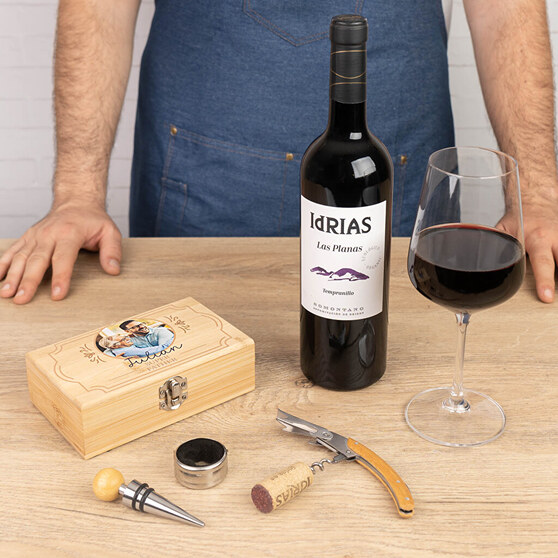 And what's more, avoid staining and smudging the bottle with the convenient drip catcher, an accessory that is placed on the top of the bottle so that, after filling the glass, any drops that may slip from the tip do not run down the bottle and end up on the tablecloth. The felt retains the drops.
Personalise the lid of the box with a photo, drawing, name, phrase, text or any other motif you prefer: It's up to you to decide! Edit and personalise directly from our online editor, which is very intuitive and will make the personalisation experience quick and enjoyable. You can choose one of the preconceived designs we offer, and edit it by adding or removing options; although, if you are very skilled or already have a design of your own, you can choose the option to customise from scratch and make the product entirely yours, to your liking. Give free rein to your imagination and surprise that special person!
An ideal gift
Sometimes, giving a gift can be a difficult task. There are people who are difficult to surprise, either because they are very demanding or because they already have absolutely everything. We all know someone like that! Just ask yourself these questions: does he/she like wine? Are you looking for a unique and original gift? If the answers are yes, don't worry, we'll give you a hand: the set of wine accessories that we propose at Wanapix will get you out of trouble, as well as surprise the person who is lucky enough to receive it.
For all those people who are friends of the goodness of this drink, our wine accessories set is a very special gift. It is a case with all the necessary tools to make your bottle the most special one, and it is totally personalised! Not only is it useful, but it is also an object of its own, original, different and unique.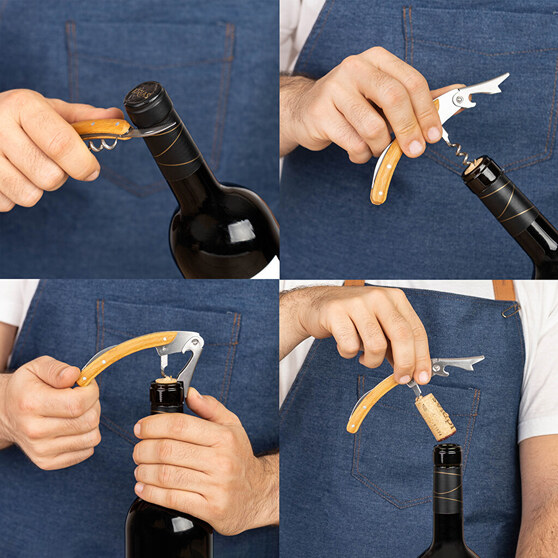 Tags of Wine accessories set