Sizes: 5 cm (width) x 15 cm (length)
Minimum order quantity: 10 units
Sold in packages of: 10 units
Bookmarks with photos or designs.

Customisable on both sides.

Offset paper 300 gr. Laminated finish.

ID: #322
Reviews with images








---

Personalised bookmarks
The personalised bookmarks have become the perfect gift for communions, christenings and other events where there are a lot of guests. It is an cheap gift that people love and that people always use. It is not like those gifts that used to be given in the past that ended up in the drawer of any piece of furniture at home, without any use.
With us you can personalise them to your liking. It is also available in two different types of materials:
The classic paper bookmark: made of heavyweight, high-quality paper. It is the one that is usually given as a gift at events where there are a greater number of guests due to its economical cost. It measures 5cm in the width by 15cm in the height approximately. It can be personalised on both sides. And its finish is beautiful.
Elegant wooden bookmarks, personalised on one side. They have a warm look, with a certain rustic touch thanks to the look of the wood. It's ideal as a gift, because it also includes a velvet ribbon in various colours to choose from.
Original bookmarks made of transparent acrylic material. They are personalised on one side, and as they are transparent, the final finish is spectacular and very different. It is perfect for giving as a gift to guests at events and, like the wooden ones, it includes a velvet ribbon in different colours.
On the other hand, our personalised aluminium bookmark is ideal to give to that special person together with a book, as the bookmark itself has an economic cost and if we accompany it with a good book it will be the perfect gift. It is personalised on one side. It has a slot so that we don't lose the page we are on and it will become the favourite bookmark of the person who receives it.
Create your own personalised bookmarks
People read books more and more often because in the world of books we discover a parallel universe in which we can explore unknown landscapes and diverse stories just by letting our imagination run wild. For all those reading lovers and also to introduce those who aren't yet, this will be a very useful gift. Now you can create your personalised bookmark at Wanapix.
When we have to make a gift we always try to make it something that will surprise the person who is going to receive it, that's why our personalised bookmarks, being a very economical gift, are perfect to be given as a pack together with a good book. This way the gift will be more complete and they will love it.
For those who love reading, receiving a book as a gift is like a treasure and if we top it off with a personalised bookmark we put the perfect icing on the cake.
How to make a bookmark with photos
If you've never ordered online on our website before, it's very easy, because our online editor is very intuitive and user-friendly. In just a few minutes, you will know how to make a personalised bookmark with your favourite photographs or with a beautiful design. You will find plenty of designs to personalise the ideal bookmark for you or for that event you are organising, but if there is no design that suits you to the millimetre with our editor you can customise it to your liking.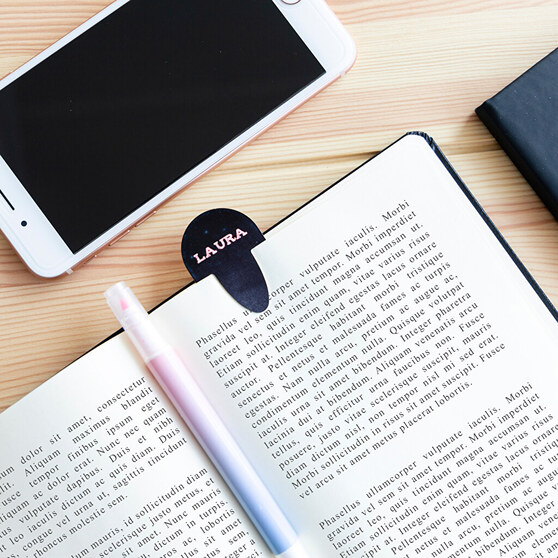 Upload a picture of your little one in a communion dress on one side and put their name and the date on the back. Upload a picture with your best friend on one side and on the back a phrase that you always say to each other and that has a special meaning. The one that only you know. Any idea you can come up with can be printed on our personalised bookmarks.
Personalised bookmarks are an infallible, timeless gift, suitable for any date and always popular, because they are a super practical gift. Start creating the one you like the most and get the most exclusive bookmark.
The perfect gift
Do you have to organise an important event and don't know what to give as a gift? Is your little one's communion coming up and you don't know what to give to the guests? We have the perfect item for you.
Our personalised bookmarks are the detail you were looking for, you can personalise them following the decoration of the communion, baptism, wedding or birthday or personalise them with any of our designs.
The paper bookmarks come in packs of 10 units and are printed on both sides, on one side you can put a photo, text or image of your choice and on the other a phrase or the date of the celebration. You will have a beautiful detail in a few minutes and for an incredible price. You can create economical personalised bookmarks and use them as advertising promotional gifts or for events such as christenings, weddings or communions, among others.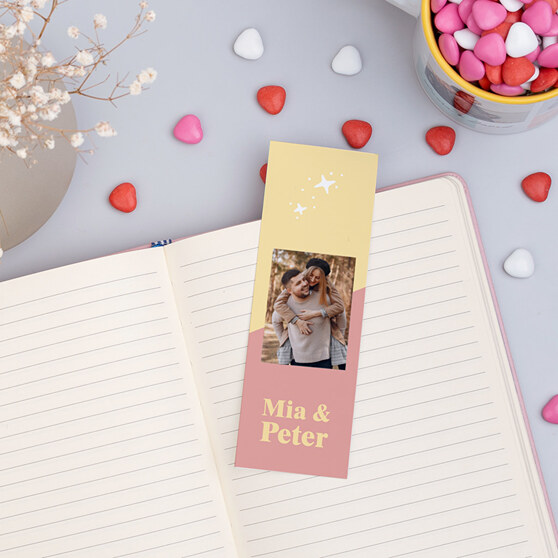 The indicated measurements of the bookmarks are approximate.
And you already have your personalised bookmark in mind? Send us your idea and we'll take care of the rest.