Personalised foam board printing
Sizes: 15 cm (width) x 20 cm (length)
Without minimum quantity
Choose thickness: 5 mm or 10 mm. (except sizes 100 cm. and above, only 10 mm. thickness available).
High rigidity.
Includes adhesive for "easy hanging".

Personalised canvas FOAM - Foam Boards
Discover our ultra-light prints on FOAM boards. Put your photos in FOAM or choose one of our custom designs. Base color: white.
Includes "easy hang" adhesive, which adheres to the cardboard pen, with hole to hang in escarpia.
Thickness and materials
Small sizes
The smallest sizes of featherboard, up to and including 60x90, are 5 mm thick.
In this case the printing is done directly on the product, by means of UVI.
Large sizes
The largest sizes of featherboard, from 70x100 onwards, are 10 mm. thick.
In this case the printing is done directly on the product, by means of UVI.
Typical uses
Featherboard or FOAM is commonly used in graphic arts and the advertising sector for the printing of all types of promotional and communication elements. You can also create a picture with the photo you want in a decorative way.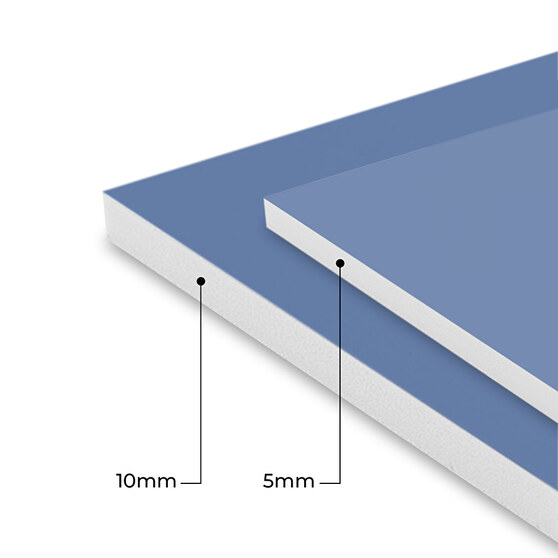 Picture formats and proportions
For greater clarity when choosing the size of your painting, we have classified all sizes according to their format. Within each format, all the sizes shown are proportional to each other. The available formats are:
Rectangular Format 4:3: these are rectangular sizes that have a 4:3 ratio, i.e. for every 4 cm. long, they are 3 cm. wide. It is a rectangular shape that is closer to the square format than the panoramic format. The most popular size for this format is 30x40 cm.
Rectangular 3:2 format: these are those rectangular sizes that have a 3:2 ratio, that is, for every 3 cm. long, they are 2 cm. wide. It is a rectangular shape closer to the panoramic format than to the square one, that is to say, they are quite elongated. The most popular size for this format is 40x60 cm.
Square format 1:1: square measurements, all sides measure the same. It is a very fashionable format thanks to Instagram photos, which are also square. It is common to buy several square-shaped frames to create collages of frames with different photos.
Panoramic 2:1 format: these are very elongated, panoramic sizes, which have a 2:1 ratio, i.e. the longer sides are just twice as long as the shorter sides. Although they can be used with any photography, they are especially suitable for landscape or panoramic photography.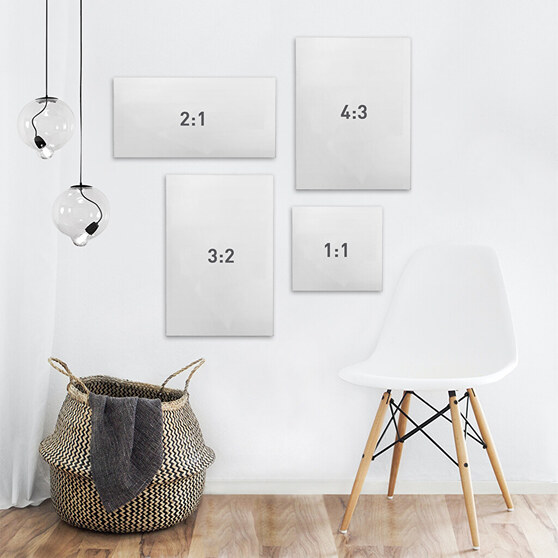 Differences between Foam board and Forex
Sometimes confusion can occur between foam board and forex. The material of our panels is foam board, also known as foam, or polyurethane foam. If you are looking for a forex printing service, you should know that it is a different material, but quite similar to foam board. Here are the differences: The differences:
Foam board: also known as polyurethane foam, or foam
Foam board or foam is a very light and easy to handle material. It can be attached to the wall simply with Velcro strips, screws, staples or silicone. It is ideal for signage, photo enlargements, large format displays, photocalls, and other applications where we need to print a large format image at an economical price.
Forex: also known as foamed PVC
Forex is similar to foam board, but stiffer and heavier. It is also more expensive than foam boards, so except in very specific cases, it is usual to choose printing on foam boards when you want to make a panel, picture or posters in large sizes, because of its lightness and lower price.
Tags of Foam board printing