Personalised Christmas baubles
Christmas is the most wonderful time of the year. Moments that are perfect for gatherings with family and friends to celebrate all the good things that have happened this year and also to wish everyone a happy new year.
Decorate your Christmas tree
It is a common thing that every year during the month of December people take the opportunity to decorate their home, to give it a more Christmasy touch that makes it feel warmer and cosy. Because Christmas is a time when lights and decorations make us feel like little children again; like when we used to decorate our homes with our parents and grandparents.
It is a time to get together with friends and family, sit at the same table and show our love for each other. And for this occasion we have prepared a lot of designs of personalised Christmas baubles for your tree.
Forget about the basic coloured baubles, all the same, that you can find in any shop. We bring you a revamped version of personalised Christmas baubles for the tree. You can choose from a lot of designs on our website or customise yours as you like; with your favourite photos, texts, drawings or anything you can think of. You decide how to make it so that your tree looks perfect.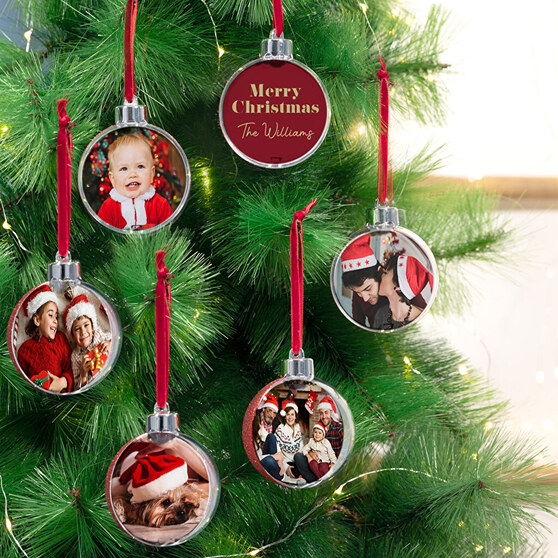 Personalised Christmas baubles with name or photo
On our website you will find three different models of personalised Christmas baubles:
The classic round Christmas baubles: you can personalise them on both sides completely to your liking. One of the most popular options is to put a photo on one side and a name or phrase on the back, but you can choose any other option you can think of, they are 100% customisable.
The Christmas bauble with glitter: there are two universal and favourite colours during the Christmas holidays: red and gold. That's why we have this bauble model, on one hand to add an image, photo or text that we want and on the other hand to continue giving it that Christmas touch of glitter and distinction that makes the room look perfect.
Christmas bauble with heart shape: this bauble, like the classic Christmas bauble, can be personalised on both sides, but with the particularity that it has a heart shape, which makes it especially beautiful.
And the best of all is that you don't personalise the outside of the bauble, but the design you create or choose will go inside the bauble, so you can open it and change the images as many times as you want.
You can decorate the Christmas tree in your home with style and make it different from what you have done in previous years.
It's also a lovely idea for company Christmas trees, and you can decorate each of the baubles with the photographs and names of all the employees.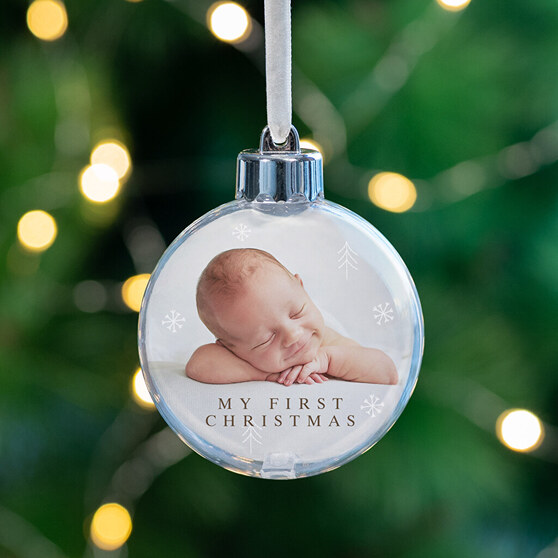 Personalised wooden Christmas decorations
Year after year we try to innovate and decorate the Christmas tree in a different way than in previous years. The most original way to do this is with our Christmas decorations with text, design and images.
Now you can decorate your Christmas tree with our personalised tree slices which is another option that will make it look perfect. They are made from natural wood and have a little loop so they can be easily hung with a matching ball. It's great, isn't it?
Because they are ornaments made by carving natural wood, each product will have a unique shape, tone and thickness that differs from the rest. No two slices of wood are the same, which makes them even more special.
They are personalised on one of the two sides of the ornament and you can upload a design, photo, text or name and we'll make sure to personalise it, making your wood more beautiful than ever.
It's ideal for combining with our classic round Christmas baubles, or of course you have the option of just using wooden ornaments to decorate your Christmas tree with. Whichever option you choose, it will for sure be looking fantastic.
The personalised wooden discs will not only be great for decorating your Christmas tree. In fact, you can use it as a decoration, in any place of your home. It's just something that adds cosiness as it's personal and beautiful.