Personalised iPhone cases
If you consider yourself a fan of the "Apple" brand, we have great news for you. On our website, you'll find the best customised iPhone cases available for different models, so you can choose the one that best suits your iPhone.
The best thing is that with us you can design them the way you want. All you have to do is choose the model of your iPhone and give free rein to your imagination to create a perfect case to your liking.
All mobiles suffer accidents, we drop them every day, and genuinely they are treated poorly by most people. We have the perfect case, designed by and for your mobile phone, we want your iPhone to have a long life taking care of it with our personalised cases.
All of the cases and covers are flexible and transparent, which allows you to customise them. The main objective is to protect your phone from daily damage and falls, but at the same time we want to give it a more personal touch with an incredible customisation.
iPhone cases with lanyard
Whatever your iPhone model, in our catalogue you can choose between buying the normal model (without cord), or buy a customised iPhone case with lanyard. The use of cases with a lanyard has many advantages, and it is a trend that more and more people are taking in. The lanyard allows you to carry your mobile phone around your neck, so you can have it at hand quickly whenever you need to take photos, check your messages and chats, check emails, etc. You won't have to take it out of your pocket or waste time searching through your bag, as you will always have it at hand, hanging around your neck thank to the cord which is also called a lanyard.
It also prevents us from losing our mobile phone. We will always have it near us, hanging around our neck. Forget about leaving it on a table on the terrace of a restaurant. It'll be difficult to lose your phone ever again.
If you are a fan of using these cases with lanyard, you can now create your own personalised iPhone case that includes a cord, where you can also choose from different colours. And if you're more classic and prefer a case without a cord, you have this option too. Choose the iPhone case format you like the most.
How to personalise my iPhone case
On our website you can find a lot of pre-designed templates that you can modify to make them your way in the quickest way possible. But you can also create your personalised iPhone case from scratch, you can upload photos, texts, images or your favourite drawings and thus obtain the most exclusive and original model. With Wanapix you'll receive the best iPhone case in the world and at a good price.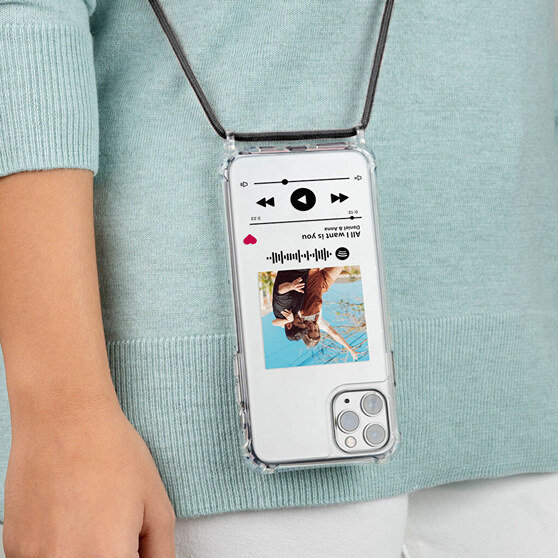 Who to give an iPhone case to
Our iPhone cases are the perfect gift for anyone, no matter their age, whether they are male or female, friends or your partner. You can personalise them so much that everyone who receives them will love them.
They have a great quality-price ratio, meaning that it'll be a good gift to any occasion you can possibly imagine. Details such as a birthday, an anniversary among others.
Surprise your iPhone and anyone you want to give it to with a personalised case, we're sure they'll love it! Every time they see it they'll remember you with a smile.
And why not? It's also perfect as a gift to buy for yourself If you have an iPhone with a sad or dull case and you want to give it that stylish touch that it deserves. At Wanapix it's easy to personalise your new iPhone case. Just enter our website, choose the model of your phone, choose one of our templates and adapt it to your style or create your case from scratch.
The most popular designs are the ones with photos. Upload a photo of your kids to keep them close, a photo of your partner or even that photo of you taken by your best friend that you love, it will be perfect!
The most popular designs are the ones with photos. Upload a photo of your kids to keep them close, a photo of your partner or even that photo of yourself that your best friend took and that you love. It will be perfect!
It's a great gift also for grandparents' day, they're not usually as into the internet as younger people, so if you make them a personalised case you'll surprise them in the most original and fun way.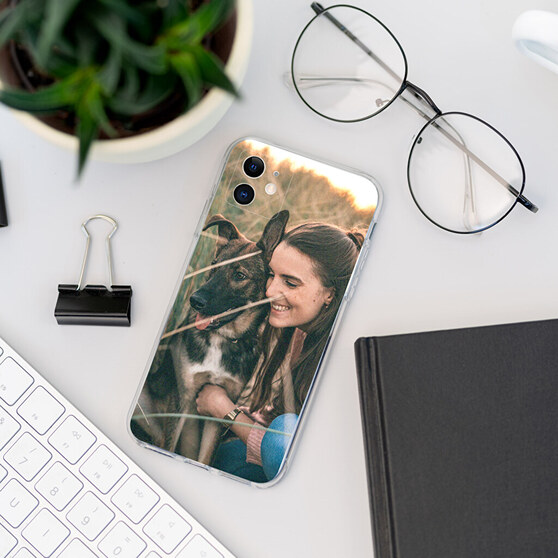 No more not knowing whose phone is on the table when meeting friends, they will see your case and it will look so much like you that there will be no doubt that it's your phone.
Ready to personalise your iPhone case? The adventure begins in 3, 2, 1 ... NOW!